Best VPN for League of Legends
|
What is the best VPN for League of Legends in 2021? League of Legends, widely known as LoL, is a online multiplayer game, developed by Riot games, and released to the market in 2009. It involves team play, where players team up and use their key characters to beat members of the opposing team. League of legends is one of the most popular online games on the Internet, given its large audience of upto 67 million players who log on & compete against each other almost on a monthly basis. As with almost any other online game, you need to have a fast connection so that you're able to react fast to anything that happens within the game, and avoid getting your character killed just because you weren't fast enough to react.
VPN and Your Online Game Play
For most gamers, using a VPN is normally out of the question because of the fear that the speed of gameplay might be greatly reduced. Using a VPN does reduce the speed of your connection, but the margin really depends on the kind of service you subscribe to.
Despite the slight speed reduction, you still need it if you want to protect yourself from DDoS attacks, and have your connection safe from anyone who might want to slow it down or even disconnect you.
You'll also find that a VPN will allow you to connect to different servers based on how large it's network is, and this makes it possible for you to play in different leagues, with people from different countries.
Once you subscribe to a credible VPN service, you'll be able to avert any DDoS attacks since your IP address gets hidden, and with this being done, the attackers won't be able to target your connection, so you'll keep off their radar.
Also, if you happen to be relying on a connection that's probably throttled, a VPN allows you to bypass those restrictions, and enjoy the standard connection speed. This will get rid of the lag that you've grown accustomed to, and allow you to play at optimum speed. Since your connection will be encrypted, no one will be able to discover what you're up to, so your activities online stay private.
If that sounds like something you'd want to experience, then once you're done with this article you'll have an idea of the kind of VPN services that'll enhance your play, and make sure you enjoy every moment on the game.
The Best League of Legends VPN
If you're new to all this, you might find it difficult at first to get around most of the services offered, so we've done a round up of 3 of the best services that we think will offer you the best service as your League of Legends VPN:
1. ExpressVPN – Our Top Recommendation
ExpressVPN is easily one of the best VPN providers today, with its customer service billed to be one of the most skilled and reliable in the market.
Their server network is vast, distributed over many countries throughout the world, making it easier to play League of Legends with people based anywhere across the globe. You'll have a 30-day money-back guarantee, where you'll be able to try out the service, and see how well it works out for you.
The pricing is slightly higher than that of other services, but that's what you have to part with if you're looking for the most premium service you can get. The forms of payment are diversified, with customers being able to pay through visa, Paypal, or even bitcoins for anonymous payments.
2. BulletVPN
Coming in second on our list of top VPN services for LoL is BulletVPN, a provider that has more than 150 servers scattered in over 55 countries and counting. Their service is also all-inclusive, allowing customers to pay for it through various modes of payment.
Those that want to remain anonymous in their payment can transact through bitcoins, as they are an allowed payment method. BulletVPN also offers its users protection through protocols such as OpenVPN, PPTP, IKEv2, and more –  they're all backed up by 256-bit AES encryption. This ensures complete protection against any DDoS attacks whenever you're going on with your game.
3. NordVPN
NordVPN is another affordable option for users who don't want to spend a fortune on their VPN service. They happen to have more than 5000 servers in 59 countries, which places them ahead of other providers in this department.
In case you get into any problems with their service, you'll be able to easily contact their customer service team either through email, ticketing, or through live chat messaging if you want to get your problem sorted out immediately.
NordVPN is great for gaming if you want to keep your speed up and stay protected throughout your gaming period.
Best VPN for League of Legends – Wrap Up
Now that you've gotten to see which five VPN services we recommend for playing League of Legends, you should now have a smaller pool to choose from instead of having to go through the many providers that are available in the market. If you happen to choose one of the services we've mentioned above, let us know how your experience was by leaving a comment in the section below.
ExpressVPN Review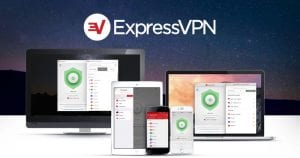 Name: ExpressVPN
Description: ExpressVPN is a VPN service that allows you to browse the web anonymously and unblock geo-restricted sites.
Price: 12.95
Currency: $
Operating System: Windows, OSX, Android, iOS
Application Category: Multimedia
Refund Policy

Speed

Support

VPN Apps