If you're a diehard of First Person Shooter Games and you still haven't tried out Overwatch then you're missing out on a lot. Published and released by Blizzard in 2016, the game is still soaring high in popularity two years after it was announced, and this is probably because of the never-ending updates that keep on being added to the game. The constant inclusion of new features, characters, and storylines means you'll likely never get to cover all your bases within the game, and you'll always be in for a surprise once you move on to the next latest level.
What Is Overwatch?
The online game starts off by getting you matched with a group of other players and forming a team, and then you all are then pitted against a bunch of other teams in different play scenarios. The most popular ones include when one team attempts to move some cargo to some point in the map and the other team tries to stop them, or when a team tries to capture a designated area that the other is defending. One other interesting fact about the game is that you choose your character based on the kind of characters that your teammates have already chosen. This introduces a level of codependency & teamwork that few other games can integrate.
Playing Overwatch online requires a strong uninterruptible Internet connection, something that you really ought to take time to put together if you want to have a worthwhile experience. To get properly set up for this game, you need to think about your online security, and there's no better safeguard that signing up with a credible VPN service.
Why Use VPN with Overwatch?
Your online security forms a big part of your online gaming experience. Here's why:
DDoS Attacks

: DDoS attacks happen when a hacker gains control over your IP address and decides to make it difficult for you to access the game. They do this by manipulating a DDoS service and having it spam your IP address. A VPN prevents this by hiding out your actual location and assigning you a virtual IP address which is immune to any DDoS attack.

VoIP

: You're going to be relying on VoIP services to chat online with your teammates. If you're based somewhere in the Middle East, you're going to experience some problems since VoIP there is blocked. One of the best ways to prevent this is by using a VPN service.

User Blocks

: If you're suspected of cheating or using irregular hacks as you play overwatch, you might get yourself banned. If you're using a VPN however, you'll be able to connect through a server in another location, or even change your IP.

Speed throttling

: Some ISPs are known to monitor and restrict certain types of traffic just to improve the quality/standard of their connection for all of their subscribers. If your ISP is one of the snoopy ones, you might find your speed abruptly reduced. Using a VPN encrypts your connection thereby making it difficult for your ISP to know what you're up to. Your traffic will flow at an unrestricted speed, and use the net with complete privacy.
Best VPNs for Overwatch
With all that mind, here are our top picks when it comes to best VPN for Overwatch.
1. ExpressVPN
ExpressVPN is well known for their exemplary customer service and their reliable network. The service incorporates the standard 256-bit encryption, as well as a serious zero-logging policy to keep your data & browsing activities completely protected. It also has a kill switch that switches off your connection in case your VPN service shuts down unexpectedly. The service has a network that's got more than 1000 servers well scattered across 145 locations in 94 different countries.
ExpressVPN also has a generous reward program where if you convince your colleague to sign up, both of you get a month of free use. With the option to add up to five devices under the same account, you get to enjoy added protection without having to pay for it. If this service sounds like something that you could be interested in, you might want to opt for their 30-day money-back guarantee offer before making your final decision.
2. BulletVPN
BulletVPN is one of those providers that have been in operation long enough to tweak their services and satisfy their customers' most pressing concerns.
BulletVPN assures zero logging, anonymous torrenting, unlimited bandwidth, and 256-bit AES encryption for optimum security. You also get access to hundreds of IPs, and this should allow you to connect to as many access points as possible.
BulletVPN is also one of the few services that openly supports P2P traffic, and also offers up to 6 simultaneous connections under the same account. The app also has an appealing user interface and is easy enough for any first-time VPN user to work their way around. With a 30-day money-back guarantee, potential customers have more than enough time to decide whether or not this is the service to use.
3. NordVPN
Few other providers come close to the variety of tools that NordVPN places at your disposal. With an impressive 3500+ servers in over 60 countries, their massive network allows the service to offer services such as DoubleVPN, where a subscriber's data is transmitted through two servers instead of one to increase security and Tor over VPN where you're still able to use both Tor and VPN at the same time.
If you know you're going to be using a lot of your time online downloading files, streaming videos or torrenting, you're able to optimize your servers for the same.
The service also has anti-DDoS mechanisms, so you shouldn't expect any attacks as you continue playing Overwatch. Their app also runs on your Windows, Mac OS, Linux, iOS Windows or Android, so you shouldn't have anything to worry about concerning compatibility. 
Conclusion on The Best VPN for Overwatch
Playing Overwatch over a VPN connection helps ensure that your connection has the least chances of getting interrupted. All the three VPN services mentioned above are some of the best in the market, and they should keep you from the most dangerous attacks online.
ExpressVPN Review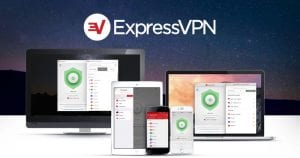 Name: ExpressVPN
Description: ExpressVPN is a VPN service that allows you to browse the web anonymously and unblock geo-restricted sites.
Price: 12.95
Currency: $
Operating System: Windows, OSX, Android, iOS
Application Category: Multimedia
Refund Policy

Speed

Support

VPN Apps