The Internet provides for so many avenues through which people can chat and get to know each other online. The tools available allow you to communicate with people who are based anywhere throughout the world, and you're able to choose from either video calling, texting or voice calling them. As of now, the most popular messaging platform happens to be Whatsapp, and with the rising need for privacy among users, a number of methods that help protect user's data have been introduced. Whatsapp users are now able to breathe a sigh of relief after the service introduced end to end encryption as a security measure to prevent any form of interception by third parties. This means your conversations on Whatsapp will now be secure from any form of interception, and your messaging history will only be available to you and the person you happen to be talking to. Still, there are many additional steps you can take to make your online chatting more secure, private, and anonymous.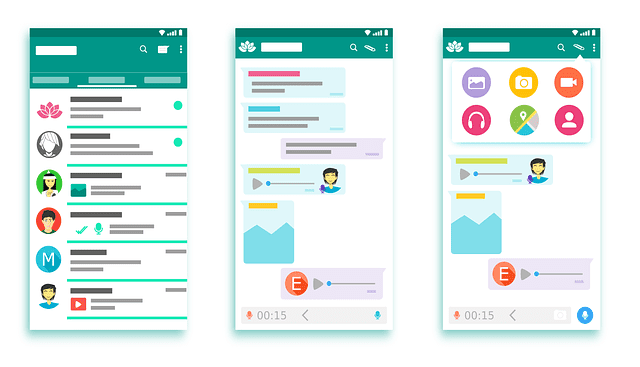 Potential Threats When Chatting Online
To help you avoid any type of security breach even when using other messaging clients, here are a few potential threats that you need to know about:
Web malware

: You might have come across malicious links that got sent to you through spammy contacts or profiles. If you click through them, they might end up directing you to a virus infested site, which provides a gateway through which your device gets infected with a virus. Steer clear from clicking through such links.

Privacy Settings Bypassing

: Despite having your Whatsapp status set to private, malicious users can still get to view your status, profile picture or even messages through an app known as WhatsSpy Public.

Crash messages

: There is a type of message that can be sent to clients that after directly opening, may result to your app crashing. These type of messages are normally within the range of 2 KB to 7 MB, and they will often force you to reboot your device. They also have the same effect on groups, since if such a message is sent to a group, then all the members of the group face the same fate.
As you can see, there are a variety of threats that users who have not taken any measures to protect themselves are exposed to, and the damages that come with the realization of these threats may sometimes be irreversible.
VPN to Protect Your Online Chatting
If you'd want to completely avoid any chances of having your messaging client intercepted by any of these attacks, then using a VPN service might be the one thing that might just keep you safe. Having your Internet connection protected through a VPN service allows you to prevent any sort of interference from a third party.
Having a VPN also means masking your actual IP address, and using a virtual one assigned to you by your provider. This will allow you to choose any country you'd like to be seen as connecting from, and, as a result, you'll be able to access your messaging client securely even in countries that ban its use.
The Best VPNs for Chatting Securely Online
In this review, we're going to take a look at 4 VPN services you should be able to rely on if you're hoping to have your connection protected, and to avoid all the threats and attacks that normal users would be subject to:
1. ExpressVPN
ExpressVPN stands at the top of the pack if you're looking for the best service provider in the market. The level of security offered by this service is top notch, and users also get to benefit from unlimited bandwidth as well as unlimited server switching. The speeds provided by the service are also nothing to scoff at, with servers based in more than 87 countries, and a customer service team that's always ready to help you out with whatever problem or issue you might be facing. With ExpressVPN, users will be able to sign up a maximum of three devices, and with features such as an automatic kill switch, nothing will ever place the service at a compromising situation. If you think that this might be the right fit for you, you're welcome to try out their 30 day money back guarantee.
2. IPVanish
IPVanish comes in second on our list courtesy of its 850 high speed servers, present in more than 60 countries. This provides access to a variety of geo-blocked websites and channels, from anywhere you might be in the world. Subscribers get to benefit from its SHA-256 bit authentication service, as well as its 256-bit AES encryption. The service also ensures that none of their user's data can get hacked into by enlisting a strict no-logs policy, and potential customers are encouraged to sign up to the service's 7-day money back guarantee to sample the quality of their service.
3. NordVPN
Also quite a favourite among users is NordVPN. This service offers a lot more than what you get from ordinary providers, and a great example would be the option to connect up to 6 devices simultaneously for its subscribers. NordVPN also offers increased levels of security through their double encryption service where a user's traffic gets distributed between two particular servers making it even more difficult to intercept their connection. In terms of speed, NordVPN doesn't disappoint, with more than 2000 servers placed in over 60 countries ready to supercharge your connection. You're welcome to give it a go through their 3 day trial period offer. You have no reason not to since its free.
4. CyberGhostVPN
One particular thing that makes this provider stand out is the fact that CyberGhost VPN has one of the most reasonable pricing packages in the market despite its large network coverage of over 1045 servers distributed evenly throughout the world. Your Internet connection is therefore fast, and also secure based on the double encryption system that they've also put in place. Users need not worry about their browsing history being kept since CyberGhost VPN has a reliable no-logs policy in place, coupled with the fact that their Romanian base doesn't subject them to any data retention laws.
The Best VPNs for Chatting Securely Online – Wrap Up
The four providers we've listed above will do a great job of protecting your device against any form of threats that might just place you in harms way. One rule of thumb that we'd advise you to stick with however is to always look out for free trial periods or money back guarantees so that you don't end up spending your money on a service you don't like. Sample whatever service provider you have in mind before opting for a long term subscription with them.