An Elon Musk Bitcoin Scam Takes Over Twitter's Ads
|
An Elon Musk Bitcoin scam is making its rounds on Twitter. Yup, crypto-hackers actually started using the CEO of Tesla's name to scam unsuspecting Twitter users out of their precious Bitcoins. Read on to learn the full story.
The Elon Musk Bitcoin Scam – Full Story
Twitter users, I'm sure you've noticed something going on in your suggested ads. Recently, an Elon Musk Bitcoin scam has taken over the social media platform, scamming hundreds of users out of their Bitcoins. The scam itself is ingeniously simple:
A hacker hacks into a verified Twitter account.
The hacker changes the username to Elon Musk and the profile picture to his recent picture.
The account starts tweeting as if it was Elon Musk
Eventually, the account will tweet out a link to a "crypto-giveaway" asking its users to participate.
Other hacked verified accounts will retweet the giveaway or reply to the tweet, stating that the crypto-giveaway works.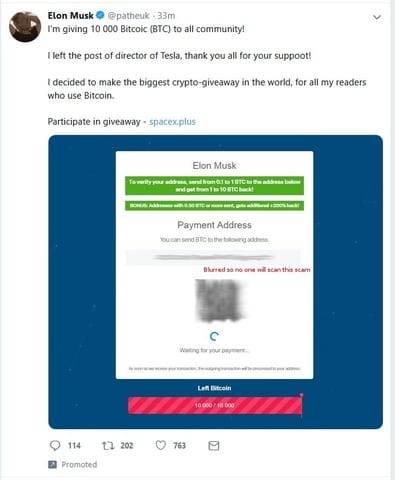 Eventually, the scammers got even more creative and started using Twitter's Ad Service to promote their crypto-scam to users all over the world.  If you click on the link available, you'll be prompted to send at least 0.1 Bitcoin in order to receive 10 back. Of course, any user that fell for the scam did not, in fact, get their Bitcoins back.
Now, notice the above tweet's twitter handle? Yup, it doesn't really say Elon Musk, does it? In fact, Pathe UK is actually a film studio that was, unfortunately, hacked. Some of the other verified profiles hacked include the Kenyan international boxer Rayton Okwiri, Kansas-based Blogger Sarah Scoop, Pantheon Books, and the retail company Matalan's profiles. According to The Telegraph, the scammers ended up with a haul of more than £120,000.
Twitter's Response to the Elon Musk Bitcoin Scam
A Twitter representative made the following statement regarding the scam:
"Impersonating another individual to deceive users is a clear violation of the Twitter Rules. Twitter has also substantially improved how we tackle cryptocurrency scams on the platform. In recent weeks, user impressions have fallen by a multiple of 10 in recent weeks as we continue to invest in more proactive tools to detect spammy and malicious activity. This is a significant improvement on previous action rates."
However, Twitter has yet to discuss what methods it's using to try and curb cypto-scams like this. That being said, the scam did point to one major flaw in Twitter's verification process: Easily changeable profile names. One would think that verified accounts would have convoluted requirements to change their profile names, ones that specifically require extra information that a hacker would not have access to.
The Elon Musk Bitcoin Scam – Final Thoughts
So, that's what's been going on in the Twitter-verse recently. To end this post on a bit of a funny note, did you now that Elon Musk himself got banned from his account for making light of the entire situation? Yup. The Tesla CEO Tweeted out a joke-tweet saying "wanna buy some Bitcoin? ;) ;)" and Twitter, blessed be its algorithm, though his account was hacked and kicked him out. Here's the aforementioned Tweet
Wanna buy some Bitcoin? 😉😉 pic.twitter.com/9ZbBJ5fuVq

— Elon Musk (@elonmusk) October 22, 2018
At least we know that this whole shindig didn't affect the quirky tech mogul's sense of humor.