Check Point, a network security firm, has just discovered that over 1 million Google accounts have been compromised by Gooligan. This is a new type of malware similar to SnapPea that infected Android devices last year. Gooligan mainly steals authentication tokens that can be used to access Google Play, Gmail, Google Photos, Google Docs, G Suite, and Google Drive.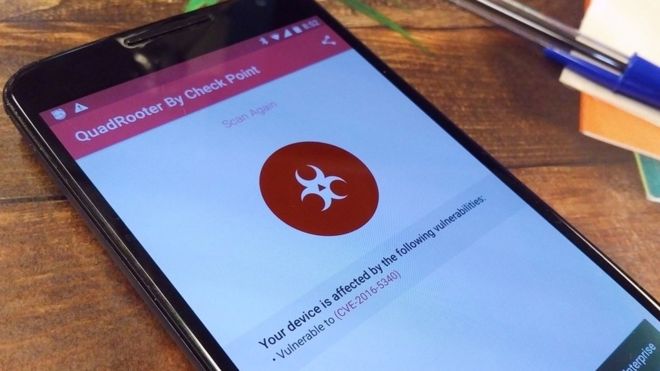 How Gooligan Malware Works
Gooligan can infect your Android smartphone or tablet can via third-party apps you download from app stores other than Google Play. The malware then collects data and even installs rootkits without your knowledge. Next, Gooligan roots your device and installs a new module. Once this is achieved, it will steal your email accounts and authentication tokens. Finally, the vicious malware injects codes into your Google Play and downloads malicious apps.
What is Google Doing About Gooligan?
Check Point have indeed reached out to Google and disclosed their findings. Google has acknowledged the issue and vowed to tackle Gooligan head on. They even released an official statement.
"We're appreciative of both Check Point's research and their partnership as we've worked together to understand these issues. We've taken numerous steps to protect our users and improve the security of Android."
Which Android Devices Are Affected?
According to Check Point, "Gooligan potentially affects devices on Android 4 (Jelly Bean, KitKat) and 5 (Lollipop), which is over 74% of in-market devices today. About 57% of these devices are located in Asia and about 9% are in Europe."
How Do I Know If Gooligan Has Infected My Android Device?
Check Point have prepared a website that allows you to check whether your Google account has been breached by Gooligan.
Head over to gooligan.checkpoint.com.
Enter your Google account email address and click 'Check'.
If the pop-up message states "YOUR ACCOUNT WAS NOT BREACHED", your safe.
Otherwise, you need to flash your Android device.
Also, change your Google account password immediately.
List of Fake Android Apps Infected with Gooligan
Perfect Cleaner
Demo
WiFi Enhancer
Snake
gla.pev.zvh
Html5 Games
Demm
memory booster
แข่งรถสุดโหด
StopWatch
Clear
ballSmove_004
Flashlight Free
memory booste
Touch Beauty
Demoad
Small Blue Point
Battery Monitor
清理大师
UC Mini
Shadow Crush
Sex Photo
小白点
tub.ajy.ics
Hip Good
Memory Booster
phone booster
SettingService
Wifi Master
Fruit Slots
System Booster
Dircet Browser
FUNNY DROPS
Puzzle Bubble-Pet Paradise
GPS
Light Browser
Clean Master
YouTube Downloader
KXService
Best Wallpapers
Smart Touch
Light Advanced
SmartFolder
youtubeplayer
Beautiful Alarm
PronClub
Detecting instrument
Calculator
GPS Speed
Fast Cleaner
Blue Point
CakeSweety
Pedometer
Compass Lite
Fingerprint unlock
PornClub
com.browser.provider
Assistive Touch
Sex Cademy
OneKeyLock
Wifi Speed Pro
Minibooster
com.so.itouch
com.fabullacop.loudcallernameringtone
Kiss Browser
Weather
Chrono Marker
Slots Mania
Multifunction Flashlight
So Hot
Google
HotH5Games
Swamm Browser
Billiards
TcashDemo
Sexy hot wallpaper
Wifi Accelerate
Simple Calculator
Daily Racing
Talking Tom 3
com.example.ddeo
Test
Hot Photo
QPlay
Virtual
Music Cloud
How Can I Protect My Google Account?
There are several steps you can implement to increase your Google account's security. Here are the most important.
Never install Android apps from third-party markets. You never know who actually uploaded these apps. Only download apps from the official Google Play Store. If a certain apps is not available in your region, you can always use VPN to change your Google Play Store country.
Periodically change your Google account password. Do not use an easy-to-guess password. Also make sure that the password you are using is not associated with any of your other online accounts. You can create a strong password in seconds by using a random password generator.
Always keep your Android device up-to-date. Checking whether there is an update for your Android phone or tablet can be easily done via the device's settings.
Use a virtual private network to add an extra layer of privacy and security to your online activities. Hackers and cyber criminals will be blocked from eavesdropping on what you're doing online.
Take Your Online Security and Privacy Seriously
Gooligan is the biggest Android security breach to date. Google and Check Point are continuing their cooperation in an attempt to halt the malicious malware. Use the guide above to check whether your Google account has been breaches. Also, make sure to implement the aforementioned tips and tricks to increase your online privacy and security. You can never be too safe online.