How can I hide my IP address when downloading torrents? uTorrent and Bittorrent are both torrent clients which allow users to download and upload files via P2P (Peer-to-peer) protocol. That means that all files sharing is happening without a centralized server. The process itself has both its benefit and disadvantages. Perhaps the biggest drawback when torrenting is that your IP address is added to a torrent swarm whenever you are peering/seeding a torrent file. In this help guide, you will find info about why and how to use a VPN to hide your IP address when torrenting.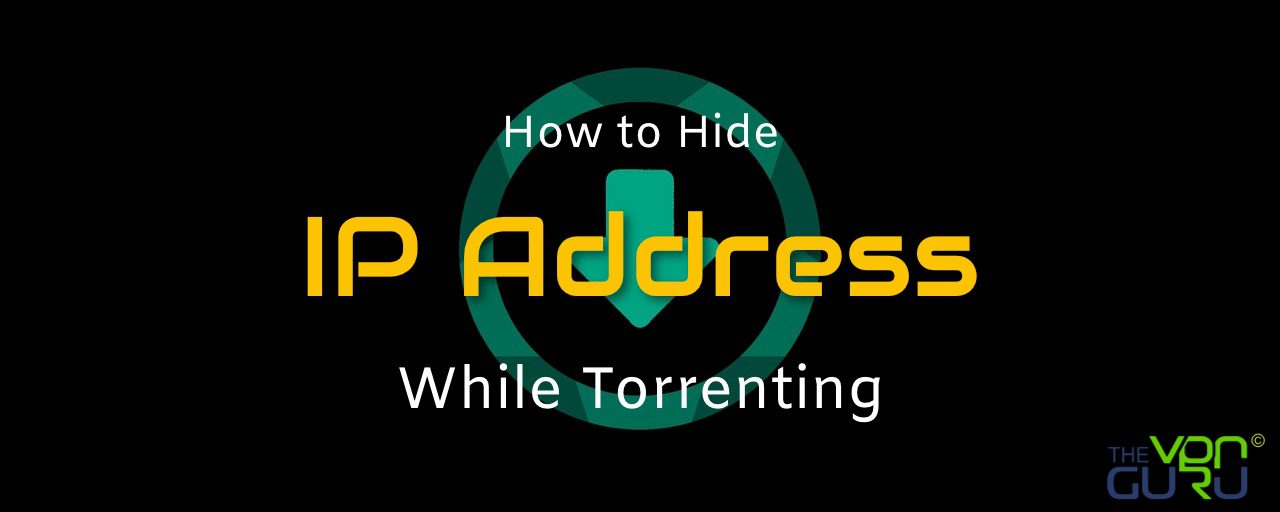 Disclaimer: Neither the owner of this site nor the editor of this article nor any of the linked VPN service providers condone downloading, sharing, seeding, or peering copyright material. International laws prohibit such activities which are illegal. This guide serves educational purposes only.
Why Should I Hide My IP Address when Torrenting?
As previously mentioned, whenever you download/upload a torrent file, your IP address is added to a torrent swarm. That basically means that anybody who is sharing the same file can see your IP address. Your ISP and copyright trolls can track your download activity. Eventually, they will send you a copyright infringement notice to your email. Such cases are especially common in the USA, Australia, Canada, Sweden, Germany, and France. It is not all doom and gloom, however. You can still hide your IP address when torrenting if you use VPN.
Does VPN Really Hide My IP Address when Torrenting?
VPN means virtual private network. It is a tool that has long been used by big corporations and law firms. VPN allows anybody to encrypt their traffic, hide their IP address, and browse the web anonymously. The popularity of VPNs has dramatically risen in the past couple of years for two main reasons. The first is that you can use VPN to bypass regional restrictions and unblock geo-restricted websites such as Hulu, HBO Go, Netflix, and BBC iPlayer.
The second reason, and the one more relevant to torrents, is that you can download/upload torrent files anonymously whenever you are connected to a VPN server. How does it work? Well, once you are connected to a VPN server, your real IP address is masked. Instead, websites and apps will only see the IP address of the VPN server. Nobody will be able to trace your IP address in the torrent swarm.
How to Setup VPN to Hide IP Address when Torrent Downloading?
Setting up VPN to hide your IP address when torrenting is not as difficult as you think. If you want to stay anonymous when downloading torrents, just follow these steps.
Sign up with a VPN provider with fast VPN servers if you have not done so already. Using free VPN services has many drawbacks. Free VPN servers are usually overloaded. That means downloading a torrent file can take ages.
Download and install the VPN app on the device you are torrenting on. VPN applications are available on PC, Mac, iOS, Linux, and Android.
Go to www.whatismyip.network and note down your IP address.
Connect to a VPN server via the VPN app. Go back to www.whatismyip.network and make sure that your IP address has changed.
If you see a new IP address, it is that of the VPN server you are connected to.
You have successfully hidden your IP address. You can now download torrents anonymously.
There are a lot of VPN providers you can use to hide your IP address when torrenting. ExpressVPN is possibly the best of them all. Here's my list of the top VPN services to download torrents anonymously.
Usenet as a Torrent Alternative
If you want to download video, music, or software files without using having without having to add your IP address to a torrent swarm, use Usenet instead of Bittorrent. Usenet does not use P2P protocol. Instead, you get to download all your files from a centralized server. That means that you can download files at your full bandwidth capacity. With Usenet, all your downloads are SSL encrypted. In other words, Usenet is both faster and safer than Bittorrent. If you want to give Usenet a try, check out any of the top Usenet providers listed below.
Last Updated 2 Days Ago
| Rank | Provider | Link |
| --- | --- | --- |
| | | 14 Days Free Trial Period |
| 2 | | Free 30 GB for 2 Weeks |
| 3 | | Free Trial |
| 4 | | Free Trial |
| 5 | | |
How to Hide IP Address when Torrenting? Use VPN.
If you are serious about your privacy, and do not want to get caught downloading torrent files, you have to use VPN. If you choose not to, you're better off using Usenet instead of uTorrent to get hold of your favorite movies, TV shows, or software online.