Many public places, such as hotels, restaurants, schools, colleges, and airports, offer free public WiFi Hotspots. While these hotspots offer a convenient method to go online and check social websites like Facebook or Twitter, they do impose a threat to your privacy. In this article, I'll discuss both the dangers of connecting to a free public WiFi Hotspot Network as well as methods to protect your private information while using these networks.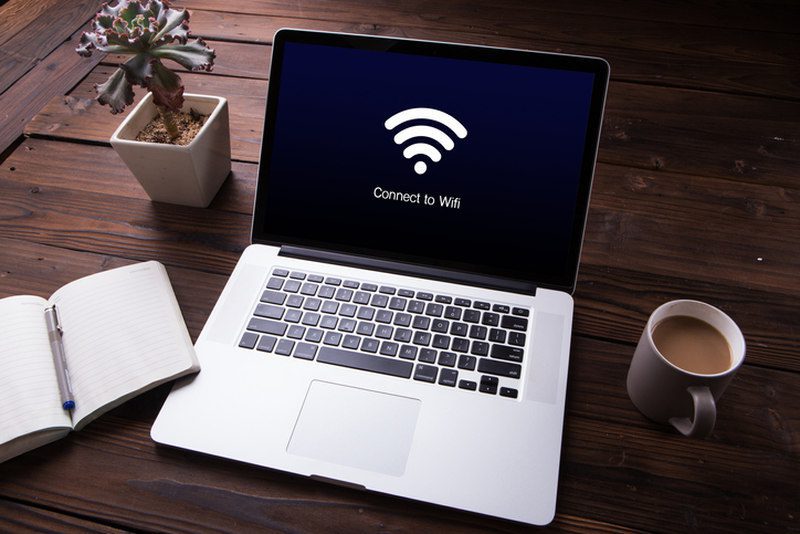 The Dangers of Free Public WiFi Hotspots
Your Windows laptop or OS X Mac contains some sensitive private information that you wouldn't want other people to eavesdrop on. That includes usernames and passwords of your bank accounts, social media accounts, emails, and online shopping accounts. While surfing the web via public WiFi, there is a list of threats you are exposing yourself to.
Public WiFi Hotspot Danger – 1. Rogue WiFi Networks
A rogue WiFi Network, commonly known as a rogue access point, are used in both DoS and data theft attacks. The hacker basically sets up a 'fake' network that resembles a legitimate network. The fact that authentication is not required to connect to these networks makes them a tempting bait for people who wish to access the Internet while sitting in a cafe or waiting in the airport lounge. Once the user is connected to the rogue AP, the hacker can steal private information from the user's device.
Public WiFi Hotspot Danger – 2. Packet Sniffer
A packet sniffer, or packet analyzer, is a program that can intercept and log traffic that passes over a digital network. While you are browsing the Internet at your school/college's library, hackers can use a packet sniffer to target packets sent over insecure public WiFi Network. As long as you are connected to the same network as the hacker, you are at a potential risk of having your information stolen.

Public WiFi Hotspot Danger – 3. Man-In-The-Middle Attack
A Man-In-The-Middle Attack, aka MiTM, is one of the most commonly used methods to get access to sensitive data by hackers. During an MiTM, the hacker can eavesdrop on and get access to a user's web browser and the data it sends and receives during transactions and conversations. The attacker than redirects the user to a fake website that looks like the site the user expects to reach. Social websites, online banking, and e-commerce websites are the most frequently targeted. The hacker is able to capture login credential as well as other sensitive data.
Public WiFi Hotspot Danger – 4. Social Hacking
In some cases, the hacker might leave a malicious USB drive on the cafe table. The user, out of curiosity, unsuspectingly inserts the USB in to his laptop. Once done, the hacker will be able to capture sensitive data via malware.
How to Protect Data While Using Free Public WiFi Hotspot – VPN
Accessing free WiFi is not worth compromising your sensitive information. Leaving banking info or e-commerce login credentials exposed can have catastrophic consequences. So, do you stop using public WiFi hotspots all together? Or, is there a way to protect yourself against the threats of free WiFi? If you value your privacy and online security but still want to access the Internet in public places, use a VPN. VPN stands for 'Virtual Private Network'. Large companies and corporations all use VPN to protect/shield valuable data. There is nothing that prevents ordinary Internet users from using a VPN as well.
VPN basically allows you to reroute all your traffic via a separate, secure, private network.
VPN encrypts all of your data. This ensures that the hacker will not be able to eavesdrop on your online activity. Your IP address will be hidden from potential hackers and spies.
VPN prevents the NSA and other government agencies from spying on you.
Some social websites, like Facebook and Twitter, are generally blocked at schools and colleges. Using a VPN allows you to unblock these websites.
VPN also allows you to change your public IP address, granting you access to geoblocked websites and streaming channels in the process.
I've done a lot of research involving different VPN providers. ExpressVPN, for example, uses an SSL secured network along with 256-bit encryption which makes it impossible for prying eyes to infiltrate your device. Of course, there are other VPN providers you can also use to protect your online activity whether at home or in public. Take a look at the list below.
Dangers of using Free Public WiFi Hotspots – Wrap Up
In addition to VPN, there are other steps you can take to make sure you are protected against potential dangers.
Make sure that the anti-virus programs and definitions are always kept updated.
Enable the 'Firewall' on your PC.
Turn off Network 'Sharing'. This can be done on both Windows and Mac.
Prevent using websites that use HTTP instead of HTTPS. HTTPS encrypts data sent and received between your computer and the webserver.
Do not take your online privacy lightly. You never know who's spying or eavesdropping on you. As a general rule, I'd never recommend going online without using VPN, especially in public places. Hackers almost always go after easy targets. While setting up a VPN might look like too much hassle for the 'normal' user, you should be able to get the hang of it once you have set it up for the first time. Better safe than sorry.