DIRECTV
provides live and on-demand TV and movies through its
'DirecTV Everywhere' and DirecTV Cinema service
. Unfortunately, the 'everywhere' part only includes the USA. So if you're traveling
overseas or live abroad in Canada, UK, Spain, France, Australia, or Germany,
you have to use
Smart DNS or VPN
to access DirecTV. I'll explain both methods and show you how they work in this tutorial.
Note: If you don't feel you need additional information about Smart DNS or VPN, you can directly sign up at ExpressVPN. By choosing a US server, you'll be able to unblock all American geo-blocked channels including Direct TV.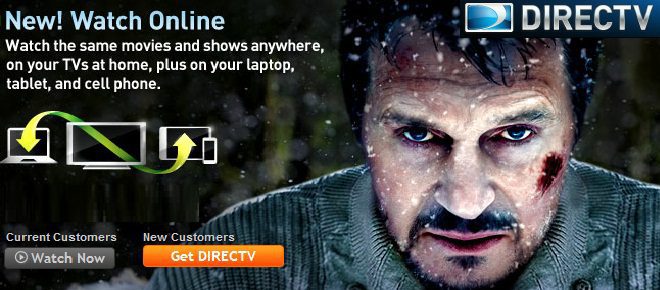 How to Access DirecTV Abroad using VPN
VPN is a great tool to bypass restrictions imposed on American streaming services like DirecTV. VPN allows you to change your IP address. Therefore you'll appear to be virtually located in the USA. Once you get an American IP address, you will have access to all US geo-blocked channels. VPN has its own set of features.
VPN allows you to fully encrypt your traffic. No more eavesdropping from government agencies or ISPs.
By changing and hiding your IP address, VPN grants you online anonymity. This prevents websites from tracking you.
While Smart DNS is powerless against DNS Hijacking and Transparent Proxies, VPN works flawlessly even in the presence of these policies.
Once you choose an American VPN server, all US streaming channels become unblocked. Enjoy streaming Direct TV, Netflix, Hulu Plus, HBO Go, and many more.
There are some steps you need to follow in order to access DirecTV abroad. You'll find them below.
The Steps
Here's what you need to do in order to watch DirecTV outside the United States:
Go to ExpressVPN's website and sign up for their service.
After that, download and install their VPN application on your streaming device. You'll find clients for Android, iOS, PC, and Mac.
Once the installation is done, log in with your VPN credentials.
Now, surf through the server list and select one located in the United States.
Finally, launch DirecTV as soon as you establish a connection.
Watch the channel anywhere in the world without a hitch.
There are dedicated VPN apps on iPhone, iPad, Android phones/tablets, and Windows/Mac Computers, provided by VPN service providers such as ExpressVPN. With such apps, setting up your device with VPN is fairly easy.
Best VPN for DirecTV
With a little research, I've come up with 4 of the best VPNs for DirecTV. I took into consideration all the factors that make them your top choice to use when you want to stream DirecTV abroad. Here they are:
ExpressVPN
You'll find that ExpressVPN takes the top spot on our list due to having dozens of servers throughout the US. The best thing about this VPN is that even with encryption, your connection remains as fast as ever. This means that you can watch your favorite shows without any buffering interruptions.
Their support staff are very friendly and can be contacted via live chat to assist you with any issue you might face. In addition, ExpressVPN adopts a strict no-logs policy, which means that you'll be able to browse the internet without worrying about if your activities are being stored or not. Moreover, this VPN allows up to 5 simultaneous connections. Make the best of it and share your account with two other users who cherish online security.
BulletVPN
BulletVPN is another VPN that proved to be worthy of mentioning. It has 154 servers in 55 countries, which is considered to be a small amount compared to the others.
But when you speak about their servers in the US, you should know that it's one of the few ones who can unblock Netflix at fast speeds. Not to mention that DirecTV is pretty easy to access once you operate with their service.
Bullet VPN supports OpenVPN, L2TP/IPSec, IPSec, IKEv2, PPTP protocols and offers a 30-day money-back guarantee. You'll find applications on almost every operating system available out there, including ones on PC, Mac, Android, and iOS. Not to mention that you can connect 6 devices under one account at the same time.
NordVPN
NordVPN offers possibly the highest number of servers of any VPN provider in the U.S. You'll find more than 1000 servers in the United States and 5000+ in total across the globe. Their servers are very fast but can witness a slight drop every now and then. However, that won't affect your streaming experience at all.
NordVPN excels when we speak of security and privacy. They offer features like no other including double VPN, dedicated IP, CyberSec, and anti-DDoS protection. NordVPN customers can log on to servers on up to 6 devices at one time. This means that you can watch geo-restricted content on multiple devices at once.
SurfShark
SurfShark uses AES-256-GCM and SHA-512 encryption to protect your data and offers its own DNS network, as well as built-in DNS, WebRTC, and IPv6 leak protection. So far so good, but wait there's more. It's based in the British Virgin Islands. Do you know what that means? You don't have to worry about data retention laws as the region does not belong to the 5 Eyes or 14 Eyes country groups
Surfshark doesn't limit the number of simultaneous connections users can have, which means that you'll be able to share a VPN connection with anyone around you while using the same account. This VPN allows us to trust in their no-logging policy because it actually exists, unlike some other VPNs who claim to respect our privacy.
How to Unblock and watch DirecTV outside the USA using Smart DNS Proxies
In order to unblock DirecTV outside the USA, you need to trick it into thinking you're accessing it from inside the USA. Smart DNS proxies allow you to do just that. If you choose Smart DNS to unlock DirecTV, you won't need to install any additional software on your streaming device. Smart DNS proxies have a list of benefits.
Smart DNS works on nearly all streaming devices. iPhones, IPads, Android, PS4/PS3, Xbox, Smart TVs, Apple TV, Amazon Fire TV, and Roku are all compatible with Smart DNS.
Smart DNS only alters the route of some bits of your connection. As a result, your Internet speed will not suffer.
Smart DNS does not change or cloak your IP address. This feature comes in handy if you visit local websites and services a lot.
Smart DNS gives you the capability to watch streaming channels from different countries at the same time. Unblock DirecTV, CBC Canada, and CanalPlay. There's no need to re-configure your initial Smart DNS setup.
It's important to know that Smart DNS becomes useless in case your ISP deploys DNS Hijacking and Transparent Proxies.
Unlocator is my favorite Smart DNS service. They do have a list of about 120 unblock streaming channels. Additionally, you'll find videos/guides on how to set up your device with Smart DNS. Check their free 7-day trial here.
How to unblock DirectTV using Smart DNS or VPN – Miscellaneous Information
DirecTV is available on the following devices.
iPhone/iPad
Android Phones/Tablets.
Amazon Kindle
Windows/Mac Computers.
Once you're done with setting up your streaming device with Smart DNS or VPN, you get to unblock Direct TV along with all other US online channels.
Amazon Fire TV
Crackle
M-GO
Netflix
HBO GO
Hulu Plus
MLB.TV
WWE Network
UFC
NBA Game Time
A&E.
NHL Game Center
History
Lifetime
Disney and many more.
DirectTV outside USA – Unblock/Watch
That's probably all you need to know about unblocking DirecTV anywhere outside the USA using Smart DNS or VPN. In case, you need further info or instructions about setting up a particular device, please do leave a comment below.