Now TV is an Internet TV service that offers movies, TV shows, sports, and entertainment to residents in the United Kingdom. Emphasis on "residents" as the channel is geoblocked outside of the UK.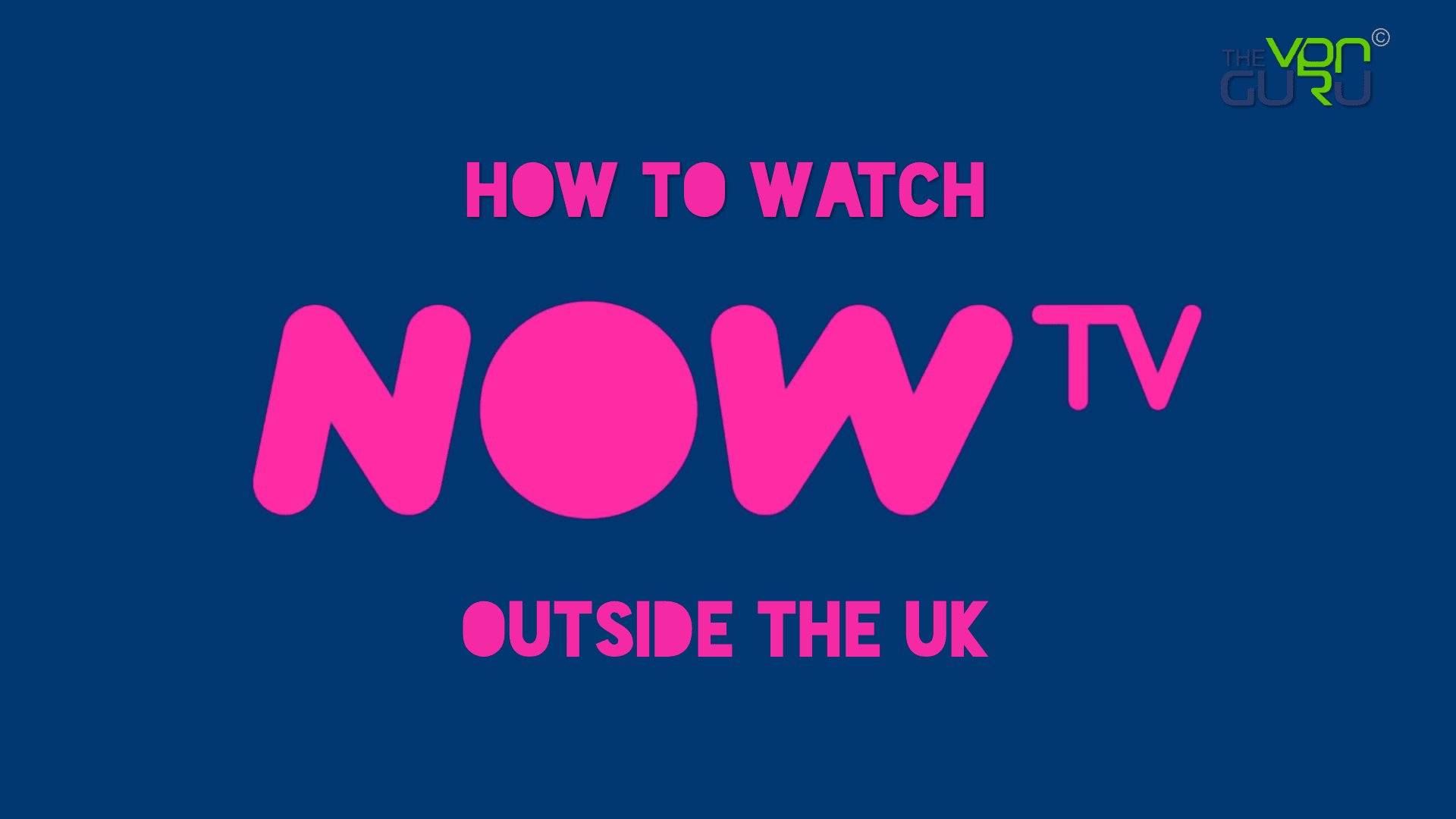 If you're living outside UK "Expat, Studying or stationed overseas, on vacation" your access to Now TV – a subscriber or not – will be instantly terminated.
Well, that won't be the case for long. Once you're done with this guide, you'll be watching Now TV in the U.S., Canada, France, Germany, Spain, Dubai, Australia, or anywhere overseas.
Now TV Anywhere – Quick Guide
Time needed: 4 minutes
Major channels in the UK have a lot to offer, which is why Now TV is a must-have. To get it in your region, the steps below are required:
Subscribe to a credible VPN.

For seamless streaming, we recommend using ExpressVPN for this task.

Get the VPN app on your device.

You can download the client on Windows, macOS, Android, and iOS.

Open the VPN client.

Sign in with your username and password.

Connect to a UK server.

Once connected, you'll receive a UK IP address.

Launch Now TV's website or app.

You'll need to sign in with your account.

Watch Now TV anywhere.

Enjoy premium live and on-demand content wherever you are.
The In-Depth Review
Yeah, we have more to talk about. If you want additional information about what Now TV is, what is geo-blocking, and how you can circumvent it, make sure to check this review:
The Requirements
To unblock Now TV outside the UK, make sure you have the following:
A VPN subscription.
Now TV account.
A compatible streaming device.
Now TV: Exclusive to the UK
The service is definitely a must-have in the UK. It's not only an internet provider but serves as one of the biggest streaming services in the country.
In fact, the channel has more than 2 million subscribers, which is great considering how limited the access is to the service. What does that mean?
Compared to other streaming services, Now TV operates a little differently as it's only available in the UK and Ireland. Unlike Netflix (available globally), only users in these countries can access the channel.
Now TV has four passes: Movies, Entertainment, Kids, and sports. Each comes at a monthly price, with the ability to stream content and channels live.
Due to geo-blocking, viewers overseas cannot watch the channel. Now TV has copyright agreements, which is why it examines your IP address to determine your location once you approach it.
If you're not within its coverage area, you'll be blocked almost instantly. The only outcome will be the following error message:
"We're sorry, this isn't currently available to watch on your device at the moment, due to rights restrictions."

With Now TV, you can simply choose your membership, sign up, and start streaming. No contracts are required. However, what is necessary to access the channel is a UK IP address, which you'll easily obtain using the steps above.
What a VPN Can Do!
You can watch Now TV outside the UK by setting up a VPN. VPN will allow you to obtain a UK IP address although you don't live in the UK.
This comes in extremely handy if you are a British ex-pat living abroad and want to unblock geo-blocked services and applications like NOW TV, ITV Player, BBC iPlayer, or BT Player.
You can also choose a US VPN server and unblock US channels like "American Netflix, Hulu, and FOX". See below for more VPN details :
VPN enables you to change and hide your IP address.
VPN not only hides your IP but also encrypts your internet traffic which means your bank account and credit card data will be completely protected if you are using the internet in a hotel or cafe.
Some VPN providers provide apps for setup, this makes the setup process really easy. ExpressVPN created VPN apps for Android devices, iPhone, iPad, PC, and Mac to make the VPN setup process as easy as possible.
If you set up a VPN server in the U.K., you will get access to all the UK channels listed above.
Even if your ISP uses policies such as DNS hijacking and Transparent proxies or Internet filters, VPN will continue to work without any issues.
Finally, some appliances are not VPN-compatible "Smart TV, Now TV box" and therefore you need to make sure to set up your router instead "You need a VPN-enabled router".
If you want our recommendation, give ExpressVPN a try. Apart from the easy-to-use apps, they do have a huge number of servers around the world and a 30-day money-back guarantee.
Smart DNS – An Unblocking Alternative
Smart DNS only redirects the relevant chunks of geo-related traffic. You can keep using your local IP address while accessing foreign restricted websites.
This is beneficial as you might not want or need all the perks of a VPN. Smart DNS also gives you the ability to do the following:
Watch various streaming services from more than one country at the same time, hence, giving you the ability to watch UK's Now TV, American Netflix, and MENA's BEIN Sports at the same moment for instance.
No traffic encryption also means that you won't endure any loss in internet speed.
Smart DNS can be set up on most devices you can think of.
In the event that your ISP uses strategies like DNS hijacking, you won't be able to use Smart DNS. The same applies to Transparent proxies. In that scenario, you need to use VPN.
Unlocator has prepared easy-to-follow guides to aid you through the whole process. They have over 90 unblocked channels and servers and devoted servers over the world
One of the leading Smart DNS providers these days is Unlocator. With a 7-day free trial, video and screenshot tutorials, and over 214 unblocked channels, you can give them a try.
How to Get Now TV on Any Device Anywhere
With a Now TV subscription and a VPN, you can access the channel wherever you are. The last challenge you'll face is the installation process of Now TV outside the UK. We got you covered with the following setup guides:
Mobile
To get Now TV on iOS or Android, you must first connect to a UK VPN server. Once the connection is established, change your device's region to the UK:
Next, download and install the Now TV app and sign in with your account. Finally, enjoy the best live and on-demand content wherever you are.
Gaming
Gaming consoles are not compatible with VPN clients, so your first move should be to install the VPN on your router.
After that, change the console's country to the UK and download the Now TV app.
Finally, activate Now TV, sign in, and start streaming.
Smart TV
Apple TV
Desktop
This is quite different from other streaming services as you can't watch Now TV through your browsers. You have to connect to a UK server, download the app on your PC or Mac, and then start watching your content.
Fire Stick
On FireStick, the task is pretty easy. All you need to do is get the VPN app and connect to a UK server. After that, you should change your Amazon account to the UK and download the Now TV client.
Roku
Now TV – The Basics
To learn more about Now TV, make sure you go through the following "Frequently Asked Questions" section:
Can I Watch Now TV for Free?
Now TV is a subscription-based service. However, some of the plans include a 7 day free trial for new subscribers.
What Devices Can I Stream Now TV on?
Now TV is available on major operating systems and streaming platforms, including:
PlayStation
Xbox
Roku
Smart TVs (Samsung, LG, Sony, Panasonic, etc.)
iPhones
iPads
Android
PC
Mac
Apple TV
Fire Stick
How Many Devices Can I Watch Now TV on at Once?
You can stream Now TV per single subscription on 3 concurrent devices.
What Sports Can I Watch on Now TV?
With a sports subscription, you get unlimited access to all 11 Sky Sports channels. In other words, you'll be able to stream:
Rugby League.
Racing.
Tennis.
Boxing.
Football.
Formula 1.
Rugby Union.
NBA.
Darts.
Racing.
Golf.
NFL.
Now TV Anywhere – Final Thoughts
These days many streaming services are becoming geo-restricted. This guide is an efficient and easy way to unblock and watch Internet TV and bypass geo-blocks.
What method is better really depends on your preferences and ISPs, if you have any questions please post them below.