How to Install a VPN on Sabai Router
|
Happen to have a Sabai router? You're in luck! You can easily give your internet connection an energy boost by installing a VPN client on your router. This will allow you to extend the security, privacy, and ability to unblock regionally restricted content of a VPN to all of your connected devices. Read this installation guide to learn how to install a VPN on your Sabai router.
Why Setup a VPN on Your Sabai Router
To put this simply, installing a VPN on a router amplifies the effects of the VPN.
Let me explain.
A VPN is a tool that you can use to add a layer of security and privacy to your internet experience. VPNs will encrypt your data and re-route your traffic through a secure tunnel on their own servers. What this does is make sure that your traffic cannot be seen or monitored by any third-parties. It also protects your data from potential data thefts. Not to mention that a VPN can help keep your system safe from being used in a DDoS attack.
To add to all of that, a VPN will automatically change your public IP address. The new IP you get will match the location of the server you connected to. This allows VPNs to work as an anti-geoblocking tool as well. What that means is that you'll be able to use the VPN to access websites and streaming platforms that don't work in your area.
So, why would you set up a VPN on your Sabai router? Simple. All of those functions will automatically be extended to any device connected to your router. The great thing is that you won't even have to count those devices as part of your allotted device limit! Your router will count as one device only.
Best VPN for Your Sabai Router
Our VPN experts suggest using ExpressVPN on your Sabai router. ExpressVPN supports L2TP/IPsec protocols, which is what you need to install the VPN on the router. It also specifically supports installations for Sabai routers, making your life a whole lot easier in the process. Those aren't the only reasons we're suggesting this provider. ExpressVPN is widely known as the best VPN provider on the market and offers a wide range of features that any VPN user can trust. You can benefit from their 30-day, no questions asked, refund policy and test out the service for yourself.
If ExpressVPN isn't the VPN provider for you, feel free to look through any one of these top-tier providers. And don't worry, this guide will work with all of these providers as well:
How to Install a VPN on Sabai Router – Step by Step Guide
To install a VPN on your Sabai router, you need to make sure that the VPN you're using supports PPTP and L2TP-IPSec protocols. For this guide, I'll be using ExpressVPN to illustrate the installation process. If you're working with a different VPN, this guide will still show you everything you need to do:
Download VPN Configuration Files
Open the welcome email you received when you signed up with the VPN. Click on the link in the email to go to your account. 
Sign in and click on Set Up On More Devices.
Click on Manual Config. Select PPTP & L2TP-IPSec. You'll get your username, password, and a list of server addresses. Save this information in an easily accessible document for later. 
Configure Sabai Router
Now, you need to move on to configuring the Sabai router.
Log into your Sabai router's control panel by typing in 192.168.199.1 in a browser address bar. Sign in with your username and password (specific for the router).

Click on Network. Select PPTP.

Enter the server address, username, and password you saved before.
Check the Require MMPE-128 box. Click on Save.

Next, click Reboot. 
Click on Start. 
Congrats! You just installed a VPN on your Sabai router. To stop the VPN connection, simply click on Stop.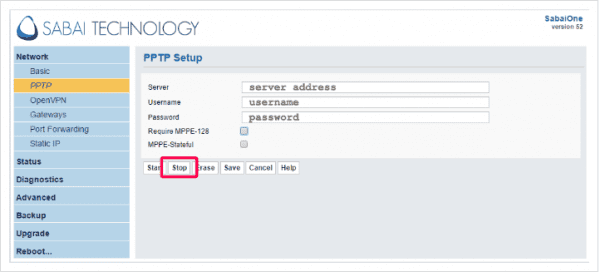 Reboot your router to disconnect completely.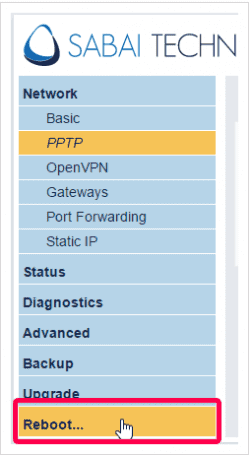 Install a VPN on Your Sabai Router – Final Thoughts
There you have it, the (very easy) steps you should take to install a VPN client on your Sabai router. If you want to supercharge your router even more, I suggest taking a look at our "How to Flash" guides for DD-WRT and Tomato firmware.