KP Snacks Breached – Conti Ransomware Leaves Nothing But Crumbs
|
Everywhere we turn, everywhere we read, we notice that the Conti ransomware is in the spotlight once again. Apparently, the group behind it is determined on infiltrating every single high-profile company in the world.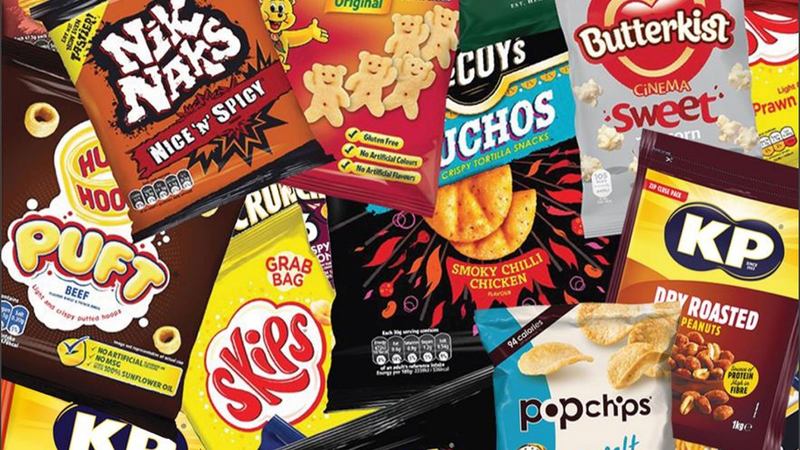 First, the malware struck Shutterfly. After that, it went after RR Donnelly and Delta. And now, the responsible threat actors have infiltrated KP Snacks' systems.
Conti is well-known for hacking into big companies and asking for ransom in exchange for decryption. The prices are high as it might hit 15 million dollars. So, what has it asked KP Snacks to pay? How did this happen and what is the company going to do? Find out below.
Conti Hits Kenyon Produce – A Snack with a Bitter Taste
If you're familiar with malware such as Ryuk, TrickBot, and BazarLoader, then you probably know the Russian cybercrime group Spider Wizard.
The group's new target is none other than the giant KP Snacks – a major producer of popular British snack products. The company is responsible for producing popular brands such as Penn State pretzels, McCoy's, PopChips, Skips, Hula Hoops, Wheat Crunchies, and more.
It's pretty clear why KP has become a worthy target. The company does have a revenue of over $600 million after all.
Usually, with most ransomware attacks, only the targeted entity is affected. Unfortunately, that's not the case with this incident. Aside from KP Snacks, the attack also affected distribution to leading supermarkets.
The attack disrupted the company's distribution, causing delays and cancelations to deliveries that could last until the end of March at the earliest – KP Snacks disclosed: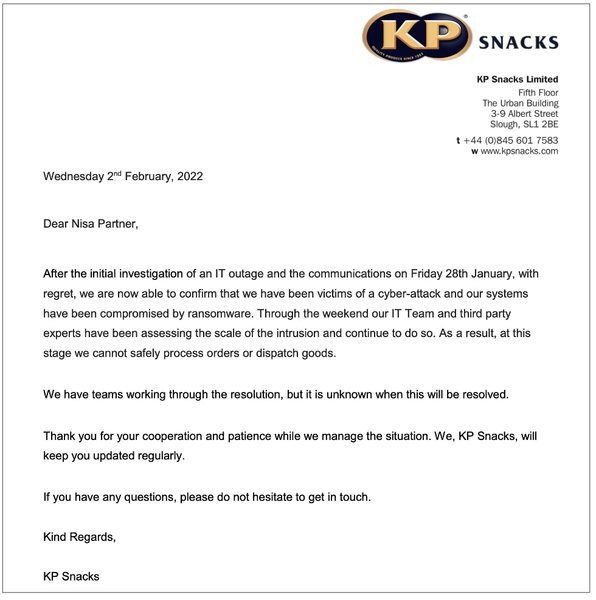 As usual, the Conti ransomware gains access to sensitive files and encrypts them. After that, it usually leaves a "readme" file that shows the financial requirements for the decryption.
However, this time around, a Conti page shows that the group is claiming responsibility for the attack and giving KP a certain amount of time to pay the required ransom: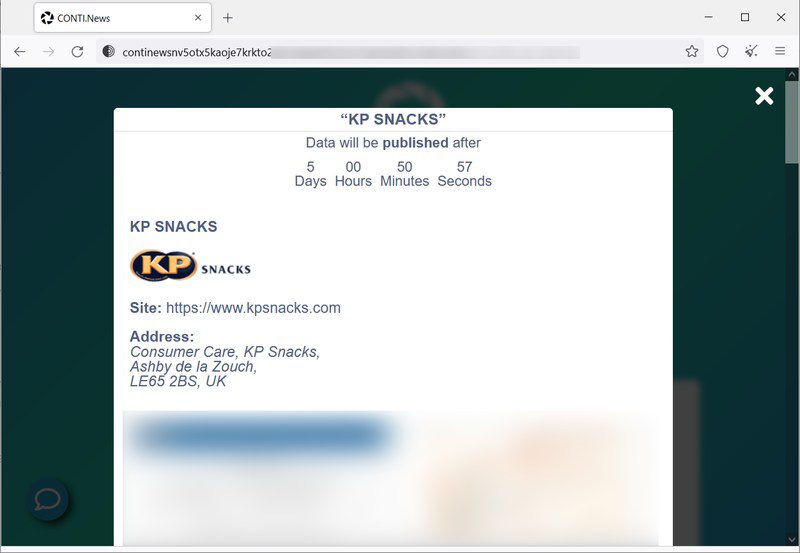 KP is now looking into it and they're trying as much as they can to inform other companies they work with. According to a spokesperson in the company:
"As soon as we became aware of the incident, we enacted our cybersecurity response plan and engaged a leading forensic information technology firm and legal counsel to assist us in our investigation.

We have been continuing to keep our colleagues, customers, and suppliers informed of any developments and apologise for any disruption this may have caused."
Conti has rapidly climbed up the ranks among ransomware groups and it doesn't to be stopping anytime soon. Now, their latest victim is KP and no one knows who's next.
KP Snacks Conti Ransomware Attack – Only Crumbs Remian
The Conti ransomware has become very dangerous as it had multiple victims in the past month only. That's why the FBI, CISA, and the NSA US have recently issued an advisory warning of such attacks.
We still don't know how Conti got a hold of the data, but in the end, it's Conti. Cyber threats are all over the internet. If you own a company or a business, you must always be vigilant with your sensitive information.