New Netflix February 2020 Upcoming Arrivals
|
The month of February is mostly one of the poorest months when it comes to big hits on the big screen. This is one of the main reasons why it's often better to just sit back on your couch and stream what the likes of Netflix have to offer. The streaming giant doesn't disappoint on a monthly basis, and February 2020 will be no different. In essence, we came up with this guide to give you a quick glance at what Netflix February 2020 upcoming releases look like. Here's what we have so far.
Netflix February 2020 – The Hits Hitting in the Small Screen
January saw some big titles get added to the streaming giant's catalog. That includes The Chilling Adventures of Sabria (Part 3), Messiah, and Dracula. Such content gave Netflix the global dominance it now has, marking its subscribers base at 160 million around the world.
However, although the channel is adding quality and quantity all together, one simple misstep might ruin it all. And unfortunately, Netflix did that by announcing that it would be removing one of the main reasons fans subscribe to its service, the legendary "Friends."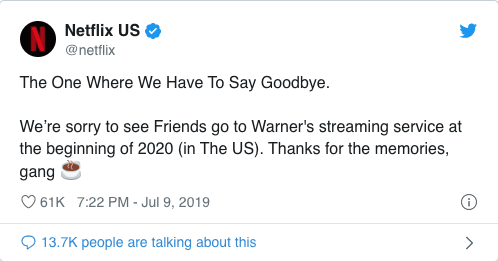 Dear fans, say goodbye to Central Perk and to all the "goofy moments" Friends gave you for the past couple of years.
It doesn't end here. Friends might be a big attraction and all, but one other reason fans might leave Netflix is due to the existence and dominance of the Disney+ service. According to Daniel Ives, managing director of equity research at California-based investment firm Wedbush:
"We believe 10% of Netflix's 160 million global subscribers are at risk of potentially churning due to the Disney streaming service and rising competition in 2020."
[symple_testimonial]
Now, the second month of 2020 should try to prevent that from happening. Netflix has a lot of new titles, including originals for the upcoming month. With that said, here's every Netflix new title/original planned to be released in February 2020. 
Locke & Key – Season 1 (February 7th)
The series is one of the most anticipated Netflix releases of not just February, but 2020 in general. Locke and Key is a comic book series brought to you by Joe Hill.
The first issue of the comics was released back in 2008 and sold out on the same day. This series has all the genres it needs to make it one of the best releases during this year. That includes Drama, Fantasy, and our personal favorite, Horror.
Here's how the story goes. The Locke family patriarch Rendell Locke gets murdered by one of his students. Now, it's up to the remaining family members to solve the mystery and discover magical keys, each with their own abilities.
However, there's also a strange/evil entity lurking in a well near the house that's eying for the magical keys as well. Why does it want them? We don't know yet. Well, you have to wait till February 7th to find out.
We've seen such shows gain the popularity they deserve. If we're in luck, Locke & Key will debut to similar fanfare that The Umbrella Academy did.
The casting of the show is as such:
Jackson Robert Scott as Bode Locke
Connor Jessup as Tyler Locke
Emilia Jones as Kinsey Locke
Sherri Saum as Ellie Whedon
Griffin Gluck as Gabe
Darby Stanchfield as Nina Locke
Laysla De Oliveira as Dodge
Petrice Jones as Scot
Thomas Mitchell Barnet as Sam Lesser
This is all we know about the show. If you want a better look at what's coming your way on February 7th, 2020, check out the official Locke & Key promo below.
To All the Boys: P.S. I Still Love You (February 12th)
We don't get much of Netflix sequels; they're very rare. However, To All the Boys is getting one, and it's hitting the screens on February 12th, 2020. The first installment was a smash hit; we expect this one would be as well. 
We don't know if Lara will end up with Peter, but if she doesn't, fans will go berzerk. According to a comment on a tweet:
"Netflix, I'm telling you right now if Lara Jean doesn't end up with Peter I am going to be very upset!"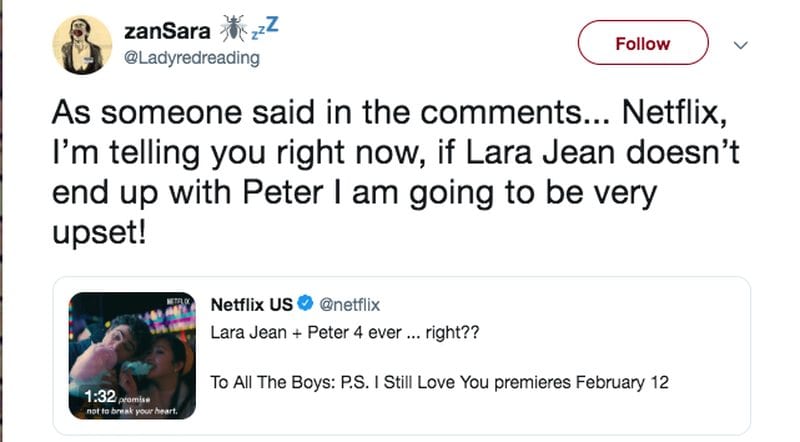 It's really quite vague how the story is going to be, but if you love your friend very much, you'll get confused. To be honest, news on the sequel has been relatively quiet.
However, it's guaranteed that this is going to be one Netflix solid entry, come February. But the question is: Are you, Team Peter or Team John?
After a few months of patience, Netflix has finally dropped the To All The Boys: P.S. I Still Love You trailer. Take a look.
Narcos Mexico – Season 2 (February 13th)
The first season of the show got mixed opinions prior to its release. You know what happens when a show is a spinoff, it loses its magic. Well, Narcos Mexico did not, and we don't see it doing so in the near future also.
Narcos Mexico season 1 got an 8.4/10 rating on IMDB and an outstanding %89 on Rotten Tomatoes. These results show you how popular the show is and how important it is to watch it. Let's see how the new cast is shaping up so far:
Rafael Caro Quintero (Tenoch Huerta)
Isabella Bautista (Teresa Ruiz)
Sosie Bacon (Here and Now)
Mayra Hermosillo (The Walking Dead)
Jose Julian (The Society)
Flavio Medina (The House of Flowers)
Luckily, Netflix won't make us wait for long before dropping the show in its library on February 12th, 2020. In the second season, we'll see what happens after the cat and mouse game, which ended in the abduction, torture, and murder of Kiki. This death acted as a catalyst in the war of drugs. What will happen? We still don't know, but this first look will give us a slight idea:
Cable Girls – Season 5 (February 14th)
Cable Girls season 5 will air on February 15th, 2020, and fans are more than excited to see what the show has in stores for them. Netflix likes to keep us in the dark when it comes to upcoming releases. However, thanks to a press release, we now know what to expect from the 5th season of Cable Girls:
[symple_testimonial]
"In this last season and after the tragic and painful death of Angels, one of the hardest episodes in their lives, the girls take very different paths towards what seemed like a promising future.
The Spain they knew is divided into two sides, and after years of struggle and progress towards equality, freedom is being lost in a Civil War that will change their destiny, as well as those of their families and those of the new characters that will appear to turn everything upside down.
The rights obtained in the democratic period will disappear, women will be expelled from the labor market, and all the girls will find themselves against the ropes.
Despite the difficulties, their lives are destined to intersect, and they will have to remain together to face whatever comes ahead. One thing is clear: their friendship will always be above anything else.
In a divided society, "Either all or none" will be the motto that will guide their fight for their lost freedom, and that will prove that the most important thing is to have your friends close because this group of friends would give even their lives to save each other."
We're waiting for the fifth season to come out. No official trailer has been released yet, but we'll update the article as soon as it does. Stay tuned.
Netflix February 2020 – The Complete List
Now that we've talked about a few titles coming your way in the coming month of February, let's cover the whole list:
Please note that the list is still not complete. There are other titles scheduled for the month, but no official announcements have been made. If anything is announced, we'll update this article accordingly.
February 4th
Tom Papa: You're Doing Great! (Standup Special)
February 5th
The Pharmacist (Limited Series)
February 7th
Locke & Key (Season 1)
My Holo Love (Season 1)
February 12th
To All the Boys: P.S. I Still Love You (Movie)
February 13th
Narcos Mexico (Season 2)
Love Is Blind (Season 1)
February 14th
Cable Girls (Season 5 – Part 1)
Isi & Ossi (Netflix Movie)
February 24th
Better Call Saul (Season 5 – Weekly Release)
February 27th
Followers (Netflix Series)
February 28th
All the Bright Places (Netflix Movie)
Queen Sono (Season 1)
Netflix February 2020 New Arrivals – Final Thoughts
Netflix doesn't disappoint, and no matter what streaming giant blocks its way, it will always prevail. Despite the news of losing subscribers, you should know that every streaming service has a specific audience, specific content, and global reach.
With that out of the way, Netflix has a lot of big titles for February 2020. You now have a glimpse of what's coming, if there's anything you wish to add, drop that in the comments below, and we'll get back to you as soon as possible.