The process of setting up a VPN on your Synology NAS using PPTP might be a bit daunting if one's not quite sure about how to deal with things. If this sounds a bit challenging for you, then this tutorial should be able to guide you through everything that needs to get done. For this setup, however, we recommend turning off IPv6 as illustrated in the guide below. We divided the Synology VPN installation process into a number of steps:
First Step – Sign Up with a VPN Service Provider
In order to setup VPN on Synology, you have to sign up with a VPN service first. While we do recommend using ExpressVPN, there are other alternatives, too. Here is a list of best VPNs for Synology.
Second Step Look for Your VPN Account Credentials
Using ExpressVPN on Synology requires that you set up a new VPN profile. To do that, you'll need a server address, your account credentials, and the IPSec pre-shared key. Here's how to find all that information:
Start by opening up the

Welcome Email

that you got when you signed up for ExpressVPN, & click the

link in the email

. 

Sign into ExpressVPN

Having clicked the link in the welcome email, or even logged on into the website, click the Setup ExpressVPN on the Active Subscriptions page.

Click on 'Setup ExpressVPN'

Thereafter, the Manual Config setting should allow you to select PPTP & L2TP-IPSec, and set up your username, password, as well as select from a list of server addresses from around the world.
Keep this information in mind
as you'll have to use it to
set up your VPN profile
.
Deactivate IPv6
As you've read above, we highly

recommend

that you turn off IPv6 so as to prevent IPv6 traffic from leaking outside of the VPN tunnel. To do this, head to

Control Panel > Network > Network Interface

. 

Go to Control Panel

Go on and click the

Network Interface

tab, and expand it by clicking the

LAN

menu. Select

Edit

. 

Click 'Edit'

Once in this menu, click the

IPv6

tab. You should see a list of configurations, choose

off

, then finish off by clicking

OK

.  

Turn IPv6 Off
Creating a New VPN Profile
Doing this would need you to return to the Network Interface settings by navigating through Control Panel > Network > Network Interface. Choose Create > Create VPN Profile.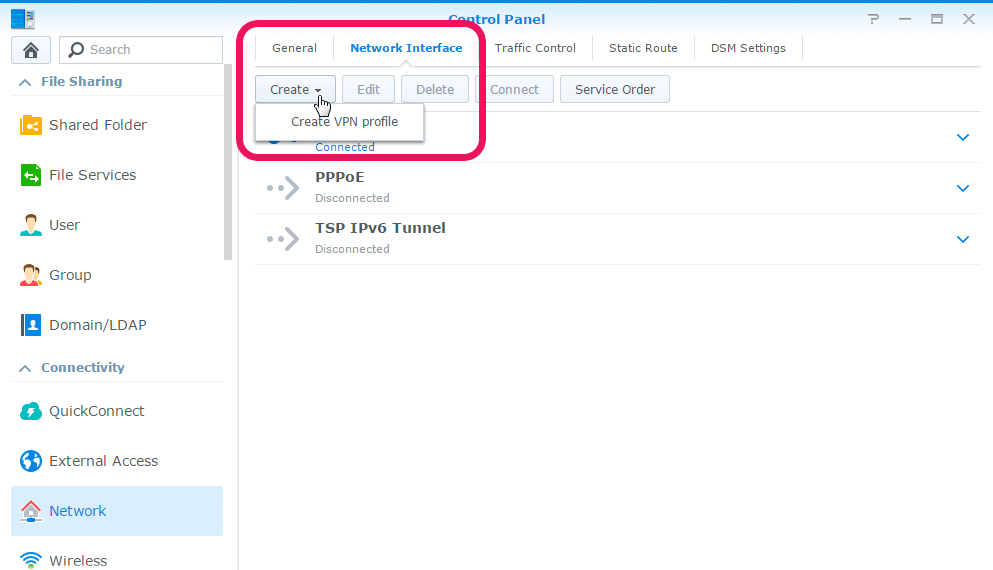 Setting Up Your VPN Profile
Now, you'll need your

username

,

password

,

IPSec pre-shared key

and

server address

like we said you would earlier. Select

PPTP

on the VPN Connection Method screen, then click

Next

. 

Choose PPTP

You'll see the General Settings screen, where you'll need to type in a

username

,

profile name

,

server address

and

password

. Click

Next

when done. 

Enter Your Details

Here you'll see the Advanced Settings screen, where you'll need to enter: Authentication: MS CHAP v2 & Encryption: Maximum MPPE (128 bit). Check both boxes to "Use default gateway on remote network", and "Reconnect when the VPN connection is lost". Click Apply when done.

Configure Advanced Settings
Launch the Connection to the VPN Server on Synology
You'll be able to see your new VPN profile in the Network Interface window. Click on it, and press Connect.
Disconnecting from the VPN server on Synology
For whatever reason, you might want to discontinue your connection to your VPN server. To do this, go through Control Panel > Network > Network Interface and click your VPN profile. Press Disconnect.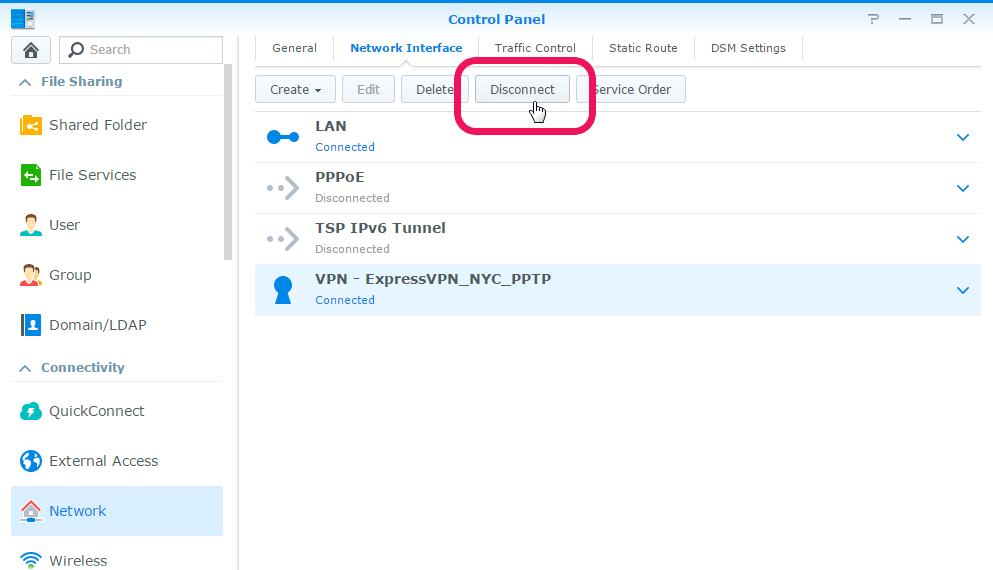 How to Setup VPN on Synology NAS – Wrap Up
Hopefully the tutorial above provided you with clear instruction on how to install VPN on Synology. Just in case you have further inquiries or need help completing the setup process, feel free to leave a comment below.