How to Get SiriusXM outside USA
|
The widest variety of music, sports, news coverage, and best entertainment content. All of these can be found on SiriusXM Satellite Radio. SiriusXM is an American broadcasting company that provides three satellite radio and online radio services operating in the United States. Emphasis on "The US" as it's only available there.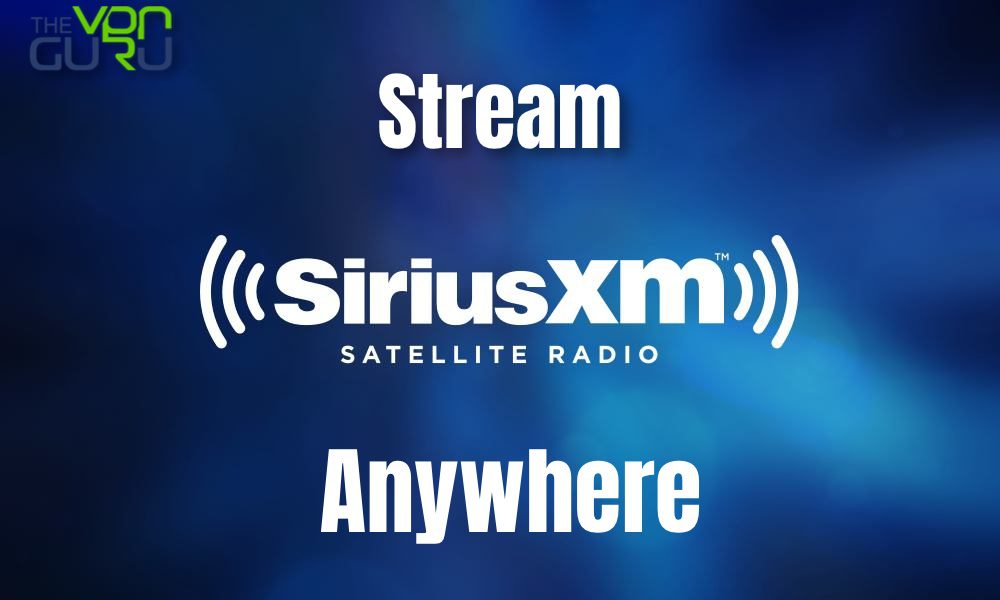 SXM is available in the 50 United States and D.C., Puerto Rico, and Canada. In other words, no one overseas gets to stream the service's content due to geo-restrictions.
However, this can all change with some simple steps. Now, after going through this guide, you, and every American ex-pat can stream SiriusXM from any country in the world.
SXM Anywhere – Quick Guide
Time needed: 5 minutes
Unblocking SiriusXM outside the US doesn't take much effort. What you need is this step-by-step guide:
Subscribe to a VPN service.

For seamless uninterrupted streaming, we recommend ExpressVPN.

Download the VPN app on your device.

You'll find clients on Android, iOS, PC, and Mac.

Activate the VPN application.

Sign in with your username and password.

Connect to a server in the US.

You'll obtain an American IP address in the process.

Launch SiriusXM's website or app.

Sign in with your account.

Listen to the best podcasts in the US anywhere.

Enjoy SXM wherever you may be.
SiriusXM Unblocked – The Full Review
We have a lot more information to provide you with. Make sure to go through this comprehensive walkthrough for additional data:
What You Need
To stream SXM overseas, make sure you have all of the following:
A VPN subscription.
An SXM subscription.
SXM-compatible device.
SXM: Geo-Blocking Applies
SiriusXM continues to grow its subscriber base as it gets more and more popular in the supported regions. As of 2021, the service has more than 34.08 million subscribers, which is huge considering that it is only limited to Americans.
Anyone living outside the US cannot stream its services let alone, access them. We have geo-blocking to thank for that as this defense mechanism limits the users' online access based on their location.
To protect its copyright agreements, SXM examines your IP address to determine your physical whereabouts. If you happen to live abroad, you won't be able to even sign up for the service.
Instead, you'll get one of the following error messages:
"We're Sorry. Thank you for your interest in SiriusXM. Looks like access is unavailable. This could be for a variety of reasons. Please keep in mind that SiriusXM provides service in the 50 United States and D.C., Puerto Rico, and Canada, with some limitations."


"Access Denied. Error 16 care.siriusxm.com 2022-03-31 09:22:41 UTC."

This is an issue that can be dealt with. American ex-pats can stream SiriusXM from any country in the world if they make use of a VPN and follow the steps provided above.
What a VPN Does!
A VPN – Virtual Private Network – works by creating a digital tunnel through which your device accesses the Internet. It connects your device to one of its servers and reroutes your connection through that server.
Only after connecting to the server will you appear to be using its IP. Not only will this make it look like you're located in a different country, but also give you online anonymity and freedom.
While bypassing restrictions is a compelling offer, it's not the only thing a VPN can accomplish. Besides maintaining security, a virtual private can keep you anonymous while you're online thus providing you with ultimate privacy. There's more to what a VPN can do, and here they are below:
Saves you money with border-related purchases.
Allows you to download, share files, and torrent safely.
Secures your publicly visible connections through tunneling protocols.
Bypass any content filters, bans, or blacklisting.
Enables you to access geo-restricted sites and content.
Prevents bandwidth throttling.
Secures your data while using public Wi-Fi spots where you are most susceptible to online attacks.
Blocks incoming malicious traffic that could possibly reach and damage your devices.
Our number one pick for the best service provider is ExpressVPN. It's a fast and secure service that guarantees to get you all the websites, channels, and streaming services unblocked regardless of your location while keeping your data safe. For other service providers, make sure you check out the table below:
SiriusXM – Frequently Asked Questions
If you want to know more about SXM, make sure you check the following FAQ section:
SXM requires a subscription. However, as of now, you can benefit from a 3-month deal that'll cost you $1 only.
How Much Does SXM cost for Streaming?
If you're looking to stream SiriusXM on your desktop or mobile, you can choose between 3 plans:
Platinum: $10.99/mo
Music & Entertainment: $7.99/mo
Music Showcase: $4.99/mo
How Many Channels Do I Get?
The channels you get depend on your susbcription. The highest number of channels per subscription is 450+, while the lowest is 100+ Channels.
Can I Stream SXM on Kodi?
Unfortunately, while Kodi has a lot of Music add-ons to offer, SXM is not one of them.
What Devices Can I Use SiriusXM on?
You can stream SXM's radio service on Android, iOS, PC, and Mac.
Stream SiriusXM Outside the US
Get SiriusXM outside the US and stream radio online, in your car, or anywhere you go. Get music, the latest news, sports news, and talk radio stations once you unblock SiriusXM wherever you are located.
Hopefully, SiriusXM will enable access to its content from different locations later on but in the meantime, we stick to using our VPN. Give us a shout out in the comments below if you need anything.