The 75th season of NASCAR professional stock car racing in the United States is kicking off on February 5th, 2022, with the Busch Light Clash at the Los Angeles Memorial Coliseum and finishing off with the 65th running of the Daytona 500 (February 19th). NASCAR is a popular racing series, which means there are dozens of channels broadcasting it all over the world.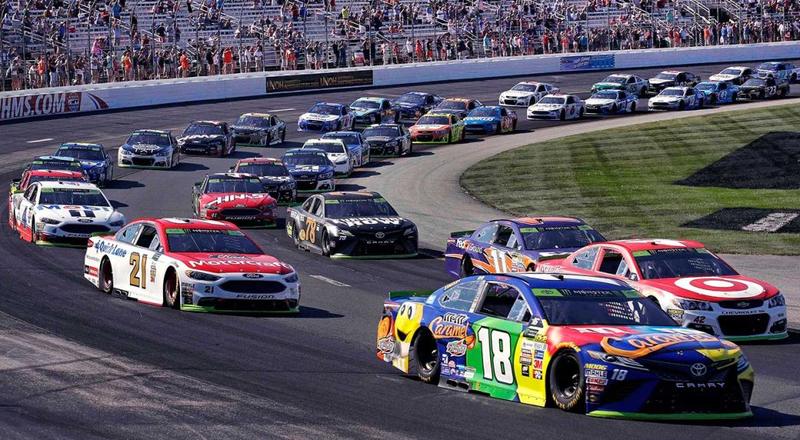 Despite having such a massive broadcast spread, the channels airing the races are geo-restricted to their respective countries. In other words, many fans won't get to see racers trying to one-up each other through 36 different races.
This can be managed easily as we're used to bypassing geo-blocking mechanisms. Ready? Here's how you can stream the 2023 NASCAR Cup Series live anywhere.
Stream NASCAR Anywhere – Quick Steps
Time needed: 4 minutes
To stream the 2023 NASCAR Cup Series, the following steps are required:
Sign up with a VPN provider.

We highly recommend ExpressVPN, as its servers are well-optimized to unblock any of the services listed below.

Download and install the VPN application.

You can get the app on Android, iOS, PC, or Mac.

Sign in with your newly created VPN account.

Submit your username and password.

Open the server list.

Connect to a server based on the channel you selected.

Launch your selected channel.

You can stream through the service's app or website.

Sign in with your channel's account.

Enjoy the 2023 NASCAR Cup Series wherever you are.
NASCAR Cup Series 2023 Official Broadcasters
As we mention, the NASCAR Cup series has gained huge popularity worldwide. Despite the pandemic a few years ago, NASCAR's viewership saw huge viewership rates.
According to Fox Sports, the race at Darlington averaged 6.32 million viewers. It's considered to be the most-watched competitive sports event on all television networks after the Daytona 500, which gained 7 million viewers.
Now, this number was only in the US. If we were to speak of global viewership, we'd definitely be getting hundreds of millions.
Speaking of, NASCAR has official broadcasters in a lot of countries. The full list is below, so please check if there's one in your region.
You've seen the list. If you have an official broadcaster, that's great. However, even if you don't, you'll still be able to watch the 2023 series. That's not a promise; that's a spoiler.
The channels above apply geo-blocking, so they're unavailable for streaming outside the country of origin. They rely on your IP address to determine your location. If you're not within their coverage area, they'll block you instantly.
But that's all about to change. The following section will show you how to bypass these regional restrictions, access any channel on the list, and watch the 2023 NASCAR Cup series wherever you are.
How to Watch NASCAR 2023 Live with a VPN
The channels mentioned above cannot be viewed outside their respective region. As stated before, your IP address is used to pinpoint your actual whereabouts.
However, with a VPN, you can trick the services into thinking that you're in any region of your choosing, provided the VPN has servers there.
In order to do that, you'll have to connect to a VPN server based in the United States, for example, if you wish to get Fox Sports. Once connected, you'll receive a temporary American IP address and spoof your location there.
Now, when you approach the channel again, you'll notice that the geo-ban has been lifted. As a result, you'll be able to stream NASCAR 2023 with ease.
ExpressVPN is one capable VPN provider. It has servers scattered across 160+ locations and they're blazing fast as well.
On the other hand, this VPN protects your private data using the best and most efficient security features in the industry.
If you'd like to know more and check other top providers, then how about you give the table below a quick gander?
NASCAR Cup Series 2023
This year's Cup Series is coming with a bang in the form of the Busch Clash. However, the races this year will just keep coming, and here's the full schedule:
5 February: Clash (Los Angeles Memorial Coliseum)
16 February: Duels at Daytona
19 February: DAYTONA 500
26 February: Auto Club Speedway
5 March: Las Vegas Motor Speedway
12 March: Phoenix Raceway
19 March: Atlanta Motor Speedway
26 March: Circuit of The Americas
2 April: Richmond Raceway
9 April: Bristol Motor Speedway Dirt Race
16 April: Martinsville Speedway
23 April: Talladega Superspeedway
30 April: Dover Motor Speedway
7 May: Kansas Speedway
14 May: Darlington Raceway
21 May: North Wilkesboro Speedway (All-Star Race)
28 May: Charlotte Motor Speedway
4 June: WWT Raceway
11 June: Sonoma Raceway
25 June: Nashville Superspeedway
2 July: Chicago Street Race
9 July: Atlanta Motor Speedway
16 July: New Hampshire Motor Speedway
23 July: Pocono Raceway
30 July: Richmond Raceway
6 August: Michigan International Speedway
13 August: Indianapolis Motor Speedway Road Course
20 August: Watkins Glen International
26 August: Daytona International Speedway
How to Watch NASCAR 2023 Live Online - Final Thoughts
The playoffs wrap up with the NASCAR Cup Series Championship at Phoenix Raceway. It's good to see some sports still moving on with their series despite the pandemic we're going through.
Now, you have everything you need to watch the 2023 NASCAR series live wherever you are. So, are you excited to see this year's highly anticipated NASCAR? Let us know in the comments below.