How to Get 9Now outside Australia (Unblock Channel 9 Abroad)
|
Can I watch 9Now outside Australia? 9Now is an Australian TV channel that offers live and on-demand streaming in Australia. The service is completely free, with broadcasting rights that include Cricket, Golf, and a lot more.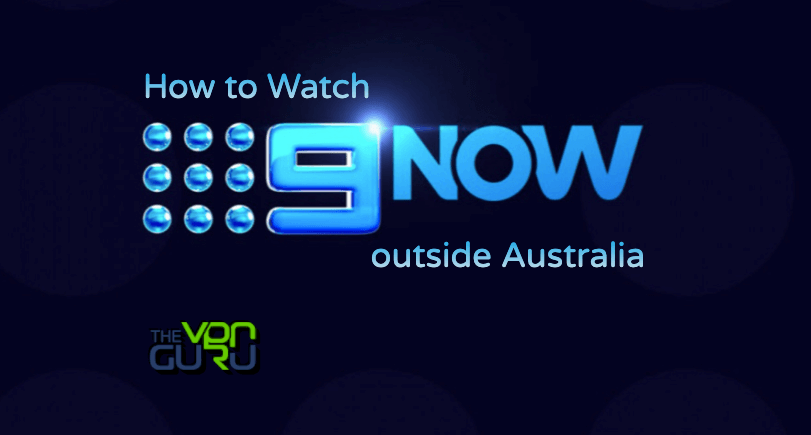 However, Channel 9 is geo-blocked outside Australia in countries including Canada, UK, the US, Italy, and France. In other words, anyone living overseas won't get the chance to access the free channel.
Well, that won't be the case for long. All you have to do is follow the steps in this guide and you'll be able to unblock and watch 9Now anywhere in the world.
Unblock 9Now Anywhere – Quick Guide
Time needed: 5 minutes
9Now is a free channel that offers premium content. It's quite frustrating for Aussie ex-pats to struggle while trying to access such a local channel abroad. We're not going to take much of your time. So, here's how you can unblock 9Now outside Australia.
Sign up with a VPN service provider.

We highly recommend ExpressVPN due to its efficiency and speed.

Download the ExpressVPN app on your device.

They have clients on Android, iOS, PC, Mac, as well as FireStick.

Activate the software and sign in with your credentials.

You'll be asked to provide a code sent to your Email.

Connect to an Australian server.

This step will give you an IP address in Australia.

Launch the channel's website or application.

You can follow the steps provided below to install the 9Now app on any device.

Sign in with your 9Now account and start streaming.

If you don't have an account, we also added a step-by-step walkthrough in this guide.
9Now Anywhere – A Detailed Analysis
When it comes to streaming geo-blocked content in different regions, you must learn everything about how geo-blocking works, what devices to use, and, of course, how to get a geo-restricted app on your device.
Now, you know how to unblock 9Now abroad. We're going to give you an in-depth look at the whole process below:
What You Need
To unblock and watch Channel 9 outside Australia, you should have the following:
A VPN subscription.
9Now account.
A 9Now-compatible device.
Is 9Now Available Outside Australia?
9Now is one of the biggest channels in the country. The Nine Entertainment Company's channel is viewed by more than 2.49 million Australians.
That number could've been a lot higher if the channel was made available globally. Instead, it uses geo-blocking techniques such as examining your IP address to determine your location and restrict your access accordingly.
If you try to watch or sign up to 9Now overseas, you'll get one of the following:
"This video is restricted from playing in your current geographic region. player_err_geo_restricted"
"Sorry, 9Now is only available in Australia."
"Geo-blocked. Access is not available in your location."
"It looks like you are currently out of the country. This app is only available in Australia."
The first and more common path to dealing with the issue of watching Channel 9 outside of the country, is by using a VPN.
What Can A VPN DO?
All a Virtual Private Network does is changes your computer's IP address given to it by your ISP and make it appear to be attached to an IP address of a computer in Australia.
It's quite simple actually and allows you to stream Channel 9 without a problem; you could also stream on other platforms such as HBO Go, Netflix, Showtime, and FetchTV.
Since all these providers geo-block the users outside of their designated countries, a VPN can do the trick and unlock them for you.
One of the major upsides to using a VPN is that you get more security and privacy while browsing or streaming the net and you would feel as if your connection is shielded.
Each device that you want to unblock content on needs to have the VPN software installed on it; luckily most quality VPN's support most devices including a PC, Mac, iPhone, iPad, and Android.
A VPN that should be able to handle the weight of your job is ExpressVPN. Using ExpressVPN allows you to unblock and watch 9Now outside Australia. There are many other VPN providers that allow you to access geo-blocked Australian channels overseas.
Creating a 9Now Account Outside Australia
Before you start streaming, please note that you won't be able to stream anything without a 9Now account. It's free and very easy to create:
First, open your VPN app and connect to an Australian server.
Head over to https://www.9now.com.au/
Click on Log In on the top right corner of your screen.
Enter your email address and click continue.
Then submit a password and hit continue again.
Submit the required information. For the postcode, use (5999).
Open your email and verify your newly created account.
Go back to 9Now's website, log in, and start streaming.
Get 9Now on Any Device
Now that you have a VPN subscription, as well as a 9Now account, here's how you can stream 9Now on any device you may be operating:
Watch 9Now Anywhere – Frequently Asked Questions
A lot of you have more questions that need answers. That's why we created this FAQ section to help you out as much as we can:
What Devices Can I Watch 9Now on?
You can stream 9Now on major platforms such as Android, iOS, PC, Mac, Apple TV, Chromecast, Smart TVs, Android TV, Amazon Fire Stick, and PlayStation 4.
Do I Need an Account to Watch 9Now?
Yes. You can't stream 9Now's content without creating an account first.
Can I Create a 9Now Account Outside Australia?
Sadly, no. If you want to sign up to 9Now, you must connect to an Australian VPN server first, then visit the website.
Yes. The channel is completely free. No subscription fees are required to watch 9Now's content.
Where Do I Get an Australian Post Code?
To create a 9Now account, you must submit an Australian Post Code. If you don't know what to use, you can enter one of these: 8000, 8999, 5999, 2618, or 0299.
What Can I Watch on 9Now?
With a 9Now account, you get to stream content like 24, Agatha Christie's Marple, Almost Human, Australian Open, Chicago Fire, Dallas, Dating Naked, Desperate Housewives, Dynasties, Gallipoli, Keeping Up with the Kardashians, Law & Order, Love Island (USA, UK, Australia), Roland Garros, Take Me Out, and more.
How to Unblock and Watch Channel 9 outside Australia
As an Australian ex-pat living abroad, you would like to get access to Australian streaming channels back home like Channel 9, Channel 7, TenPlay, SBS, or ABC iView while outside Australia.
Once you're done with this guide, all of that is possible. Remember, if you have any questions, don't hesitate to contact us in the comment section below.