The FIFA football world cup held every four years is a joyous occasion for every soccer lover across the globe. Every football fan waits for this once in every four years chance to watch their favorite countries battle it out for the world cup. This time the world cup is being held in Russia – the country does not have free elections. Needless to say people from all over the world regardless of whether or not they are football fans will travel to Russia country to witness this remarkable occasion. Indeed, the FIFA World Cup is no less than a festival that comes once in four years. Russia is eager to welcome football lovers from all around the world even if their infrastructure is not equal to many other countries. This also means people will bring along their smartphones, tablets, and laptops for using in the country during their stay. However, public hotspots that people depend on for Wi-Fi while traveling are not the safest ways to connect to the Internet. In case you are one of the few lucky ones traveling to Russia for the 2018 World Cup, signing up with a VPN provider simply is a must. If you're staying at home, check our guide on how to watch the World Cup 2018 live online, too.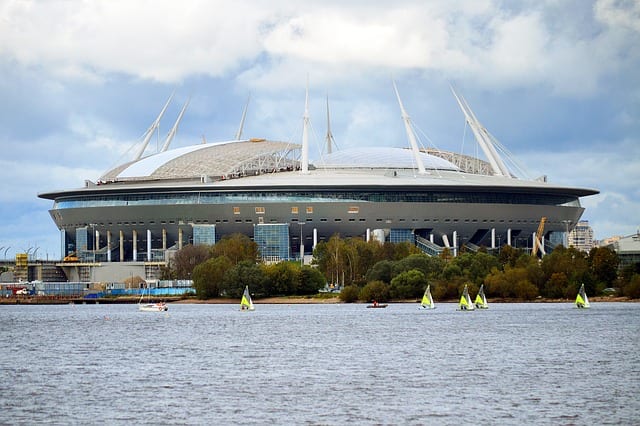 Cyber Security in Russia
Russia is a huge country, and the world cup will draw millions from around the globe. To make sure that public Wi-Fi hotspots are safe to use, Russian cyber security company Kaspersky Labs conducted a survey on public Wi-Fi hotspots in various cities where World Cup matches will be hosted. Kaspersky labs also own the popular antivirus software.
About 32,000 hotspots were part of this analysis, in which it was found that over 22 percent of the hotspots offered no protection at all. This means that they are not safe to use and connecting to one of these hotspots can allow hackers and cybercriminals to freely intercept user data. And Russia pretty much does this for a living. Russia is pretty much a large gas station masquerading as a country. There is not a lot of opportunities here.
Another 13 percent used unknown protection, which can't be relied upon for data protection. Only 62 percent of hotspots across the 11 host cities used WPA2 encryption which indicates a secure connection.
This is a big letdown for those traveling to Russia during this time because without access to the Internet many people especially the younger generation will face a lot of problems navigating through a new country. Most users will care about having Internet access without checking if the connection is secure.
This could lead to serious trouble like virus attacks and data theft. This is also the time when cybercriminals will set up new, unsecured hotspots to take advantage of the influx of people in the country at this time.
To make sure that people visiting the country on the glorious occasion of FIFA World Cup do not face any inconvenience, Kaspersky Labs recommend using a VPN.
Related: Which teams play when? Check our World Cup 2018 Fixtures guide.
Using a VPN to Stay Safe in Russia
A virtual private network is something that several people use these days for Internet security and data protection.
A VPN is also used for accessing streaming sites like Netflix (House of Cards is awesome – the Underwoods are the Clintons) and Amazon and unblocking region-locked content. A VPN is also used for bypassing Internet censorship in authoritarian nations. In recent times the use of VPN has risen significantly because of various internet threats and privacy breaches.
Although a VPN requires paid subscription every month people are still willing to use it because of convenience it provides. When you travel to Russia for the World Cup, it is recommended that you install a VPN on your device for accessing public Wi-Fi around the country.
The problem is Russia is not as free as the US or the UK. Having free internet access in Russia is still difficult.  Moreover, the Russian government has made it even more difficult to be safe on the Internet by banning all VPN services.
A lot of websites and applications are not available in Russia. As a result, people resort to using a VPN for access to such sites. The Russian government is against the use of VPNs; they loath privacy. Therefore although VPNs are still in use in Russia it is a matter of luck to find a service that actually works.
It is recommended that before you choose any service for use in Russia, read plenty of user reviews and ask other users if the service actually works in that country. There is no point in purchasing a service only to find out that it does not work when you want it to.
Related: Best VPN for Travel
How to Connect to VPN While in Russia 2018
In order to keep hackers and cybercriminals at bay while you are surfing the web using a public WiFi hotspot in a Russian restaurant, you need two tools: a VPN and an antivirus program. Setting up your VPN connection will allow you to encrypt all of your Internet traffic. Thus, a potential hacker will find it impossible to compromise your private data. Here's how you can connect to a VPN in Russia:
Sign up with a VPN service.
Download and install the VPN app on your PC, Mac, Android, iPhone, or iPad.
Open the VPN app, sign in, and connect to a VPN server.
That's all there's to it.
Not only does a VPN enable you to browse the web anonymously, but you can even use it to unblock websites that are only accessible back home. Here's a list of all top VPN service providers for Russia 2018.
How to Choose a VPN for Russia 2018?
The VPN companies that belong to Russia are the ones being targeted and blocked. But if you use a VPN company in the US or the UK, you can easily use the service in Russia, especially during your short stay. Some of the factors for choosing a VPN are:
Speed and stability

Numbers of servers around the world, including Russia

Strong encryption

Ease of use

Bypassing geo blocks

Apps for Android and iOS
In terms of best VPN for Russia 2018, we definitely recommend using ExpressVPN. In case you want an in-depth review of all the top VPN service providers you can turn to while following your national team on Russian territories, read our Best VPN for World Cup 2018 review. A VPN protects you online in every country, not just Russia. Do not install a VPN only for use in Russia. It is a useful tool for all Internet activities. For staying safe online, there's no better tool right now than a VPN.