CoronaVirus: Working From Home Securely During Quarantine
|
Coronavirus (COVID-19) is on the rise, and it's spreading fast. To maintain the situation, home-quarantine has been ordered by multiple countries around the world. Multinational corporations like Google, Twitter, and Facebook are ordering employees to stay home, schools are going virtual-only, and residents have been advised to stay home.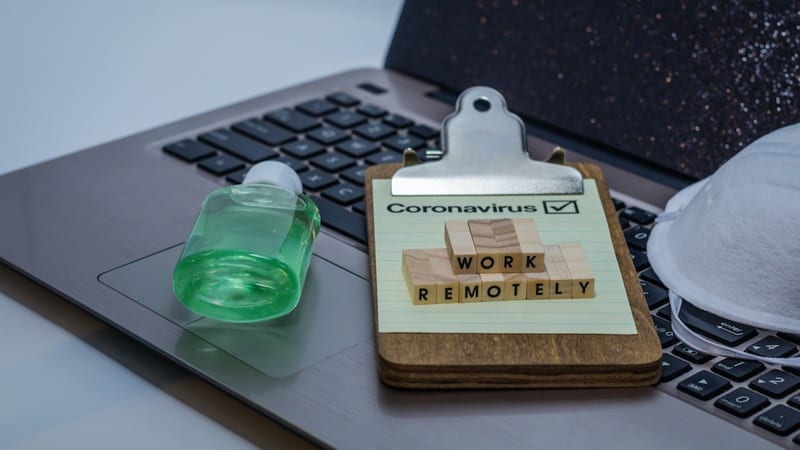 But while you might be out of harm's way, we don't need to sacrifice online security for personal safety. With a VPN, even your work can secure while taking advantage of other benefits that make this home-quarantine easier.
CoronaVirus – 2020's Pandemic
The new Coronavirus has taken the entire globe by storm. It first originated in China, but then found its way to hundreds of countries around the world.
The disease is caused by a virus still not know or previously identified in humans. Basically, it causes problems in the respiratory system, with flu-like symptoms, yet enhanced.
Those infected will witness dry coughs, runny nose, high fever, and once it gets severe – pneumonia.
So far, the recommended precautions are washing your hands and sanitizing frequently and avoiding touching your face.
The Global Spread:
As of March 16th, 2020, more than 153,000 cases have been recorded around the world. The spread went global not long ago, and it has reached the following countries:
Africa
Algeria
Burkina Faso
Cameroon
Democratic Republic of Congo
Ethiopia
Gabon
Ghana
Guinea
Ivory Coast (Côte d'Ivoire)
Kenya
Mauritania
Nigeria
Senegal
South Africa
Sudan
Togo
The Americas
Argentina
Bolivia
Brazil
Canada
Chile
Colombia
Costa Rica
Cuba
Dominican Republic
Ecuador
French Guiana
Guadalupe
Guyana
Honduras
Jamaica
Martinique
Mexico
Panama
Paraguay
Peru
Trinidad and Tobago
United States
The Middle East
Afghanistan
Bahrain
Egypt
Iran
Iraq
Jordan
Kuwait
Lebanon
Morocco
Oman
Pakistan
Qatar
Saudi Arabia
Tunisia
United Arab Emirates
Western-Pacific
Australia
Brunei Darussalam
Cambodia
China
Hong Kong
Japan
Macau
Malaysia
New Zealand
Philippines
Republic of Korea
Singapore
Taiwan
Vietnam
Europe
Albania
Andorra
Armenia
Austria
Azerbaijan
Belarus
Belgium
Bosnia and Herzegovina
Bulgaria
Croatia
Cyprus
Czechia
Denmark
Estonia
Finland
France
Georgia
Germany
Gibraltar
Greece
Holy See (Vatican City)
Hungary
Iceland
Ireland
Israel
Italy
Kazakhstan
Latvia
Liechtenstein
Lithuania
Luxembourg
Malta
Moldova
Monaco
Netherlands
North Macedonia
Norway
Poland
Portugal
Romania
Russia
San Marino
Serbia
Slovakia
Slovenia
Spain
Sweden
Switzerland
Turkey
Ukraine
United Kingdom
South-East Asia
Bangladesh
Bhutan
India
Indonesia
Maldives
Mongolia
Nepal
Sri Lanka
Thailand
As we mentioned, there are more than 150,000 cases around the world. However, the number of fatalities is what matters, and it has exceeded 6000 unfortunately.
China, Italy, Iran, and Korea have the highest infection-rate across the world. It's very serious, and countries are starting to take proper precautions to limit the spread.
For example, in China, residents are confined in their homes for almost 50 days.
Also, it got more difficult, where the government enforced round-the-clock "closed management" of all residential complexes and banned the use of private cars.
All the countries around the world are canceling all flights going from and coming to the country, especially from countries where cases where reported.
Finally, we have the home-quarantine to sustain the virus spread within the region. Now that we're working from home, we should also include the fact that our work/private information is at risk as well.
While hygiene products, masks, and gloves may protect us from the Coronavirus, a VPN will shield your data from any online threat that might target your device.
What is a VPN?
Virtual Private Networks are cybersecurity tools created to enhance a user's security and privacy while surfing the web.
The software creates an encrypted connection between the user's device and the server provided by the service.
Among connecting, the network traffic gets rerouted through a private tunnel, making it completely private and anonymous.
Not even the ISP can see what you're visiting or doing on the web. The image below illustrates how a VPN works: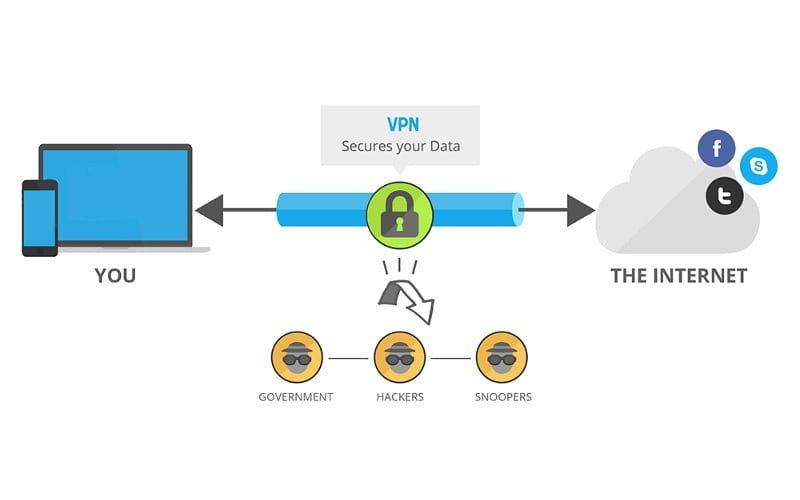 Aside from
military-grade encryption
, a VPN allows you to appear in the location of the server you're connected to.
This helps you bypass regional restrictions and censorships in countries with a highly restrictive regime.
What a VPN Can Do When You're Home-Quarantined
Locking yourself up to prevent the spread of Coronavirus is the best thing you can do. However, whether it's the security or the lack of entertainment available, a Virtual Private Network is a must.
You might ask yourself, what's the point of using a VPN? What good can it do while we work from home to avoid this pandemic? Take a look below:
Secure Your Data
While you're safe and sound at home with no direct contact with outsiders, your data is still flowing around while you're online.
Working at home has its perks, but it still has its dangers. You still have to send emails to your company and share critical information with your colleagues.
No matter where you are, the internet is not safe. A simple click might risk it all. However, with a VPN, you can easily prevent catastrophic impacts on your personal data.
A VPN was created to enhance users' security and privacy. It reroutes all your data through a private tunnel, encrypting it in the process.
As a result, no one in between, be it your ISP, government, hackers, or any other entity, can see what you're doing.
A VPN's encryption is very important as it converts your data from a readable format to an encoded, unreadable one.
Whatever tools a hacker uses to get a hold of the data, if the VPN's encryption is credible, it makes your data completely unidentifiable in transit.
Risk-Free Online Shopping
With Coronavirus on the rise, people should avoid places that host big crowds. That's exactly what quarantine is all about.
While you're at the comfort of your home, you still need to get your daily stuff, including food, hygiene products, and the list goes on.
And what better way to do that than shop online? Online shopping is going to blow the roof now that everyone is at home, unable to go anywhere.
Alright, that might decrease the risk of spreading the virus, but the dangers of the online world will increase.
This would be the perfect opportunity for hackers to prey on online shoppers. Now, there's more possibility to encounter problems such as:
Identity Theft.
Malware infection.
Phishing Emails.
Credit Card Theft.
The list goes on, but we're here to give you the solution. With a Virtual Private Network, none of your data will be readable by the third-party entity invading your privacy.
With military-grade encryption shielding your data, you'll safe to use your credit card and shop online.
Also, a VPN hides your IP address, which helps cloak your identity and real location from the websites your visiting.
But please remember to make sure that the website you're purchasing from is legit. Otherwise, not even the VPN can help you out with that as you're submitting your credit card credentials willingly.
Also, a VPN won't be able to protect your device from infections. If you visit a malicious website, your device is susceptible to malware and viruses.
We highly recommend you install a credible anti-virus on your platform for enhanced device security.
Free Access to Information
We hate to admit, but in some countries, freedom of speech and even knowledge are in check.
The government controls whatever people have to say or even have to know. Coronavirus is a serious matter, and everyone has the right to learn about what's going on.
Hiding the information from residents could put them in harm's way. How are they going to face the problem if it's not addressed, to begin with?
We all believe in unlimited internet, to a certain point of course. A VPN allows you to bypass such censorships in countries with high internet censorship such as North Korea, China, Russia, Iran, and more.
By connecting to a VPN server outside your country of residence, you can access any once-blocked website you want.
The VPN hides your IP address and assigns you with a new one not valid in your restrictive country's blacklist.
Even the Chief Operating Officer of Atlas VPN addressed the issue:
"I believe that every single person should have access to the latest information about the pandemic. Sadly, in countries where popular media websites are banned, people are left in the dark. We will do everything that we can to inform people about the current situation. We have built a Coronavirus news aggregator, which allows users to get all the relevant information in one place".
Shielding yourself from such a pandemic requires knowledge. And in some countries, the lack of information due to online bans doesn't help at all.
Therefore, a VPN is one of the most effective ways to end this limitation and expand your knowledge on the new dangerous Coronavirus.
Unlimited Entertainment
Staying locked up can be boring, despite having several ways to entertain yourself. You might have a couple of streaming subscriptions, but do you think that's enough?
Well, not for me. You got yourself a Netflix account and ready to binge-watch on some quality series. But the question is, does your country offer a catalog worthy of binge-viewing?
If you're not in the US, the answer no. This is what we call geo-blocking, a mechanism used by several streaming services to terminate or limit user access based on their geographical location.
A streaming service can determine your location by examining your IP address. If it's not within its area of coverage, you'll be blocked due to copyright and licensing reasons.
To avoid that, a VPN is your ultimate tool. With it, you can connect to a server in the country where the channel is available.
Once the connection is established, the VPN will assign you a temporary IP address based in the region where the server is located.
As a result, you'll have full access to any website/channel restricted to that territory.
For example, if US Netflix, Hulu, or CW TV, are your destination, you must connect to an American server.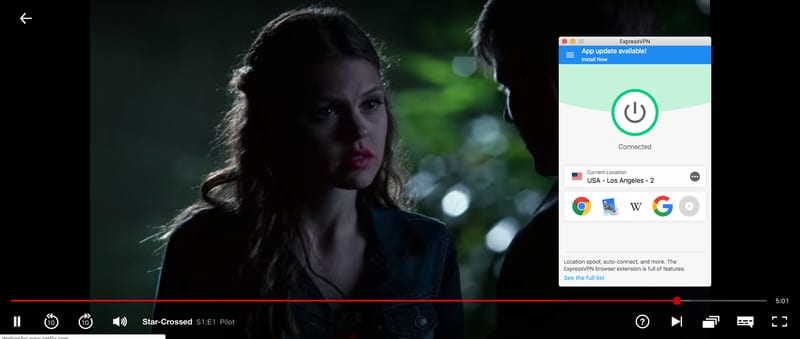 As you can see, the example above Netflix while using ExpressVPN (My recommended VPN). I'm able to stream Star-Crossed, which is a US-only title in my country.
The same goes for BBC iPlayer, Channel 5, and ITV, once you connect to a server in the United Kingdom.
Don't quarantine yourself without proper entertainment. We're sure you have some good local channels, but what lies overseas makes the experience a lot better.
Don't Visit, Video Chat
The number of people diagnosed with the virus throughout the Middle East passed 15,000. In the UAE alone, the number of cases reached around 98.
It's not just us, but every news channel and government are asking residents not to visit the patients in quarantine. Instead, they can use Video-chatting platforms.
But how can they do so if most free VoIP services are blocked in the country? It's not just the UAE; there's also China and several other regions.
People have to see their loved ones during these hard times, and the only way to do so is through these services.
Now, that's where a VPN comes in for the rescue. As we mentioned, a VPN allows a user to spoof his/her location to a country of their choosing based on the server they connect to.
All you have to do is connect to a server in a country where Skype, WhatsApp call, or any other VoIP service is not banned, and you're good to go.
This helps ease up the self-quarantine process by having your loved ones there, even if it's not physically.
The virtual solution is all we have now, and we have to cope with that for the time being.
What VPN to Use?
So, basically, a VPN will guarantee a safe and stable online working environment during the quarantine.
However, you must not settle for any VPN. In fact, stay away from free ones as they tend to do you more harm than good.
These VPNs might sell your data to third-party companies in exchange for revenue. How else do you think they pay for their services if they don't ask for a dime?
"You become the main product."
Always opt for a premium provider. But still, there are specific features it should offer to mark it as a credible service:
Fast speeds.
Military-grade encryption.
A strict no-logging policy.
Excellent unblocking capability (Netflix, Hulu, Amazon Prime, and other platforms).
Affordable subscription fee.
A refund policy.
Live-chat support.
We reviewed dozens of VPNs so far as we run them through our strict evaluation process. By far, we found several top VPNs that fit the description above. These services have servers across the globe, which brings a variety of options to users.
Moreover, they're some of the few VPNs that managed to get around Netflix's tough VPN block, along with other streaming platforms.
We can consider them as the top services in the industry. Check them out and pick one according to what suits you best.
Coronavirus Quarantine – Why a VPN is Important
You're locked up at home to stop a dangerous virus from spreading. Companies have ordered employees to stay in home-quarantine until the matter is solved.
But while you're exiled, you still have to work remotely, and that can bring some online threats. A VPN can get you through these crucial times, offering security, privacy, and international entertainment.
Be safe, Crononavirus is dangerous. It's not the flu and it can spread quickly. Please stay home and avoid contact with anyone. If you have any questions, regardless of the subject, feel free to contact us in the comment section below.