Is TikTok Safe To Use or Is It A New Chinese Spy Tool?
|
Four years ago, the world got introduced to TikTok – a fun application that allows users to upload and watch entertaining short videos performed to music and short scenes. It has surpassed Instagram in terms of users, harnessing 1.6 billion downloads to date. It even gave a little taste of fun and hope during the COVID-19 pandemic. However, TikTok is a Chinese application, and we all know that the country has a well-chronicled appetite for user information. Reports and investigations are raising concerns about how the app is handling its users' data, accusing it of handing it to Chinese intelligence and other entities. Is that true? Is TikTok safe to use in the USA, UK, Canada, Australia, India, and the rest of the world? Let's find out.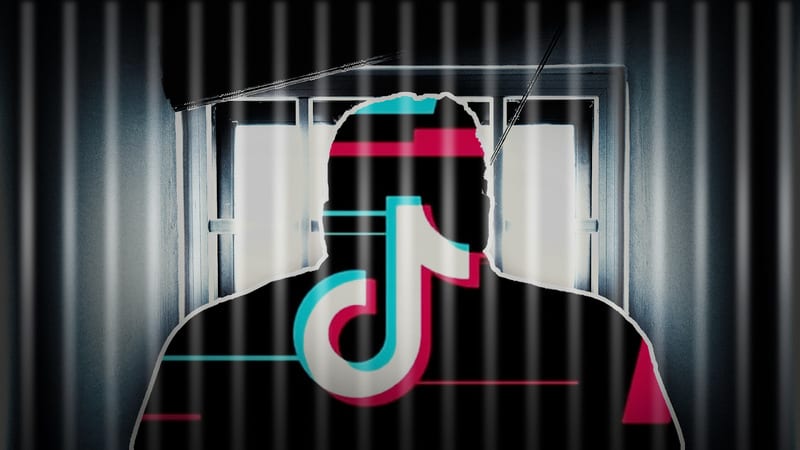 TikTok – The Sad Truth
TikTok has been around for quite some time now, allowing users (registered and non-registered) to go through an unending loop of 15-second videos. As we mentioned, TikTok has more than 1.6 billion downloads around the world, which is pretty concerning if the allegations are true.
The social media giant is owned by Chinese company Bytedance, and we all know what a Chinese app has the potential to do. China comes with a long track record of harvesting "personal information"; it's no mystery. In the past, China hacked the U.S. Office of Personnel Management. Equifax and several insurance companies.
Now, the country is back on track, implementing a fun application such as TikTok to harvest everything about American users and more. As reports state, TikTok is a Chinese Spyware.
What happened exactly? Well, back in 2019, a student in California, Misty Hong, filed a lawsuit, accusing the company of "surreptitiously" harvesting content without user consent.
She claimed that she just downloaded the app for fun and did not create an account. A while later, she noticed that TikTok has indeed created an account for her and used her phone number as a password.
Later on, the app stated "surreptitiously" taking draft videos she had made before, but never intended to publish. Apparently, TikTok sent the data to two servers in China. And guess who owns them? Well, none other than the two Chinese tech giants Alibaba and Tencent.
TikTok confirmed in the past that it stores the belonging to its US users on US servers, with a backup in Singapore. However, it seems that they went back to their original roots – China.
An iOS Issue?
iOS had a problem a while ago with its clipboard. Apps were secretly accessing the clipboard on users' devices. However, the company fixed that with the new OS. Now, the device warns users whenever an app reads the last copied text in their clipboard.
There are a lot of apps abusing this flaw to snoop around, yet one stands out. According to security researchers Talal Haj Bakry and Tommy Mysk, TikTok is one of those applications. They stated:
"The logs clearly indicate that TikTok is reading the content of the clipboard whenever it is opened. We can't say for sure what TikTok is doing with the data it has read."
TikTok is definitely abusing the clipboard in a quite extraordinary way. A video in Jeremy Burge's Tweet shows exactly how this practice is implemented. TikTok is grabbing the content in his clipboard every 1-3 seconds.
The researches argue that such a flaw should not be there, to begin with. They also state that users are really not aware of what's taking place on their device. When asked by Forbes for a video about what's going on, they provided the following:
TikTok stated that the issue is triggered by a feature they have to
identify repetitive and spammy behavior
. TikTok informed Gorbes that it has already submitted an updated version of the app, with this anti-spam feature removed.
A Solid Evidence
This is not the first time TikTok has enforced such data collection. In fact, the company has provided the police with information before. We can't say that this is new or unique. No. We already know that all social media platforms do so since the law asks them to comply with court orders and subpoenas.
If the authorities suspect criminal activity, these platforms should comply and disclose user information. Not long ago, a group of anonymous hackers obtained sensitive police files, including ones belonging to TikTok.
After that, it got published by the transparency group DDoSecrets on BlueLeaks, which also includes thousands of other data files from across the globe. The German authorities took down the server, but thanks to Business Insider, we had a glimpse of what it looked like.
Business Insider was able to obtain copies of TikTok reports on specific users sent to police departments before the server was taken down. The image below represents one specific user's details. It includes his/her device type, the sign-up date, phone number, as well as the IP address from which he/she logged into TikTok.
As seen in the image above, the report also states the social media account this user used to sign up. In his/her case, it was Facebook, which includes a unique IP address tied to the account.
More Disclosed Data?
That's only half of it. TikTok has also disclosed user data to US law enforcement in the past. It received around 100 requests from US authorities, demanding data of 107 accounts in the second half of 2019. According to their transparency policy, they disclosed 82% of those requests.
Numbers in the US are high, but they pale in comparison to those in India. TikTok has had its fair share of backlashes in the country, which we'll be talking about later on.
As for information the company disclosed in India, the company received around 300 requests in 2019. The requests targeted more than 400 accounts, and TikTok disclosed 90% of them.
The Ultimate Warning
If the information above is not enough to convince you, maybe a warning from the infamous organization of hacktivists worldwide The Anonymous can?
On July 1st, 2020, the group tweeted to all the TikTok users, stating that they must delete TikTok immediately on phones due to its security issues. They claim the Chinese government is using TikTok is 'Chinese malware' to run a massive spying organization. That, of course, using the info they get from the app.
The Tweet!
They posted a warning along with a thread by an engineer who found out all about the app's privacy invasion. Here's what the Anonymous had to say about the matter, followed by screenshots showing a thread by a Reddit user:
"Delete TikTok now; if you know someone that is using it explain to them it is essentially malware operated by the Chinese government running a massive spying operation."


The Reddit post above represents what the engineer. He claimed to have "reverse-engineered" TikTok to find a litany of security and privacy abuses. In essence, the Reddit user explained his experience as he tested how the app functions:
"TikTok is a data collection service that is thinly-veiled as a social network. If there is an API to get information on you, your contacts, or your device… well, they're using it."
Based on the results he got, the Reddit users said that TikTok harvests more data than he has ever seen an app do on its users. We already mentioned phone numbers above, but there's so much more. TikTok also harvests info regarding CPU type, hardware IDS, screen dimensions, DPI, memory usage, and disk space.
Now, US politicians are investigating the app, including Senate minority leader Chuck Schumer. They do believe that TikTok is siphoning off data and sending it to the Chinese government if requested.
TikTok – A Constant Trouble Maker
What's going on isn't that hard to believe. It's not the first time this Chinese-owned app has caused problems. The app encouraged racist content moderation in the past. As an investigation shows, TikTok forced its moderators to suppress any content posted by users they deem poor, ugly, or disabled.
This caused backlash and a TikTok spokesperson made a statement about the issue. According to the spokesperson, TikTok used this criterion to prevent bullying, suppressing vulnerable users from going viral and becoming the center of attention that could turn sour.
Another past problem with TikTok is its compliance in spreading hate and violence in India. It allowed some users to post racist and violent messages that targeted members of groups perceived to be lower than them on the caste system's social ladder.
The video insulted people belonging to the Dalit group – the lowest position on the Hindu class ladder, which makes 17 percent of India's population. Sadly, a crime against them is committed every 15 minutes in the country.
TikTok tried to make things right and it did. From November 31, 2018, till April 19, 2019, the company removed 36,365 videos that broke the rules as they included hate speech and religion. Not to mention that it also removed 12,309 videos deemed to include dangerous behavior and violence.
India Puts Its Foot Down
As a response to the incidents that have occurred because of TikTok and other apps, India decided to ban 59 Chinese-based ones including TikTok and WeChat. The country has said the apps pose a threat to its "sovereignty and integrity, defense of India, the security of the state and public order".
We already mentioned where the data collected is going. Two Chinese servers host what TikTok harvests, and one of them belongs to Alibaba. And guess what application belongs to the company – none other than UC Browser, which indicates that India banned this app as well.
TikTok has been removed from Android and iOS' App Stores. However, those who still have the app installed will also find some difficulties in their overall experience. Some of them won't be able to scroll through their timeline or upload videos, while others get a network issue error.
This only means that telecom operators in India have blocked TikTok until the government's next order. Moreover, users who still have TikTok installed now receive the following alert:
"Dear users, we are in the process of complying with the Government of India's directive to block 59 apps. Ensuring this privacy and security of all our users in India remains our utmost priority."
This isn't India's first banning of TikTok. The most recent ban came as tensions with China have escalated over disputed territory on the two countries' border. It resulted in the death of 20 Indian soldiers during the clash.
Now, the new ban will take a huge toll on the company's earnings, as the country includes TikTok's biggest audience. The app has 119 million active users in India and was among the top 10 apps on Google Play Store and Apple App Store. This banning might cost TikTok as much as $6 billion.
US and EU Residents – Will TikTok Bid You Farewell?
We all know the rivalry between the US and China, and to know that TikTok has been used as a spying tool makes it a lot worse. As we mentioned, lawmakers in the US have many security concerns abut how TikTok is handling user data. And we also mentioned that the company shares the data with the Chinese government.
As a result, US Secretary of State Mike Pompeo revealed that the US is considering banning Chinese apps like TikTok, which is most likely the actual scenario come late June.
In the UK, Prime Minister Boris Johnson's Government has its hands full with yet another Chinese company, Huawei. The US has already ended the presence of the company on its land and it's pressuring the UK to do so as well.
As of July 14th, 2020, the UK followed the US in banning Huawei from its 5G network. Will the UK do the same with TikTok? According to Social media consultant and industry expert Matt Navarra, a full-on TikTok ban in the UK is ultimately an unlikely scenario. In a statement, Navarra said:
"Just because the US is considering banning TikTok doesn't mean the UK will follow suit. US anger over the UK's decision in January to stick with Huawei equipment for 5G networks shows the UK is willing to go its own way on issues relating to China. Although plausible, a TikTok ban in the UK feels less likely at this time, much to the relief of teens across the country."
Now, let's talk about alternatives. Remember DubSmash? Yeah, that's going to be a hit once more. In fact, users are already shifting to such alternatives ever since they heard about the TikTok ban.
Other small rivals like Triller and Byte have seen spiked downloads after Pompeo's comments. Some are now proactively targeting TikTok users.
TikTok Sensations Say Their Goodbyes
There are a lot of users TikTok-ers follow for several reasons. These top stars have millions of followers and the ban, without a doubt, affected them, be it in India or the United States.
This brings us to their latest videos where they started saying goodbye to their followers and urged them to subscribe to their channels on different platforms:
Ty Gibson made a farewell video for his 4.6 million fans, telling them to follow him on YouTube and Instagram.
The five-year-old Punjab star, Noorpreet, asked her followers to follow her on Instagram.
Varan Atwal also said goodbye to TikTok and requested his fans to follow him on Instagram.
Fortnite player and celebrity Ninja boasted 4million fans on the Chinese video-sharing app. Now, he announced that he had abandoned the platform.
Keemokazi, the hilarious prankster who's well known for pulling off amazing pranks on his Arab family also mentioned the ban in one of his videos. He does have an Instagram account with millions of followers.
Most users depend on TikTok to promote what they do. In fact, a couple of days ago, a camera company canceled a deal with James Lamprey, a chef with 1.2 million TikTok followers, because of the US banning of TikTok.
The video is worth $1000 and now it's been canceled until more clarity about the app's fate is presented. He also stated that if the country bans the app, the impact on his earnings could be huge. The ban is set to take place during the last days of June. We'll see what happens then.
TikTok Responds to Allegations
Countries are accusing the company of sharing user data with the Chinese government. Moreover, it has caused a lot of problems in countries such as India, resulting in multiple deaths.
As a response to the Indian allegations, TikTok India issued the following statement on their official Twitter account:
"The Government of India has issued an interim order for the blocking of 59 apps, including TikTok and we are in the process of complying with it. We have been invited to meet with concerned government stakeholders for an opportunity to respond and submit clarifications.

TikTok continues to comply with all data privacy and security requirements under Indian law and has not shared any information of our users in India with any foreign government, including the Chinese Government. Further, if we are requested to in the future we would not do so. We place the highest importance on user privacy and integrity.

TikTok has democratized the internet by making it available in 14 Indian languages, with hundreds of millions of users, artists, story-tellers, educators, and performers depending on it for their livelihood, many of whom are first-time internet users.

Nikhil Gandhi, Head of TikTok India. "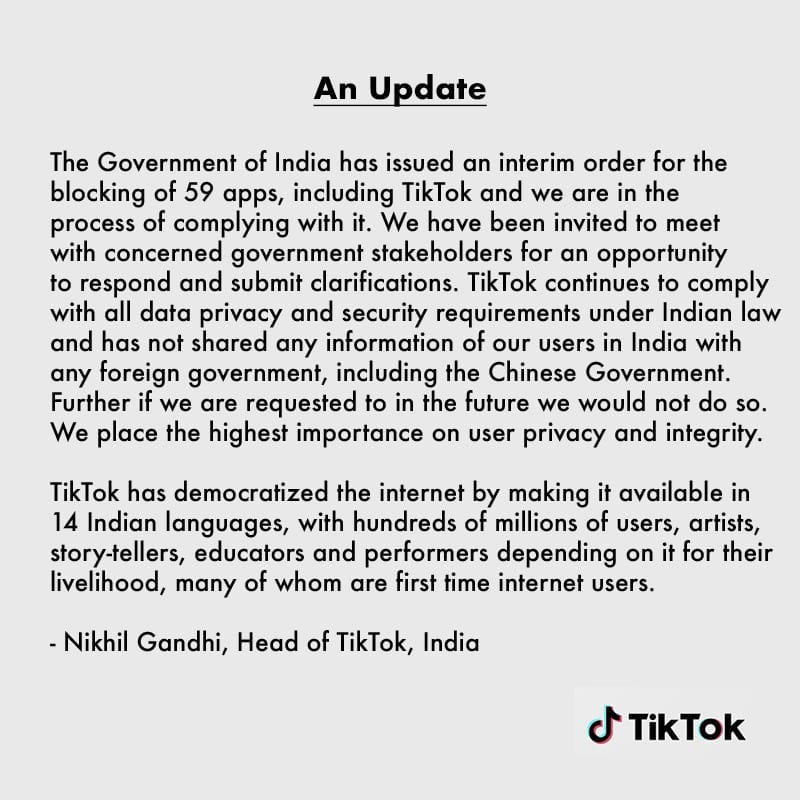 Another response came straight from the Land Down Under, where TikTok has millions of users. Apparently, an unnamed "federal MP" asked for a TikTok ban in Australia, and a questioning of its local representatives. That's when TikTok Australia's general manager Lee Hunter took it to The New Daily and stated:
"TikTok does not share information of our users in Australia with any foreign government, including the Chinese Government, and would not do so if asked,"
He also stated that the app was "building next-generation security programs", and that they store data on servers in Singapore.
The Verdict – TikTok Is Not Safe!
TikTok was fined before for violating child privacy. They used to collect personal information from children under the age of 13. So, this is not their first rodeo.
Aside from Anonymous, a lot of other individuals and companies have deemed the app unsafe to use. Even the popular gamer Ninja tweeted that users should remove TitTok over privacy worries.
Moreover, the bank Wells Fargo told its employees to delete the app. Also, reports said that Amazon also joined the mix and asked its workers to remove the app from their phones. The company later stated that it issued no such edict later on.
TikTok does indeed collect user data, and as we've seen above, it's a serious matter. The app might be fun, but privacy comes first. We, at TheVPN.Guru, urge our readers to put their online safety first. If you care about your online privacy, delete the app, and start searching for alternatives immediately.