Amazon Will Cease Alexa.com in 2022
|
We can't help but admire Amazon for the amazing products it offers such as Amazon Alexa, Amazon's online shop, Prime Video, and more. Also, for the past 25 years, everyone (literally everyone) used Alexa.com to customize ideas in order to one-up their competitors and take their search marketing results to the next level.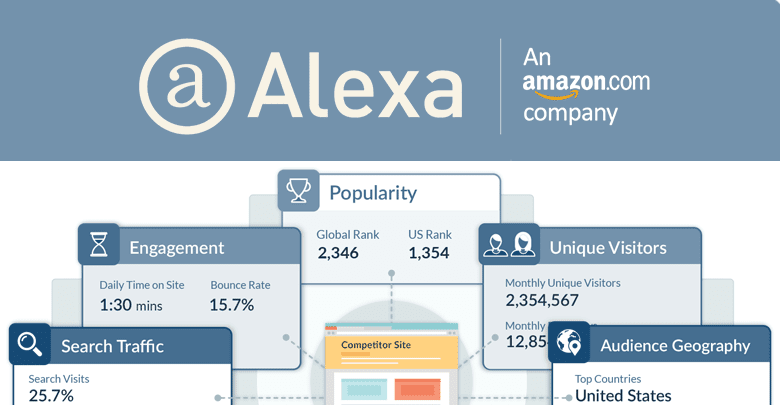 Unfortunately, the worldwide popular website ranking tool is going to discontinue come May 1st, 2022 – said Amazon on their support page.
It might come as a shock for Alexa.com users as it used to provide them with a quote on the popularity of their website. Now, everything changed. So, what happened? What about existing subscribers? We've covered everything in the article below.
Amazon Says Goodbye to Alexa.com
This may come as devastating news, especially to those who host websites and rely on Alexa.com in their line of business. The complete shutdown is due in May 2022, and Amazon started the process periodically.
First, Alexa Internet was shut down – Amazon reports it will turn off the service's API in December 2022. Amazon allows users to export Alexa data before the service shuts down.
Here's what the company stated:
"Twenty-five years ago, we founded Alexa Internet. After two decades of helping you find, reach, and convert your digital audience, we've made the difficult decision to retire Alexa.com on May 1, 2022. Thank you for making us your go-to resource for content research, competitive analysis, keyword research, and so much more."
When it comes to new subscriptions, Amazon already stopped offering such services. However, existing customers can proceed with using the platform to access Amazon data and SEO tools.
Their subscriptions will remain active until May 1st, 2022, and the company will revoke any existing accounts when the due time hits the calendar.
Apparently, despite being one of the most popular websites in the world, Alexa.com was kind of struggling. A website with such a caliber in the industry should be gaining more organic traffic with time.
In Alexa.com's case, that wasn't happening. Instead, throughout the years, the platform's organic traffic has been on a constant decline. The following data from Semrush explains it all:
In case you're worried about your data, you can easily find instructions for downloading the data in each of the tools that offer an export option. Amazon made sure to cover everything before the big shutdown.
All you have to do is follow the instruction on their support page. Your data is not going anywhere.
Alexa.com Shutting Down – Final Thoughts
Amazon has decided to shut down the leading global website ranking platform 'Alexa.com', which ran for almost 25 years. That was a good run, but all good things must come to an end.
According to some sources: "Alexa ranking was easy to manipulate because it mainly relied on data collected by Alexa browser extensions."
It's debatable, but still, discontinuation is inevitable. If you're looking for an alternative, "Ahref" is your best option. Check it out.