Best VPN for Chromecast
|
Looking into a small screen can be exhausting, and there's no reason for you to settle when you can get a bigger and wider one. Ditch the small screen and cast your own videos, movies, or series, with the help of Chromecast enabled apps. Also, to make the experience all the more enjoyable, you can use a VPN. Find out how you can use Chromecast with a VPN so that you get the big screen experience. The bigger the better right?
Google's Chromecast allows you to cast your phone's apps, videos, etc. by plugging their Chromecast dongle onto your TV's HDMI port. Doing so allows you to use your tablet or mobile device as a remote, and control any aspects associated with your viewing. There are some Smart TVs that already come with the service pre-installed, and such native support would mean that you won't even need the dongle. What you would need in both cases, however, is a Wifi network.
Chromecast – A Proper Streaming Device?
Chromecast is the best thought of as a streaming device that grants you access to services such as Netflix, Hulu, BBC iPlayer, Amazon Prime Video, HBO Now and the like so that you can choose what you want to watch, and have it streamed onto your big screen. Access to such content requires a working Internet connection, hence the need to connect to a Wifi network. Connecting to a WIfi network allows you to stream directly from the Internet to your mobile device, and cast straight to your TV.
The range of content you'll be able to access from the Internet is quite wide, but if you do decide to travel outside your home country with your Chromecast dongle, you probably won't be able to stream the same kind of content that you would from your home. This is because of the many geo-restrictions that streaming sites place on access to their sites.
Accessing the streaming sites while abroad means being restricted to a particular library that's based for that region. Such a library may not necessarily contain the kind of content you're used to viewing, and this may keep you from catching up with your favorite movies and series as you would if you were back at home.
Why you Need a VPN for Chromecast?
A VPN service allows you to work around most of the geo-restrictions that could've been set to prevent access to any streaming site, and this means having access to content that's available from virtually anywhere. A VPN does this for you by hiding the IP address that's being used by your Wifi network to get online, hence hiding the details that could reveal your actual location. With this hidden, you'll get to choose the streaming services' regional sites you'd like to access.
One very important thing that you ought to know is that Chromecast doesn't provide for the installation of VPN software directly on to it. The only way to work around this would be to have the VPN service installed onto your router, then connecting your Chromecast to it. This will divert all internet traffic from your Chromecast through the VPN server, and allow you to unblock whatever platforms you'd wish to stream from. We've published a detailed guide on how to set up a VPN on Chromecast as well.
Best Chromecast VPN
In case you're looking for a VPN to unblock American or British channels on your Chromecast, you better sign up with a VPN service provider that offers Smart DNS proxies as part of their subscription. That's because Smart DNS proxies are much easier to set up on a router when compared to VPN. ExpressVPN and BulletVPN are both good examples. You could also sign up with a pure Smart DNS proxy service such as Unlocator.
The channels you get to unblock and stream depends on the VPN service you wish to subscribe to. It's hard to choose just one VPN provider when there are hundreds of them flooding the market. The VPN you choose must maintain good speed rates while unblocking restricted content with high levels of security. In case you don't know where to start, this list of best VPN providers can help you out. 
ExpressVPN
ExpressVPN is one service that comes complete with everything you may need for the setup process, especially if you're a first-time user. The provider's website has a detailed FAQ section, where you're bound to find all you'll need to know about having everything up and running.
ExpressVPN has won a number of awards for excellence in service, so you can be sure that by signing up with them you'll be in the right hands. ExpressVPN can unblock major streaming services like Netflix US, Sling TV, HBO, BBC iPlayer, and Amazon Prime Video.
The provider operates a server network of more than 2000 well-distributed servers, meaning you're unlikely to run into an issue establishing remote connections. The service provider also makes it way easier for Chromecast customers looking for a VPN service by providing pre-configured VPN-enabled routers.
This saves them the hassle of setting up their connections themselves. These pre-configured routers also allow you to choose which devices have their connection tunneled with a VPN, and which ones stay on an unsecured Internet connection. You can learn more about this provider by going through our ExpressVPN Review.  
BulletVPN
BulletVPN's most prolific feature has to be its speed rates. That shouldn't be hard to figure out as the name itself implies speed. Based on various testings, we've inferred why it's named BulletVPN.
It's like you are subscribed to a top-tier provider in terms of speed, security, and services. You can choose the protocol you want: OpenVPN, L2TP/IPSec, IPSec, IKEv2, and PPTP to secure your internet connection and protect your data.
The service provider's server network is quite vast, offering 154 servers in 55 countries. The service provider is all for P2P file sharing, and it allows subscribers to connect to all sorts of devices like Apple TV, Smart TV, Roku PS3, PS4, Xbox One, and Chromecast, by setting up a virtual router.
A 256-bit AES encryption is used to ensure users' online security is highly maintained. If you want to know more about BulletVPN, this BulletVPN Review can help you out.
NordVPN
NordVPN joins this list courtesy of the long-range of features that this VPN service provides. The service is based in Panama, and with its extensive network of 4000 servers spread across the globe. With a NordVPN connection, you get to access services like Hulu, Netflix US, Sling TV, BBC iPlayer, Amazon Prime Video, and many more.
The service also has a large library of tutorials online that's able to guide users on how to get the service installed on their routers, and also offers the option to get pre-flashed routers that have been already linked to NordVPN's servers.
The service allows you to connect up to 6 simultaneous connections and offers 256 bit AES encryption that'll protect your data and also hide your details to grant you access to limited content and blocked sites. Users' security is no joke to NordVPN's company. That shows in its DoubleVPN feature that only allows data to pass through- if encrypted twice. Its CyberSec feature blocks unnecessary ads so that your browsing is not interrupted. More on what NordVPN has to offer is this NordVPN Review.
Best VPN for Chromecast – Conclusion
You can content from all sorts of sources once connected to a VPN service provider. This makes it the best tool to truly widen the scope in regards to what you can stream through Chromecast. Get to read all the comprehensive reviews we have for each of the four mentioned providers, and ask us anything should you have any questions. You can also let us know what you think, by leaving a comment in the section below. We'll be more than happy to respond.
Best VPN for Chromecast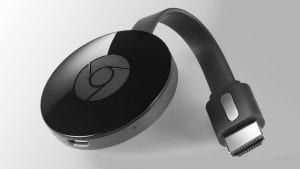 Name: ExpressVPN
Description: If you want to get the most out of your Chromecast, signing up with a premium VPN service provider like ExpressVPN simply is a must.
VPN Apps

Smart DNS Proxies

Access Blocked Channels

Speed

Support

Refund Policy