Deluge is one among very few BitTorrent clients that happen to be written in a programming language called Python. This has allowed it to have a select group of features and characteristics that you normally wouldn't find with other alternatives, as well as the flexibility to run on a wide range of devices and platforms. With its aim being to remain lightweight and convenient to use, the client allows users to access it over the web. It even welcomes any worthwhile developments that can be made by other programmers to improve its functioning.
Is Deluge Any Good?
Deluge has also become very popular among users due to its ability to run as a behind-the-scenes application on your device. Users also get to choose which kind of interface they'd prefer from a selection of three. There's the command-based interface, the standard graphical one, and the web-based interface. Your torrenting will also be free from ads. The service isn't really ad-supported.
As much as using Deluge has its own set of advantages over many other BitTorrent clients, your traffic is still very easy to tap into. An experienced user could easily work his way into finding out the kind of files that you're torrenting, or even include a virus in the traffic that's making its way to your computer. These are all incidences that we're sure you'd not want to happen to you. So in order to protect yourself, we recommend signing up with a credible VPN service.
Why Use a VPN with Deluge
VPN, short for a Virtual Private Network, refers to a network of servers set up by a provider that a user can link up with and divert their traffic through. In doing so, this process encrypts all of your traffic. This is the kind of security that guarantees complete privacy. It also prevents any kind of backlash in case you're not sure about the copyright issues that govern whatever you're torrenting.
Using a VPN also ensures that your ISP stays in the dark about whatever you're up to. There are ISPs that are very cautious about what their users are up to online. Some of them apply measures to try and manage their use. This is what most people call throttling. Fortunately, with a credible VPN, you'll be able to work around any forms of throttling that your ISP is likely to apply, such as limiting your bandwidth or denying access to certain sites and channels.
You also need to ensure that the VPN service you choose to subscribe to offers speeds that are reliable enough to torrent. If you choose to go with a service that doesn't have as many servers within its network, you'll be scrambling for the few that are available alongside many other users. Also, your speeds and security will be adversely affected, leaving you really frustrated at having to restart your connection whenever your session times out.
Best VPNs for Deluge
We understand that looking for the perfect service to subscribe to can be a bit of a challenge, so we've already rounded up a few that we're sure will only offer top notch service. Here's our list of the best VPNs for Deluge.
1. ExpressVPN
Those looking for top of the line service ought to look no further than ExpressVPN. This able provider has been around for more almost a decade, and in that time has been able to come up with the best mix of quality and efficiency to keep all their subscribers well satisfied. With close to 2000 servers in their network, ExpressVPN promises seamless and uninterrupted torrenting, as well as a customer care line that's available 24/7 for anyone that could be stuck with anything beyond their expertise.
ExpressVPN also offers up to 5 added connections for your other devices, as well as military grade security 256 bit AES encryption. Within their server network, there's also a range of stealth servers that can be used by users based in countries where VPN use is prohibited. The service also offers a split tunneling feature for you to decide what type of traffic you'd like to get encrypted. To see what else is possible through ExpressVPN, take the time to read through our ExpressVPN Review.
2. BulletVPN
BulletVPN is an Estonia-based provider that has been active since 2017 and is therefore among the most experienced providers in the industry. The service boasts of about 150+ servers all scattered around the world – 55 countries to be exact.
The service is also one of the few credible ones that allow for up to 6 simultaneous connections, which is large enough to secure all the devices in a house or a small office.
BulletVPN also assures customers that their traffic remains well secured through their zero logging policy. With a customer care team that's available 24/7, you shouldn't hesitate to reach out whenever you come across a problem you can't fix.
BulletVPN also ensures that your traffic stays protected through 256 bit AES encryption, and with support for OpenVPN, IPSec, IKEv2, and more, you'll have a wide range of protocols to choose from. A lot more information about this provider is available through our BulletVPN Review.
3. NordVPN
NordVPN stands out as the one particular service that has more than enough features to make sure that you stay secure online regardless of whatever you're up to. The provider has more than 4500 servers distributed throughout different locations in the world, so you'll never really miss a server to link up with to secure your connection. NordVPN is conveniently based in Panama, so there's no real threat from any kind of data regulation authority since the country doesn't feature in their jurisdiction. This means their zero logging policy is well upheld.
NordVPN also allows its customers to choose which servers to connect to based on the type of work they have going on. There are servers that perform better when torrenting, downloading large files or even gaming. On top of all that, there's the option to have online traffic routed through two servers instead of one, thereby doubling the extent of the 256 bit AES encryption. The service also works well with Tor over VPN for increased anonymity and has dedicated IPs for users who don't like switching in between them every now and then. To see what more services NordVPN has to offer, have a look at our in-depth NordVPN Review.
Best VPN for Deluge – Conclusion
Most of the time, many users are never completely sure about the source of their files, and therefore there's always a chance that they could be dealing with copyrighted material. To avoid any instance of copyright infringement and the lawsuits that come with such, it'd be best to sign up with a credible VPN service such as the ones we've listed above. This will help you keep your activities hidden, and your identity protected from the general public.
ExpressVPN Review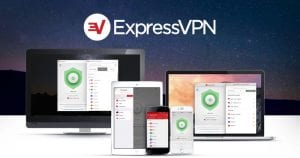 Name: ExpressVPN
Description: ExpressVPN is a VPN service that allows you to browse the web anonymously and unblock geo-restricted sites.
Price: 12.95
Currency: $
Operating System: Windows, OSX, Android, iOS
Application Category: Multimedia
Refund Policy

Speed

Support

VPN Apps