True sports fans all over the world are always looking for a way to watch NBA, NFL, MLB, College Football, and NHL live online. To be honest, there are not as many channels that provide sports coverage that's as comprehensive as that of ESPN. This is why it makes sense to unblock ESPN in Australia, Canada, Belgium, Spain, or UK with VPN. If you live in USA, you can also use VPN to bypass ESPN blackouts. This is why we have prepared the following Best ESPN VPN 2021 Review Guide.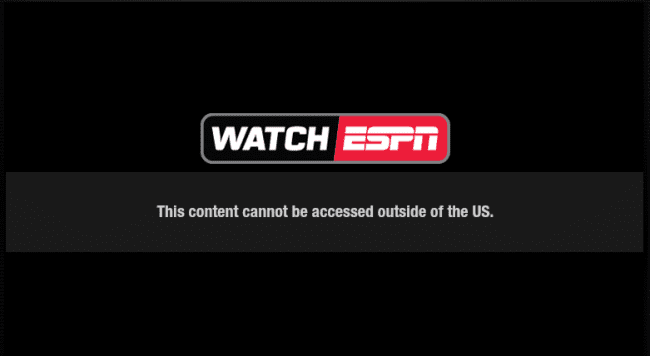 Best VPN for ESPN – Content Index
ESPN Geo-Location Errors
Many expats and students studying abroad often complain of an ESPN location error that reads something like this when they try to stream ESPN outside the US.
"This content cannot be accessed outside the US."
If you live in the USA, regional restrictions might also prevent you from watching live MLB, NFL, NBA, College Football, or NHL games on ESPN3.
"This games is available to subscribers in the "Green Area". Customers in the "Black Area" should see this game on local stations."
It's a huge downer especially if you were hoping to stream a live sporting event. Here are two reasons why the error could have occurred:
You were trying to stream ESPN outside the US without a VPN.
You are trying to watch a live game on ESPN that is blacked out in your region.
How to Unblock ESPN Outside the US with a VPN
Unblocking ESPN has never been easier with a VPN. You only have to follow a couple of steps and you're there. Here's what you need to do:
Subscribe to credible VPN service. You'll see 4 of the top ones in the review below.
Download and install the VPN application on a compatible device such as Android, iOS, PC, or Mac.
Sign in with your VPN account and connect to a US server. Most of our VPNs have very excellent servers in America.
Once connected, launch ESPN's website or their dedicated app.
Stream ESPN wherever you are.
Whichever the case, it's clearly time you considered signing up with the best VPN provider to watch ESPN online. Here's my list of top ESPN VPN providers in case you want to try out several for yourself.
Last Updated Yesterday
Rank
VPN Provider
Link

30-Day Money-back Guarantee
Unlimited Bandwidth
Apps For All Your Devices
24/7 Live Support

Visit ExpressVPN


Visit BulletVPN



4
Best ESPN VPN Review 2021
For those who don't know, VPN is a trusted technology that allows you to access geo-restricted channels and sites by changing your IP address to one that's within the country whose content you want to stream or view. Let's take a look at the VPNs on our list::
ExpressVPN
One indicator of a high-quality service provider is their ability to offer their customers a genuine guarantee. Those who sign up with ExpressVPN enjoy a 30-day money-back guaranteed refund policy in case they're not impressed with the service they get. ExpressVPN is one provider whose test results place it squarely above the others that I tested and here's why:
ExpressVPN offers around the clock support through a team that's ready to sort out your issues regardless of the time.
You get up to 5 simultaneous VPN connections with ExpressVPN.
You can unblock ESPN outside the USA.
ExpressVPN also supports bypassing ESPN blackouts.
You get easy-to-use software for your device. You'll be able to set up a VPN connection on your Mac, iOS, Windows or Android device in minutes.
NordVPN
WIth NordVPN, you won't have any problems while trying to access ESPN abroad. This VPN provider boasts more than 5000 servers around the world with most of them located in the United States. Not only that, but they're also super fast when it comes to streaming.
On the other hand, NordVPN also excels in protecting your devices against malware and viruses. It's a technology the provider likes to call CyberSec. Also, you get to encrypt your traffic twice if you make use of their Double VPN feature. That's pretty good for those who cherish their online security.
One more thing, if you feel that a VPN connection is affecting your internet speed, you can always use their SmartPlay service. it's a Smart DNS feature that bypasses regional restrictions without tampering with your speed. However, you will lose all the security privileges while using it.
BulletVPN
BulletVPN is another fast VPN you can use for the likes of ESPN. It's probably one of the most reliable services to ever work with. It's security features will help you protect your device in ways you didn't even think were available. The latest technologies and encryptions can be used to shield your platform from being hacked by cybercriminals.
Moreover, BulletVPN offers 154 servers in 55 countries, which is pretty good for unblocking channels. You can connect to any one of them in order to cloak your identity and surf the web anonymously.
BulletVPN also offers a Smart DNS service, which means you have a second method to unblock ESPN outside the US, yet with maximum speed since Smart DNS doesn't use encryption.
SurfShark
Just like BulletVPN, SurfShark is also new. However, being new doesn't deprive it of being on top of the VPN industry. Their service is pretty good and they offer more than 3200+ servers across 65 countries. That's a big number considering it hasn't been around for long.
As for their application, it's very easy to use, needs a bit more work, but very simple. They offer clients for Windows, iOS, PC, and Mac. That comes in handy when you learn that SurfShark allows unlimited simultaneous connections. Unlimited is a word you'll see a lot when you work with SurfShark. This includes unlimited bandwidth and unlimited server switching.
One problem though is that their monthly subscription is a bit expensive compared to others. Well, to be honest, I think it deserves such a price just based on the unlimited connection part.
Best ESPN VPN Review 2021 – Smart DNS Alternative
If you feel like VPN is a little difficult to wrap your head around, you could try Smart DNS as an alternative since you'll still be able to stream ESPN abroad with it as your solution. Here are a few pointers to give you an idea of how it works:
Using Smart DNS won't change your IP address.
You can use Smart DNS to watch ESPN outside the USA.
You cannot bypass ESPN blackouts using Smart DNS.
Smart DNS is compatible with whatever streaming device you're using. Get to stream WatchESPN on PC, Mac, iPhone, iPad, Xbox, Amazon Fire TV, Apple TV, Roku, Android, Chromecast, PS3, and PS4.
Smart DNS doesn't encrypt your traffic. Your ISP will easily be able to view your activities online.
You should probably look at other alternatives if you're sure your ISP uses transparent proxies.
Switching to Smart DNS is relatively simple, but it can get really frustrating if you don't know much about the provider you want to sign up with. Unlocator offers a 7 day trial period just so that you can get familiar with them, and see that they do support unblocking WatchESPN outside the US.
Best ESPN VPN Review 2021 – Final Thoughts
Whether you will decide to unblock ESPN via VPN or Smart DNS depends highly on your list of preferences. You see, if you want to bypass ESPN blackouts in the USA, go for ExpressVPN. If you only want to watch ESPN outside the USA, then Smart DNS through Unlocator is a good alternative.
ExpressVPN Review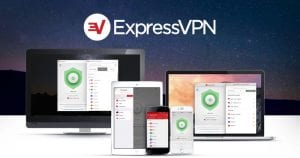 Name: ExpressVPN
Description: ExpressVPN is a VPN service that allows you to browse the web anonymously and unblock geo-restricted sites.
Price: 12.95
Currency: $
Operating System: Windows, OSX, Android, iOS
Application Category: Multimedia
Refund Policy

Speed

Support

VPN Apps