What are the best VPNs for hotels? Let's be clear about one thing. If you thought that just because you're staying at a five-star hotel, the WiFi you're connecting to is secure, then you thought wrong my friend. Those little slips of paper at check-ins with network passwords written on them might be the first thing you ask for at the time. But be careful what you wish for. Whether the WiFi offered is open or secured, that doesn't make it any less of a target for hackers.
The WiFi you're desperate to get connected to might turn out to be a honeypot that will very much compromise your privacy and security. However, that doesn't mean you cant use the hotels' WiFi at all, you just need to make sure you're device is protected before you do. If you want to protect your data and keep hackers at bay, you need to use an effective VPN. Find out what are the top five best VPNs for hotel WiFi in this article.
Best VPN for Hotels Reviewed
In case you already are aware of all the benefits you get out of using a VPN while staying at a hotel, there's no need to read the full review below. Here's our list of best VPNs for hotels:
Why Need a VPN at a Hotel
We understand how important it is to stay connected while abroad, however, that doesn't explain why you should let your guard down. You wouldn't leave your passport lying around in your room, just like you shouldn't allow your data to travel unprotected across the Internet. When a Wi-Fi hotspot is unsecured, that means the data you send or receive is unprotected. It's not that hard for a hacker to abuse an open, unsecured network.
And almost any hacker with the know-how can hack the hotel WiFi if it doesn't employ strong encryption methods. That way anybody on the same network can spy on and retrieve your information. Open WiFi networks – that require no password -can be used by anyone. These networks don't use any encryption methods, meaning they aren't secured. The data sent over them is retrievable by any nearby hacker unless you have a VPN connection.
Security At Hotels
Many users often pay no attention to their online security while staying at a hotel. But what they don't know is that this is where their identity and data are susceptible to threats and malicious attacks.
Snoopers get spyware privileges onto your phone or computer through your hotel's free WiFi connection. Once you connect to your own home network back at home, everything on your device becomes accessible.
This is a very dangerous issue as they can steal intellectual property, frame you for some crimes they commit, and even affect other devices. They need to connect to a VPN when using the Internet from an insecure hotel Wi-Fi network or any other open Wi-Fi network.
VPNs function as encrypted tunnels. All of your Internet traffic passes through the VPN tunnel while you're connected. So, if you connect to a website through a VPN, the remote VPN server connects to it for you. The website then communicates with the VPN server.
Bypassing Regional Restrictions
More often than not, the hotel you are staying at is actually in a foreign country. Besides the various cyber threats related to hotel WiFi we have previously explained, you will also run into regional restrictions whenever you try connecting to websites that are only available back home. For instance, you will not be able to watch your favorite British soap opera on BBC iPlayer in case you're a UK expat currently residing in a hotel overseas. The same applies to Americans who want to stream content on US-only channels like ABC, CBS, or NBC.
Using a virtual private network will not only help you protect your online privacy and security, but it will also enable you to bypass any geographic restrictions that might be imposed on websites from anywhere in the world.
Best VPN for Hotels
Even the best hotels can't provide you with the security you demand. By connecting to their WiFi, you are putting yourself at some major risk. However, if you use a VPN, you'll be able to use the internet safely from any network you want. Without a VPN, other users on the network could access the data coming from your device. So in order to prevent all that from taking place, here are some of the best VPN service providers you can use to stay protected while staying at a Hotel:
ExpressVPN
Undoubtedly, this service provider has a lot of great features, and security is right there at the top of their priorities. ExpressVPN offers an ample selection of location servers you can choose from as well as helpful web-based tutorials and troubleshooting guides.
Protect yourself from hacking and surveillance with 256-bit AES encryption, DNS/IPv6 leak protection, kill switch, and split tunneling upon subscribing to ExpressVPN's services. Take a look at our full ExpressVPN review to see what this VPN has to offer.
BulletVPN
BulletVPN strives to provide reliable and secure services to protect your traffic from eavesdroppers and hackers no matter where you are. Their top-grade encryption methods make it difficult for any third party to access your online traffic and data.
Its users are to expect a high level of online security with this VPN subscription. Plus, they follow a strict no-logs policy, which means they don't store any of your information or keep track of your activities.
NordVPN
NordVPN masks your IP address so that your online activity is out of Internet service providers' and hackers' reach. Their double encryption will relay your data via not one, but two subsequent VPN servers, before it reaches the web page you're attempting to access.
This way your data gets encrypted twice. It's not as fast as the other service providers, but it sure is secure. It will definitely protect your data while you use hotel WiFi. Learn more about this particular VPN by reading our NordVPN review.
Stay Safe at Hotels with Best VPN for Hotels
Hackers breaking into smartphones and computers through Hotel WiFi connections is so easily done just because guests never assume they might be under threat in a place as safe as a hotel. Your unprotected device connected to the supposedly safe WiFi might be hackers and cybercriminals' target of the day. Don't take your chances with a Hotel WiFI connection and get a VPN. Unless you can survive to remain offline during your hotel stay, VPN seems like the better option.

Best VPN for Hotel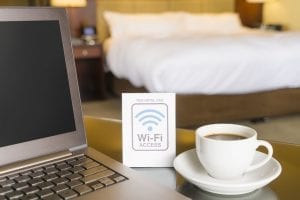 Name: ExpressVPN
Description: Connecting to a VPN server while staying at an hotel is of utmost importance. This is why only a proper VPN service provider will suffice.
VPN Apps

Access Geo-Restricted Content

Speed

Customer Support

Refund Policy