Morocco is one of the few North African countries that make for a unique and exciting stay. The country has repeatedly been voted the top tourist destination to visit in all of Africa, and this is evident thanks to the over 10 million tourists that fly there every year. Sights of culturally influenced architecture are sure to take your breath away, as the palaces there are built with designs you'll probably not find as well made anywhere else in the world.
Best VPN for Morocco Summed Up
According to the various tests we conducted, here are the best VPN service providers you can use while spending your holiday in Morocco:
Internet Restrictions in Morocco
It is quite easy to fall in love with the place, as it is one of those locations that you wouldn't get satisfied with after just one visit. Making frequent trips there means you'll have to think about a few things that you can't just do without, and one of them should be your Internet connection.
Most people assume that once they land there, their hotel Wi-Fi will make it possible for them to go through whatever site or channel they'd want to, only to get shocked by the inability to access the sites and channels they're used to when they were back at home.
Morocco's policy on Internet use and restriction is not as tough as it is in other parts of the world, but with the country being a religious state, the government has taken upon itself the responsibility to maintain public peace. This has been proven through a law passed in 2003 that makes it legal to delete or filter out any information posted online that has the capacity to create or promote civil unrest either through fear, intimidation, or violence.
This kind of law makes it difficult especially for international journalists to report freely on any form of newsworthy headlines, and it's the kind of restriction that can end up getting you into problems if you happen to share unfortunate local events through your social media.
Why You Need VPN in Morocco
To avoid any cases where whatever you post online is tracked back to you, it'd be better to surf the Internet under the disguise provided by a VPN connection. Known in full as a Virtual Private Network, this simple tool allows you to browse the Internet without leaving any breadcrumbs. The service works by encrypting your connection as soon as you link your device with any of their remote servers.
Once encrypted, your data gets transmitted without anyone knowing whatever it is that you're up to, and this affords you the privacy and confidentiality that you'd need to access blocked sites and channels in Morocco without any worry.
Another perk you get out of subscribing to a VPN service is being able to change wherever it is that you'd want to seem as though you're browsing from.
Once your device is linked with a remote server, your IP address changes from the one which shows your original location, to that which shows the location of the server you're connected to. With your actual address hidden, you'll be able to access as many geo-restricted sites as you'd wish to, all the way from Morocco
Best VPN for Morocco – Advantages of a VPN
Aside from encrypting your connection and hiding your location, there are a couple of other advantages you'll also get to enjoy courtesy of using a VPN. They include:
Safe access to a public connection

: Connecting to a public Wi-Fi connection exposes you to a lot of risks. A VPN keeps you protected.

May improve your browsing speed

: ISPs are known to throttle your connection especially if they find out you spend a lot of your time streaming in HD. This tends to consume a lot of bandwidth. With a VPN in place, you'll be able to hide your traffic meaning they be barred from seeing whatever you're up to online.

Unrestricted downloading

: A VPN helps protect you from any form of copyright infringement claims whenever you're downloading content.
The Best VPNs for Morocco
The advantages listed above differ in how they are accorded across the different providers in the industry, so to get the best standard of service, you'll need to be very picky about what service you subscribe to.
We have a few recommendations that we'd suggest you look at so that you can get off on the right foot.
1. ExpressVPN
ExpressVPN starts off our list with a network of around 2000 servers. The servers are well distributed across the world to ensure widespread connectivity. Being based in the British Virgin Islands, they are well away from any data regulation policies that may require them to produce their customer's browsing history.
As a result, the provider promises not to store any of their subscriber's browsing history through their zero-logging service. ExpressVPN also avails stealth servers for its users who are based in regions where there's a lot of heavy Internet restrictions and provides a DNS service that you can rely on if all you're looking for is access to geo-restricted sites without encryption.
With ExpressVPN as your provider, you should be able to include up to 5 connections under one subscription, and the support to use either L2TP, IPSec, or OpenVPN as your chosen protocol. Security is also upheld through 256 bit AES encryption, and with a customer care team that's always at hand to sort out your issues, ExpressVPN stands out as the number one provider even for first-time VPN users. If this is a VPN service provider you might consider, read our full ExpressVPN review.
2. BulletVPN
Famed for owning all of its servers, BulletVPN another provider that is guaranteed to offer value for money. The service has a network of about 150 servers, which then facilitate access to hundreds of IPs.
This leading provider is the preferred choice especially for online gamers, who can only choose a service that cannot at any point in time lag in speed. The servers are also fast enough to allow for uninterrupted HD streaming.
BulletVPN allows customers to add up to 6 connections under a single subscription, and with such a high capacity for multiple uses, subscribers get to save a significant amount of money especially if they hoped to place a lot of devices under protection.
The provider allows P2P file sharing and offers both unlimited bandwidth and unlimited server switching. According to this review, BulletVPN is one of the best VPN services around.
3. NordVPN
NordVPN places the bar quite high in regard to what a reliable VPN service ought to be. This provider edges out the competition thanks to its 4000 well-distributed servers and the fact that customers get to choose which servers to connect to based on the work they want to do online means their connection will ultimately be able to perform better.
NordVPN is also well known for its capacity to support up to 6 multiple connections at once and also allow for unlimited server switching for their connections. The service also offers different versions of its VPN app, allowing it to run on a Windows, iOS, Linux, Android, or Mac OS X-based device.
NordVPN is also known for its CyberSec feature, which blocks out any form of unwanted ads or malware so that users can browse the Internet uninterrupted. Courtesy of being based in Panama, the service is also situated well away from the reach of any data regulation policies, and this gives users full confidence in their zero-logging policy. As showcased in our NordVPN review, this is a VPN you can totally trust.
Conclusion for The Best VPN in Morocco
This review has just covered three of the most preferred VPN services you can use to stay protected online while in Morocco. In as much as we can highlight the advantages of signing up with either ExpressVPN, NordVPN or IPVanish, its upon you to choose which provider to ultimately settle with. Once you do, we'd appreciate any feedback on your experience, and it'd be great if you shared them right below in the comment section. We'll also be happy to respond.
Best VPN for Morocco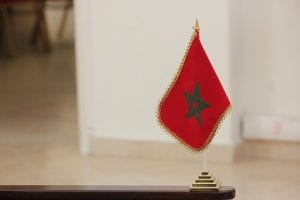 Name: ExpressVPN
Description: Regardless of whether you are a Moroccan resident or simply a tourist enjoying their vacation there, ExpressVPN is the best VPN you can use in Morocco.
Access Geoblocked Content

VPN Apps

Refund Policy

Speed

Support