Best VPN for Switzerland
|
Switzerland thankfully is not part of the European Union, which means it doesn't answer to the EU Data Retention Directive. In fact, Switzerland has been ranked seventh out of 180 countries in its 2017 World Press Freedom Index. But freedom comes with a price. Switzerland has its own set of laws regarding data retention and surveillance, and they're pretty much not that pleasing. Aside from forcing Internet Service Providers in Switzerland like Cablecom and Green Provides, users' data and information are stored up to 6 months long. Who knew? Even the freest Internet countries have some restrictions, which is why a VPN is always a good call. Having a VPN on any PC, Mac, Android, iOS, iPhone, and iPad will protect the people of Switzerland's privacy and provide them with the security they lack. Which Swiss VPN is best? Read the review below to find out.
Best VPN for Switzerland – Quick Overview
In case you already know what VPN is and how it works, you probably do not need to read the in-depth analysis below. To save you time, we have summed up the best Swiss VPN service providers here:
Why Get A VPN In Switzerland?
Although Switzerland has one of the freest internet infrastructures, using a Virtual Private Network (VPN) is highly recommended. A VPN tunnel will enable to block of geo-restricted websites, channels, and services. The citizens of Switzerland can watch the movies and series they desire by simply connecting to one of the VPN servers located outside of Switzerland. Also, a bit of protection won't hurt. If Switzerland isn't subject to the retention law directive, doesn't mean its citizens should let privacy out the window.
The privacy should be a priority because who knows when the government of Switzerland would order an increase in logging and record keeping. A VPN allows users to securely access a private network and share data remotely through public networks. Thus, your data will be safe from hacking attempts and monitoring.
Best Swiss VPN Review
With all that said, you can see why having a VPN is both necessary and beneficial. To protect your privacy, a VPN tunnel is a must-have. If you're having a hard time trying to make up your mind as to what VPN you should choose, we're here to help you out. Check out the VPNs we think are best for Switzerland.
ExpressVPN
If you're looking for some privacy and level of security in Switzerland, ExpressVPN has got your back. Their ultra-fast VPN servers across 94 countries enable you to unblock the sites and apps you love within minutes. You can stream or download whatever you want from any of their servers with a hidden IP address.
BulletVPN
This is another top VPN service provider you can use in Switzerland to browse the web securely. BulletVPN offers users a 30-day money-back guarantee. You can install the BulletVPN app on your PC, Mac, Android, iPhone, iPad, or FireStick. A Smart DNS proxy feature is also available in case you wish to stream geo-blocked content on devices that natively do not support VPN.
How to Connect to a Swiss VPN Server?
Establishing a Swiss VPN connection couldn't be any easier. Follow the steps we've listed below to get a Swiss IP address outside Switzerland.
First of all, sign up with one of the VPN service providers we have suggested above.
Next, download and install the VPN application on your PC, Mac, Android, iPhone, or iPad.
Launch the VPN app, sign in, and connect to a Swiss VPN server.
Wait for the VPN connection to be established.
Browse the web freely without restrictions.
Best VPN for Switzerland – Verdict
The Switzerland government's surveillance initiatives have really put a damper on the whole "Free" country status thing. The people of Switzerland already have much to celebrate, but subscribing to a VPN service provider would guarantee them many occasions for rejoicing. They have really nothing to lose, only good times, quality services, and excellent offers to gain. Comment in the comment section below which VPN qualifies as the best privacy protector in Switzerland?
Best Swiss VPN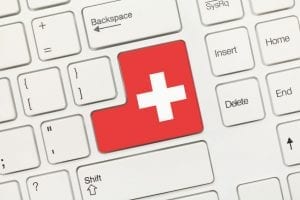 Name: ExpressVPN
Description: If you want to get a Swiss IP address abroad, there's no better VPN to do so than ExpressVPN.
VPN Apps

Access Geoblocked Content

Speed

Support

Refund Policy