Looking for the best VPN for Terrarium TV? Streaming services all over the world continue to gain immense popularity simply because of the wide range of channels and extent of content that they offer. Some of these services need you to subscribe and pay a monthly fee to stream content from them, while others just have content available for you to stream without any need for payment. Fortunately, Terrarium TV is one of those that you won't have to pay for, and it doesn't mean that just because you're not paying for it, the content you get is not of high quality.
Best Terrarium VPN in a Nutshell
For those of you who don't wish to read the in-depth review below, we've listed the best VPNs you can use with Terrarium right here:
How Does Terrarium TV Work?
Terrarium TV mainly works by serving up links to some of the best video content on the Internet. The service doesn't really host or upload any videos on its own, and also doesn't store any media that users get to access through the app. Through its skillfully designed interface, users are presented with an assortment of media links to content from different sites, and that's pretty much all you can expect from this Android-based service.
Terrarium TV – Is it Legal To Use?
One thing that most people can't seem to wrap their heads around about Terrarium TV is whether the service is legal to use, or not. This is because it sort of falls in the category of other services such as Kodi, which has often been in the news especially after being used to download and stream pirated content. What we found out is that Terrarium TV doesn't really have any measures that ensure the links it presents are from legal sources or not. This means that if at all you'd get to stream copyright-protected content, there's a chance that you might land yourself in trouble.
Using a VPN with 
Terrarium TV
If you do end up streaming copyrighted material, you'll probably come across a DMCA copyright infringement notice in your email threatening to sue for money you might not even have. This is something that you can easily avoid by subscribing to a Virtual Private Network Provider.
Commonly known as a VPN, a Virtual Private Network is simply a service that makes it possible for you to secure your online traffic through encryption. With your traffic secured, you'll be able to stream through as many links as you want on Terrarium TV without having to worry about your connection getting tracked down. This gives you some much-needed peace of mind to enjoy whatever it is that you're streaming.
Using a VPN also unlocks a whole lot of regionally restricted content that you'd previously not have had access to based on your location. A VPN helps to hide your original IP address, and establish a connection to a remote server that alters your IP to make it look like you're within the country where the server is located. This allows you to beat any geo-restrictive blocks that the sites could have put up so that you're able to stream as though you were actually in the country.
Best VPN for Terrarium TV
To enjoy a fast and secure streaming experience with Terrarium TV you're going to need to sign up with a credible VPN provider. To save you some time, we've already shortlisted some services that we think should give great value for your money:
1. ExpressVPN
Streaming content without compromising your security is one thing that you'll be able to do once you subscribe to ExpressVPN. This is a service that guarantees optimum online protection thanks to its 2000+ servers. ExpressVPN also allows users to attach up to 5 simultaneous connections under one account, and provides for both unlimited bandwidth and unlimited server switching.
The service is based in the British Virgin Islands, so users should have no worries about their data being recorded or even seized by data regulation authorities. This is how they are able to uphold a zero-logging policy.
The service also has a string of servers known as Stealth Servers that help ensure anyone intending to visit sites based in regions where the Internet is highly restricted are able to stay undercover. ExpressVPN also has an easy-to-use VPN app that works on a wide range of platforms such as Android, Windows, iOS, and Linux. There's a lot more you can figure out about this provider by going through our ExpressVPN Review.
2. BulletVPN
BulletVPN is known for speed, security, and perfect unblocking capabilities. The service has about 150 servers in 55 countries and assures its subscribers that none of their browsing details are stored by the service. They also encourage those of their customers that would want to torrent on their website by citing their full support.
The provider also allows for unlimited bandwidth and unlimited server switching for anyone who signs up. The service has developed quite the reputation for being the one provider that offers super-fast connections through their servers, to the point that even online gamers prefer it as their gameplay never gets interrupted or hangs.
Furthermore, BulletVPN has user-friendly applications that anyone can use. In other words, regardless of your technical background, you can download the BulletVPN app on Android, iOS, PC, or Mac and navigate it with ease. For more info about the provider, check this full BulletVPN Review.
3. NordVPN
NordVPN is also another provider that is well known for its serious commitment to privacy. The service offers all the necessary features to keep you safe online, backed by an assortment of about 4000 servers that ensure access to websites and channels all over the world. NordVPN is also based in Panama, and this is very convenient as they are well away from data regulatory jurisdiction. The service also has a no-logging policy, meaning even the team at NordVPN will have no idea about whatever you're up to online.
NordVPN places such a high level of competition on its competitors, as many of them, can't even compare to the list of security-centered features that the service offers. One worthy of mention is its double encryption feature. This feature routes your traffic through two servers instead of one and doubles the 256 bit AES encryption that already has your traffic secured.
NordVPN also allows you to choose what servers to connect to based on the kind of work you'd like to do online. This means NordVPN has servers optimized for online gaming, HD streaming as well as torrenting. For more about what you'll get from NordVPN, take some time to go through our NordVPN Review.
The Best VPN for Terrarium TV
Streaming content under the protection of a VPN service means you're able to get access even to geo-restricted content, and also maintain anonymity as you browse the web. A word of advice before you sign up for any of the services: try out their money back guarantees or free trial periods to see just how well you'll like their service. You don't want to commit to dishing out money for a service that you're not even content with.
Best VPN for Terrarium TV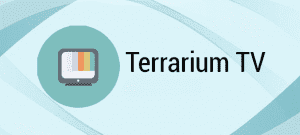 Name: ExpressVPN
Description: If you want to enjoy anonymous and bufferless streaming, there's no better VPN to sign up with than ExpressVPN.
VPN Apps

Access Blocked Content

Speed

Support

Refund Policy