To the outside world, Sri Lanka is a country best known for its excellent tea and gorgeous tourist attractions. On the inside, however, Internet censorship and online freedom continue to be hot topics in Sri Lanka that have even gone on to attract the attention of their President, Mr. Sirisena. Back in 2015, he pledged to roll back the censorship regime that had been instigated by his predecessor, and a few years into his leadership, Sri Lankans are still not quite to free to view whatever they would want to online. This was evident from the ban they imposed on Whatsapp, Facebook, Viber and Instagram that the country imposed back in March 2018. According to the government, the ban was meant to control the spread of hate speech.
Internet Restrictions in Sri Lanka
As a traveler planning to head into the country soon, you'll probably be subject to their Internet censorship rules as soon as you connect your device to any of their local ISPs. If you happen to be a journalist, objectively covering the country's news might be very difficult to do since your access to what the government's harshest critics will be severely limited. A long list of news sites got banned back in 2015 for "damaging the President's reputation", and from what we've been able to gather, the sites remain inaccessible up until now.
Getting used to such restrictive Internet policies might be very hard to do especially for anyone coming into Sri Lanka from a country where your freedom online is rightly upheld. You'd have to give up access to social media sites like Facebook and Instagram, messaging services such as Whatsapp and Viber, as well as streaming channels that would normally be available in your region such as Netflix. These are quite a lot of changes to make all in one go, and they might even force you to rethink your plans about flying to Sri Lanka.
If making changes to your plans is out of the question, then perhaps a solution that would help you regain access to all the sites and channels you'd want would be worth looking into. With a VPN service, you'd be able to log on to your social media accounts without any issues, and also get to read and understand what the government's critics would want you to through accessing their banned websites.
The Need for VPN in Sri Lanka
A VPN service provides access to all these restricted media by routing your data through servers can hide it, and also encrypt your connection. This all happens once you establish a link to a remote server, which goes on to hide the details conveyed through your IP address. An IP address serves as your form of identification on the Internet, and it includes information such as your name, location as well as your ISP.
As soon as a connection to a remote server is established, your VPN client is able to change some aspects of your IP address such as your location, to reflect that you're based wherever the remote server may be. This small change allows you to access geo-restricted websites or streaming channels that may have previously been set to deny access to Sri Lankan users. You'll also be able to access locally banned sites by rerouting your connection through other foreign sites.
Last Updated 2 Days Ago


30-Day Money-back Guarantee
Unlimited Bandwidth
Apps For All Your Devices
24/7 Live Support
Visit ExpressVPN
Best VPNs for Sri Lanka
The advantages that a VPN service can offer are immense, but the quality you receive depends on the provider you choose to subscribe with. To help you out with that, we've put together a short list of providers that offer the best possible service. Have a look at our list below of the best VPNs for Sri Lanka.
1. ExpressVPN
ExpressVPN has been repeatedly recognized as one of the best providers in the world, and most of its customers attribute their loyalty to the service to their customer service. ExpressVPN's customer care team is considered among the most professional, and they are always available to help anyone with a problem out. ExpressVPN offers robust online security standards through their 256 bit AES encryption which uses both HMAC authentication and perfect forward secrecy. The provider also maintains a serious zero logging policy that assures users of none of their browsing data being stored.
ExpressVPN has close to 2000 servers spread out across 148 locations including Sri Lanka. This allows anyone from the country who is abroad to access local banking services and content from wherever they are. The service is also keen on ensuring that users are well aware of its customer loyalty program, where if current subscribers are able to convince friends or colleagues to sign up, both parties get a free month added to their subscription. ExpressVPN also allows for up to 3 multiple devices to get connected under one account and still offers unlimited server switching and bandwidth use. There's a lot more that prospective users can find out about the service, and they can do so by going through our ExpressVPN Review.
2. NordVPN
Few providers are as capable of offering a feature-rich VPN client as NordVPN. We haven't been able to find a reputable service with as many as 4000 servers within its network, and this leaves NordVPN at the top spot in that regard. The service is based in Panama, and this great for privacy concerns as the location is in a jurisdiction that isn't affected by any data retention laws. The service also ensures that users stay secured online through 256 bit AES encryption, and with such a wide network base, subscribers can choose to tweak their security through double VPN.
Double VPN, or double encryption, is a service that allows users to have their even better protected by routing it through two servers instead of one. Also offered is the ability to choose the type of servers to connect to based on your work online. There are servers available for users who want to stream in HD, torrent, download large files or play online games. The provider provides access to popular streaming services such as Hulu, Netflix, and BBC iPlayer, and also allows up to 6 devices to get connected simultaneously. For a more in-depth look into the service, consider going through our NordVPN Review.
3. VyprVPN
VyprVPN is another provider that should come to mind when looking for the best VPN for Sri Lanka. The service is based in Switzerland and has a server count of about 700 to its name. Online protection is military grade and is provided by its 256 bit AES encryption. VyprVPN is well known for its Chameleon protocol, which is a solution that allows users to use VPN undetected even in regions such as China and Saudi Arabia where blocks for VPN users are imposed.
The Chameleon technology works by repackaging metadata into sets that are undetectable even after Deep Packet Inspection. This also helps the service to work around any form of bandwidth throttling that may be imposed by Internet Service Providers. VyprVPN has been known to log some level of their user's activity, however, when asked they maintained that only details such as times and data quantity transmitted are logged. The service provides a VyprVPN app that can be used on a Windows, Mac OS X, Linux or Android-based device, as well as a VyperDNS service that grants access to geo-restricted websites. You're welcome to go through a more elaborate report of the service through our VyprVPN Review.
Conclusion for The Best VPN for Sri Lanka
Accessing the Internet freely in Sri Lanka shouldn't be a problem once you sign up to either Express VPN, NordVPN or VyprVPN. These three services are guaranteed to provide access to blocked websites, and anonymity as you browse the Internet.
Best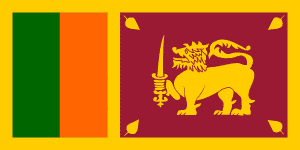 Name: ExpressVPN
Description: In order to access a free unrestricted Internet in Sri Lanka, you will need a premium VPN service provider such as ExpressVPN.
VPN Apps

Access Blocked Sites

Speed

Support

Refund Policy