With the recent Cambridge Analytica news about online data breaches of Facebook and other companies, it has become imperative that you use only secure apps. To send and receive voice and video messages, use only encrypted messaging applications.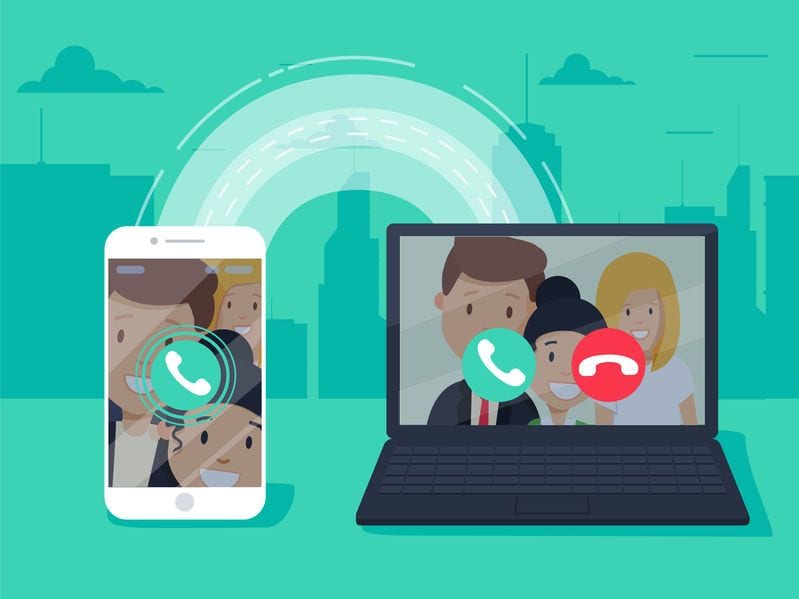 From telecom companies to hackers, criminals and advertisers to governments, everybody is in the pursuit of data mining. All our sensitive data is at risk and could be misused if it falls in the wrong hands. Our lives are now so entangled with the Internet that we cannot imagine forgoing digital apps. In such a situation, it is only fair that you started looking for the most effective encrypted messengers to make communications. Here we give you a simplified guide of the best-encrypted apps. But first, let us see why end-to-end encryption is important.
End-to-end Encryption
Encryption is the process of coding and decoding a message or text using a cryptographic system. This has been in use for a long time to transfer confidential data. However, end-to-end encryption adds an extra layer of protection to traditional encryption.
An encrypted message is nothing but a cipher of the original message, which can be deciphered when the recipient gets it. Here, the code to cipher and decipher is the same and is known only to the sender and the recipient. However, the glitch is that this common code may be known to a third person, who could unlock the message and use it as he wills. This is where end-to-end encryption wins.
Here, the sender has a public key that belongs to the recipient. He encrypts the message with the public key and sends it to the recipient. The recipient, on the other hand, has a private key that is unique to him. With this, he can decrypt the message he receives.
How End-to-end Encryption Matters
End-to-end encryption provides an additional layer of security as it makes the communication unreadable to the third party. The advantage of this is that even if someone gets hold of the encrypted communication, there is no way it can be decrypted without a private key.
Hence, when you communicate via an app on two or more devices, the encrypted information will be in the form of a secret code. So, spying agencies, ISPs, the app developer, or even governments are kept away from your private data. This is because the message is not in plain text; the data is not at risk of being tampered with, and you can be surveillance-free.
In the case of encryption in transit, there is a chance of a hacking attack at the end of the service provider. There is also a serious possibility of a compromise or corruption by an insider. For any reason, there could be data breaches and information might be leaked. Rather than having the communication encrypted by the service provider, end-to-end encryption is done at the sender's end and the recipient's end. The public key is viewable by all and is stored on the server, whereas the private key remains with the recipient and is stored locally.
Best Messengers Of 2023
Here we give you the best voice and video messengers of 2023. They offer end-to-end encryption and keep your data secure.
1. Signal
Signal receives unanimous ratings from across the globe for being the best personal messaging app. It provides strong and true end-to-end encryption, making the messages unreadable to hackers and even to Signal. It is simple in design, free and can be used on all mobile platforms. This messaging app has a special desktop installation program, should you need to use it on your computer.
You can send and receive text, documents, pictures, voice, and video messages. It has attractive features where you can decide if you want the messages to disappear. It displays no ads and is an open-source platform where you can test it for bugs. The only drawback is that it doesn't support animated emojis.
2. Telegram
This cloud-based messenger keeps your communications safe, so you can never lose them. It features heavy end-to-end encryption, making the data undecipherable to the developer also. Similar to Signal, Telegram has self-destructing messages that disappear after a user-opted set time period. Available across multiple platforms, it also has the double-tick feature for reading messages. It supports text, voice, and video chats.
Its user-friendly and open-source platform is much appreciated, whereas its own standard encryption can be seen as its biggest drawback.
3. Viber
This free messaging app prevents anyone from snooping into personal chats. The standard encryption secures all chats and calls- be it one-on-one, group messages, voice, or video. Viber offers default end-to-end encryption, and even the app cannot read your data.
It also offers additional privacy in its "secret chats" option and allows the messages to self-destruct with a timer. This app makes private chat more enjoyable with its high-end calling experience.
4. Threema
Enjoy complete privacy with Threema, as the app doesn't even store your contacts list, let alone your messages. Your messages are promptly deleted from its server immediately after they reach their destination. Hence there is no worry about having your metadata exposed to vulnerabilities.
You can send files, text, voice, location, and group messages with end-to-end encryption offered even on your status messages. You have the option to create polls or hide specific chats. It can even use password protection for your messages if you choose. Other features include formatting the text messages and like/dislike them on your chats.
The best feature in this long list is that you get a Threema ID, which is a unique 8-digit random number. You can use this for all your communication, excluding the necessity to share even your phone number. How is that for complete anonymity? You just need to verify a contact before starting a chat with them, using individual keys and a QR code. The only drawback is that this is a premium app. With such user-friendly features and security, there's no wonder its user base is on the rise.
Adding a VPN to the Equation
No matter how secure your messaging app is, there's always room for various threats. In order to secure your video and voice calls, it is always best to connect to a VPN server first. A virtual private network allows you to encrypt all of your outgoing and incoming Internet traffic, prohibiting potential eavesdroppers from spying on your conversations.
VPN apps are compatible with Windows PC, Mac, Android, as well as iOS devices. Here is a list of our top-recommended VPNs for secure VoIP calls.
Conclusion
In these days of an ever-increasing threat to cybersecurity, businesses, consumers, and developers are looking for ways to protect their data more efficiently. Encryption apps have become more commonplace, but in this ocean of choices, choosing one that fits your needs can be difficult. That is precisely why you need this guide to secure your communications.