Best VPN for NHL.TV – 2019/2020 Season Review
|
Catching up with all the National Hockey League games has never been easier all thanks to the NHL.TV service, formerly known as the NHL Game Center. A subscription allows you to stay on top of all the hockey fixtures, game highlights, and important announcements regarding your favorite sport. You get to stream live matches straight to your device and enjoy the full thrill of the game as long as you keep up with their fees. The only issue you'll have to deal with is the fact that most of the games are blacked out in the United States. However, it's a problem you can solve, but you'll need to turn to a simple tool called VPN. Which one is the best VPN for NHL? Find out in this review.
Best VPN for NHL.TV – Content Index
The 2019/20 NHL season is on the way. So, before we reach October 2nd, 2019, why don't we learn all about avoiding NHL.TV blackout restrictions, and what are the best VPNs to do so? Follow my lead.
NHL.TV – Home of the National Hockey League
NHL.TV is NHL's standalone service, which allows users to stream every game from the season. The service is available almost everywhere in the world. However, it's content isn't.
Well, such a sports streaming service is subject to blackout restrictions. When a game is being broadcasted through a cable provider's channel, NHL.TV will be blacked out. The service doesn't cost US residents much.

I didn't post the pick to show you the prices; I can type down $24.99/month or $129.99/All Access. The main purpose of the image is the notice about restrictions. If you look closely, you'll find that under every plan there's (Blackouts and restrictions apply).
That's not all. There's a whole paragraph beneath them talking about such restrictions. Care to find out what happens if you're blacked out? Here's the message you get:
"Your selection is not currently available in NHL.TV due to local or national blackout restrictions. The full-length replay will be made available after 48 hours."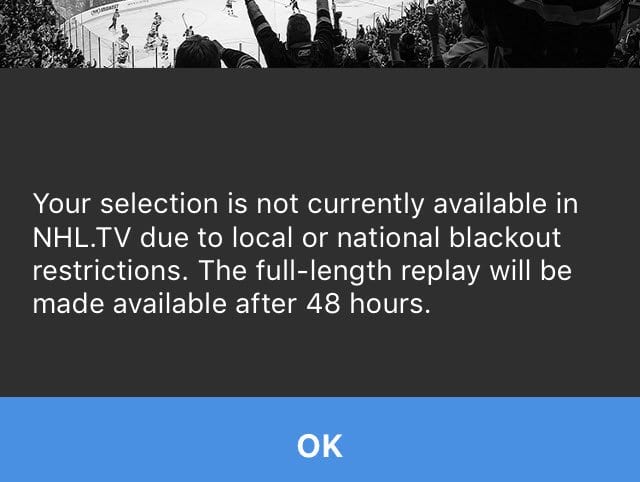 But it's fine. With a VPN, you can bypass that. Scroll a bit further and check what a VPN is, does, and what to choose.
What is VPN
A Virtual Private Network does one main thing that really helps you get access to the NHL.TV service. It allows you to have your online identity concealed, and this is done by switching off your actual IP address in favor of one that links to one of your provider's remote private servers.
Your IP address is more like your digital fingerprint online, and it reveals things such as your location and identity to anyone who cares to check. Changing it conceals your actual location, and this allows you to access the service from wherever in the world you might be. 
Working Around NHL.TV Censorship With VPN
As long as you have a valid subscription to the NHL.TV service, you'd only need to add on a reliable VPN connection to be able to navigate through all of their blocks and stream your games from anywhere in the world.
Setting up a connection is relatively easy; all you'd need to do is follow through these simple set of instructions:
Look for a credible VPN provider like ExpressVPN and sign up.
Download the app to your Mac, PC, iOS, or Android device.
Establish a connection to a VPN server preferably somewhere the restrictions don't apply.
Log on to the NHL.TV website and get a subscription.
Ensure you have an active VPN connection whenever you're about to stream the Hockey Games live.
If you ask us, we'll say ExpressVPN is one of the best VPN providers you can look to for a connection that's always available, but we encourage that you test out other services to spot the one that might work best for you. We've done a review on four below that you might consider:
Top NHL.TV VPN – Detailed Review
Virtual Private Networks are excellent tools to bypass regional restrictions and avoid blackouts. You see, a blackout restriction is a mechanism used to prevent streaming services from airing a match if a cable provider has the right to is in the territory.
With a VPN, you can subdue this issue by relocating your virtual self to an area where no official broadcaster is present. Then and only then, you can stream your NHL matches blackout-free.
With that said, here are the top VPN providers to bypass NHL.TV blackout restrictions.
Last Updated Yesterday


30-Day Money-back Guarantee
Unlimited Bandwidth
Apps For All Your Devices
24/7 Live Support
Visit ExpressVPN
1. ExpressVPN – Best Streaming VPN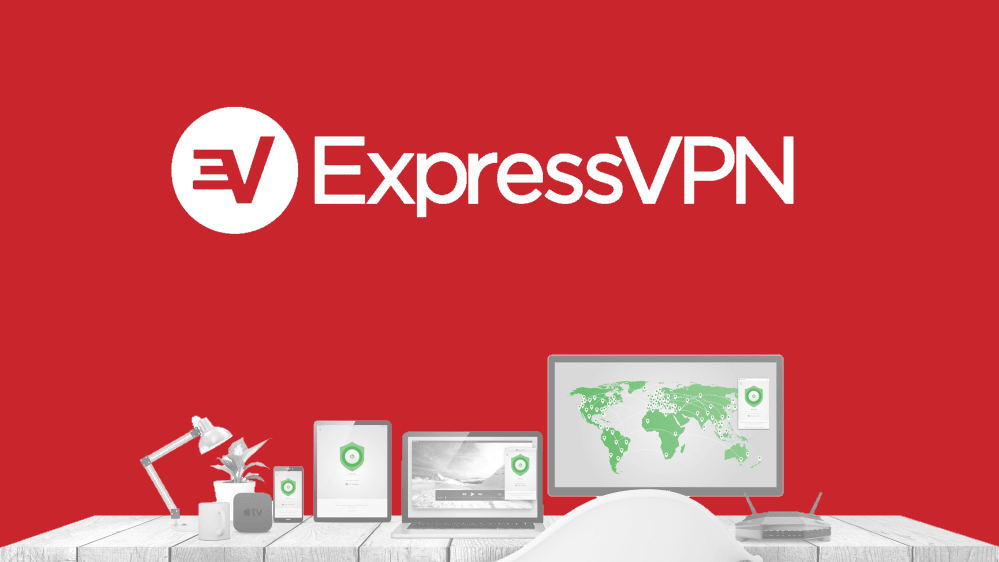 ExpressVPN tops our list mainly because their service is simply the best we've ever come across. They offer:
Instant help via Live Chat with their customer support team.
A maximum of 20 minutes for an email response.
24/7 customer service team that is always ready to tend to your needs.
The only thing I've heard most subscribers worry about is the cost of the service. Granted, the annual fee is a bit steep compared to most other providers, but their 30-day money-back policy allows you to test out the service and decide whether or not you're happy with what you'd be paying for. If it turns out to be impressive enough for you to even refer the service to a friend, both of you get a free month's worth of service right on top of your subscription.
Compared to the other VPN providers, ExpressVPN does really well in terms of connectivity speed. You'll get to enjoy the fastest downloads, torrenting and live-streaming as soon as you sign up with these guys. You'll also be able to add another device under the same account so that browsing on your phone gets to be as secure as browsing on your computer.
If you're one looking for the best service in the market, then we can confidently say that ExpressVPN is the best option for you to consider. Their service is reliable, their customer service efficient and their speeds unbeatable.
Pros
3000+ servers in 160 locations
Excellent 24/7 customer support
Swift installation and setup
No traffic limits
Blazing fast speeds
Strict no-logging policy
Excellent for streaming Netflix and NHL.TV
Five simultaneous connections
30-day money-back guarantee
Cons
Slightly pricier than others
2. IPVanish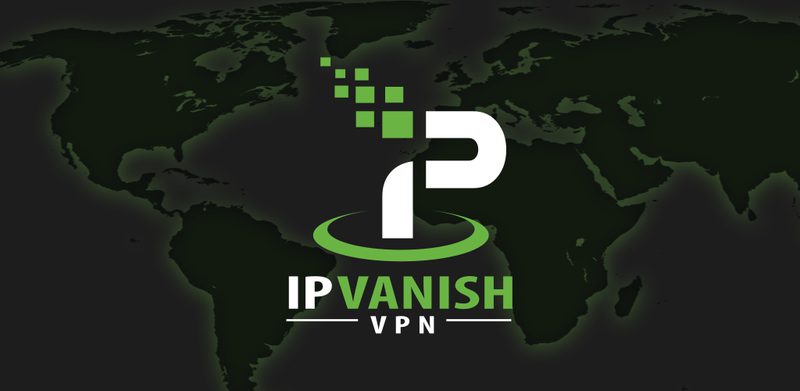 It's over 1000 servers scattered across more than 60 countries make IPVanish one of the most reliable services in the market. Their approach towards offering exactly what customers would need has won them a legion of followers who are more than glad to pay for the annual subscription so that they're covered throughout the year.
With the option of having up to 10 devices connected under the same account, IPVanish users can secure their Internet connection across their mobile, TV, and even gaming consoles with a VPN encryption. This comes with an unlimited bandwidth that you can test out in the 7-day refund period that they offer for their potential new customers.
If you run into any problems while setting up your connection, you can always contact their reliable customer support. This is the only setback we've come across with IPVanish. If they sound like your type of provider, head on to their website here and try out their 7-day service with a full refund option.
Pros
Superfast
Keeps no-logs
Popular with Firestick and Kodi users
Easy setup and very simple to use
Great for torrenting/P2P
Ten simultaneous connections
1000+ servers worldwide
Reliable customer support
Cons
Seven-day refund policy
Doesn't support Netflix
3. BulletVPN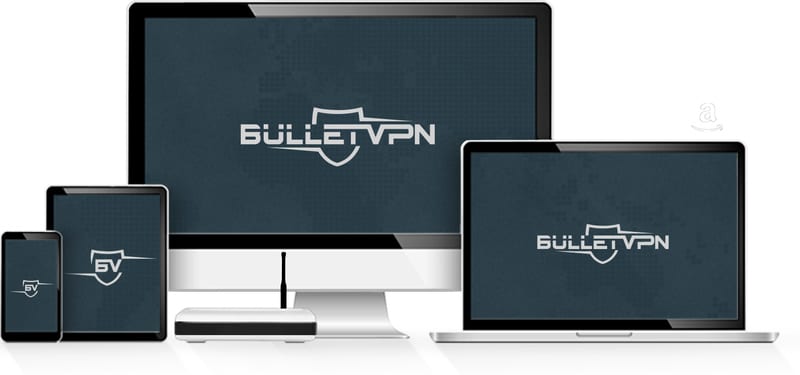 Third on our list is the widely popular BulletVPN service. This provider allows its subscribers to choose from three payment intervals: every month, every six months or every year. The best thing about this is that customers benefit from the flexibility offered, plus the features they get to enjoy are the same regardless of whichever package they choose.
Security-wise, BulletVPN employs five "strong protocols" to ensure your connection remains encrypted whenever you're online. They have OpenVPN, IPSec, PPTP, IKEv2, and L2TP. All these work together to ensure your identity remains hidden, and your personal information is kept away from anyone with malicious intentions.
If a Kill Switch was not enough to keep your browsing private, you can always rely on Bullet Shield. It's a feature that blocks your internet access unless you're connected to one of BulletVPN's servers.
Like with most VPN providers, a generous 30-day money-back guarantee period is also offered so that anyone thinking of signing up with the service is able to test them out first before committing long term.
Pros
Works with Netflix and NHL.TV
Kill switch available
Bullet Shield technology
Straightforward applications
Five encryption protocols
Zero-traffic logging
Excellent speeds
DNS & WebRTC leak protection
30-day cash-back guarantee
Five concurrent connections
Cons
Small server network (31 countries)
4. NordVPN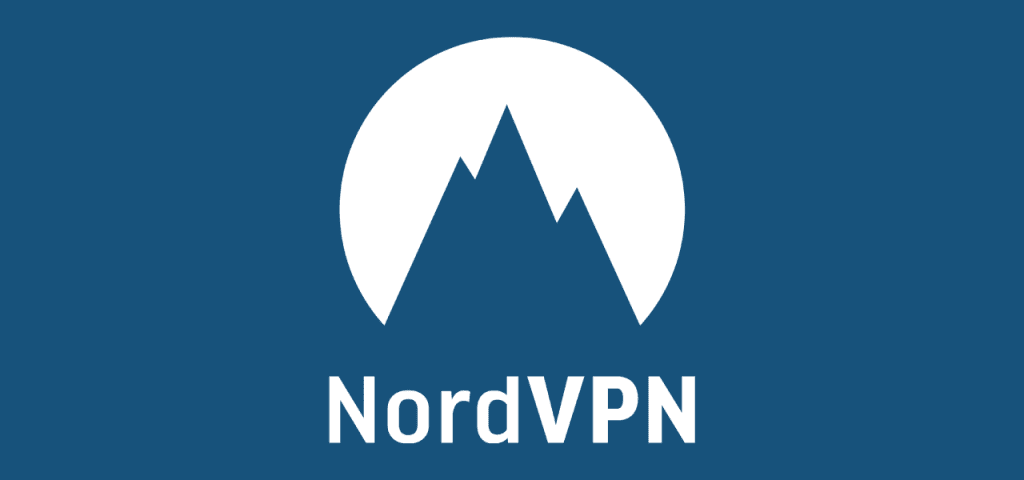 NordVPN is another excellent way to access NHL.TV content no matter where you are. The service can easily mask your whereabouts and relocate you wherever you want courtesy of their large server network.
This VPN provider has more than 5000 servers in 60 countries, which is great for bypassing regional restrictions. If you're looking for a state in the US that's not showing the game, you'll find that NordVPN has 1800+ servers in the country. That will get you NHL.TV without any sort of hindrance.
That's not all. NordVPN also excels in the security department, providing great features. First, you have a strong 256-bit AES encryption, SHA256 authentication, and a bunch of security protocols.
Second, you have CyberSec, a technology that blocks any kind of malware, virus, or malicious software. And finally, you have Double Hop VPN, which reroutes your traffic through two VPN servers instead of one. That means your data gets encrypted not once, but twice. 
As for privacy, NordVPN has a strict no-logging policy. None of your data or browsing activities get stored. In case you don't find their service to be fit, you can always ask for a refund within 30 days of purchase.
Pros
Kill switch
Double VPN
Allows six devices per account
More than 5000 servers in 62 countries.
Cryptocurrencies accepted
Top-notch privacy and security features
30-day refund policy
Zero-traffic logging
Unblocks Netflix
CyberSec
Smart DNS proxy
Award-winning customer support
Cons
Vague 7-day free trial
Some servers have bumpy speeds
Using Smart DNS Proxies to Bypass NHL.TV Blocking Restrictions
Smart DNS is another completely different tool you can use to work around any geo-restrictions that might prevent you from streaming your hockey games. As long as you're able to live with the fact that Smart DNS doesn't encrypt your traffic or hide your IP address, you'll be able to enjoy your games stress-free. Here's what you should know:
Smart DNS will also allow you to get to stream from NFL Game Pass, NBA League Pass and MLB.tv aside from NHL.tv.

The service is compatible with a wide range of devices from your

iPad, PS4, PS3, iPhone, iPad, Mac, PC, Apple TV, Wii, Android

&

Amazon Fire Stick

.

Smart DNS doesn't work well with

DNS hijacking

or

transparent proxies

.

You won't be able to alter your location.

You'll only access a limited number of blocked websites.
If a Smart DNS service sounds like a great option for you, we'd recommend trying out Unlocator. They'll offer a free 7 day trial period just for you to see how you like it.
A Kodi User? That's Perfect
If you don't know this yet, NHL.TV has an official add-on for Kodi. So, if you prefer the platform for streaming your content, you should learn how to install the NHL.TV Kodi add-on. Let me show you how to do so:
First, launch your Kodi app.
On the left of your screen, click on Kodi add-ons.
You'll see a Package Icon instead of your Settings, tap that.
Now, select "Install from Repository".
Next, choose "Kodi Add-on Repository".
You'll find a list of add-ons now. Navigate to "N" and click on NHL.TV.
On the next page, hit Install.
Wait for the download to finish. A notification will pop up on the top right of your screen.
Go back to your Home Screen, click on Add-ons, and you'll see NHL.TV all ready to be used.
Finally, log in with your credentials and stream the 2019/20 NHL season anywhere.
NHL.TV Compatible Devices
Just like you can watch every match on NHL.TV, you also get to stream it on almost every device out there. Here's a list of compatible streaming platforms:
Mac
Roku
Apple TV
Amazon Fire Stick
Chromecast
PlayStation
Xbox
Android TV
NHL 2019/20 – The Teams
The 103rd season of NHL is kicking off on October 2nd, 2019. But before we head to one of the most exciting seasons ever, don't you want to know who's bringing the fire into the field? Here are all the teams participating in the 2019/20 NHL season.
Anaheim Ducks
Arizona Coyotes
Boston Bruins
Buffalo Sabres
Calgary Flames
Carolina Hurricanes
Chicago Blackhawks
Colorado Avalanche
Columbus Blue Jackets
Dallas Stars
Detroit Red Wings
Edmonton Oilers
Florida Panthers
Los Angeles Kings
Minnesota Wild
Montreal Canadiens
Nashville Predators
New Jersey Devils
Ottawa Senators
New York Rangers
New York Islanders
Philadelphia Flyers
Pittsburgh Penguins
San Jose Sharks
St. Louis Blues
Tampa Bay Lightning
Toronto Maple Leafs
Vancouver Canucks
Vegas Golden Knights
Washington Capitals
Winnipeg Jets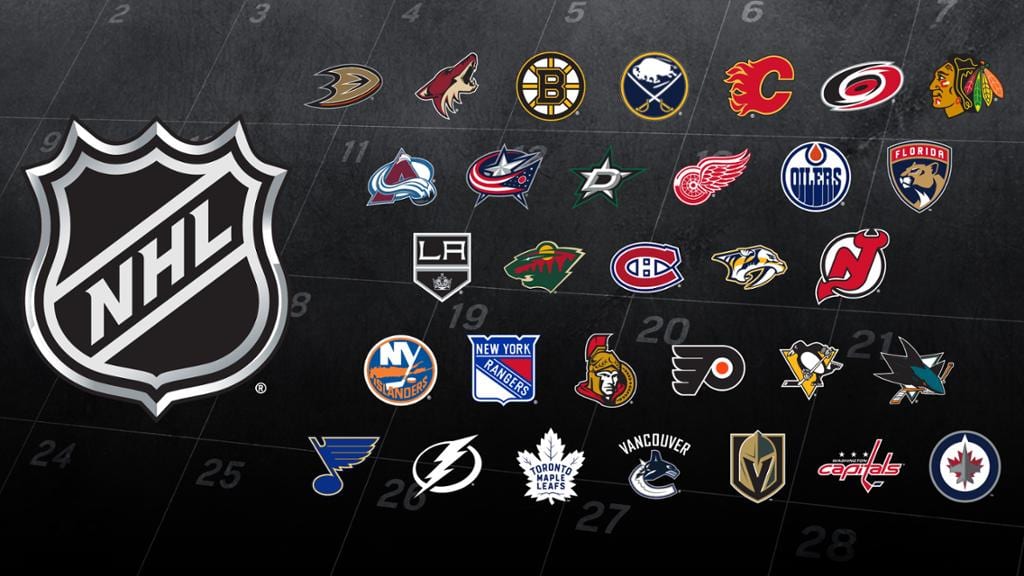 Best VPN for NHL.TV – Bottom Line
Most subscribers find themselves torn between choosing either a VPN service or a Smart DNS proxy to work around those NHL.TV restrictions. Despite a VPN service being the better option, the deciding factor should be whether or not you'd like to keep your connection private. 
Let us know what you decide and we'll be glad to assist you with the setup process. Do so by leaving us a comment in the section below.
ExpressVPN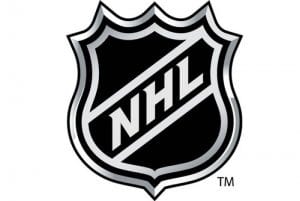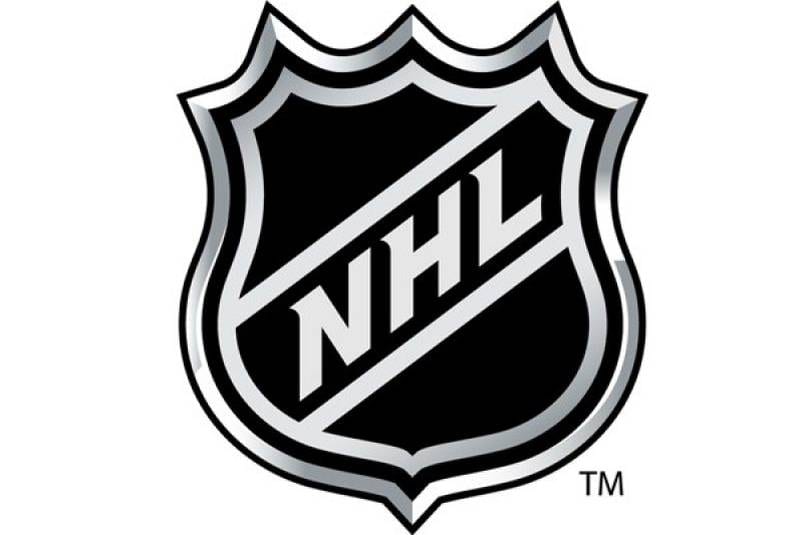 Name: Best VPN for NHL.TV
Description: ExpressVPN tops the list when it comes to VPNs you can use to get around NHL blackout restrictions.
Price: 12.95
Currency: $
Operating System: Android, iOS, OSX, Windows
Application Category: Multimedia
VPN Apps

Support

Speed

Refund Policy
Comments Rating
( reviews)