With its recent introduction to the South African, Vietnamese, and Romanian market, Spotify slowly continues to expand its accessibility throughout the world as one of the most popular music streaming services since its launch back in 2008. The service currently provides listeners with the largest music catalog to choose from, and it fares pretty well compared to the likes of Apple Music and Pandora. As long as you have access to your account through a reliable Internet connection, you should be able to use the service through your computer, mobile, tablet or Smart TV.
Spotify Is Geoblocked
Despite now being available globally and rumored to be in 178 countries by the end of 2021, many of its listeners still get disappointed after finding out that the destination they're traveling to doesn't yet have support for the service.
This is because the company employs a geo-restrictive block on their site to prevent anyone from accessing it from a country where Spotify is yet to sign any international licensing agreements. If you're going to be traveling to such a country soon and would still like to access the music streaming service, there is this one method that you can use to work around their geo-restrictive block and sing along to music from your favorite playlist.
Using VPN To Unblock Spotify
Through the use of a VPN service, you'd be able to bypass any of the restrictions put up on the Spotify website since such a service allows you to hide your actual location, and appear as though you're in a country whose residents can access the streaming site. This is all possible because when you subscribe to a credible VPN provider, your web traffic gets rerouted to servers placed in different countries. In doing so, you then become an anonymous user whose actual location cannot be tracked, and you easily regain access to your favorite music streaming service.
Now that you know how much a VPN subscription can benefit you, the next course of action becomes choosing the appropriate service to subscribe to. This in itself can be a very challenging task because of the many providers available in the market. In this guide, however, we're going to take a look at five services that we're sure will allow you to access Spotify regardless of wherever you might be in the world, without any form of restriction.
How To Choose Your Spotify VPN
There are a number of things that go into choosing the right service provider to use, and some of them include:
Checking out the location and number of servers a particular provider has to offer. You will need to cross-check the list of locations that Spotify is known to be available in, so as to ensure you'll never miss the opportunity to stream your favorite music.

Having a look at the encryption protocols offered by your VPN provider. Depending on the devices you'll want to use in accessing Spotify, you should try and opt for VPNs that offer L2TP, PPTP, or OpenVPN protocols.

Ensuring that the value offered by the VPN service you're promoting is equivalent to the price being put forward.

Ensuring that the VPN service you'd like to subscribe to offers peer-to-peer file transfer so that you'll be able to download music from Spotify to listen to later.
Best VPNs for Spotify
ExpressVPN – Our Best Recommendation
ExpressVPN is easily one of the best VPN services available in the industry, mainly thanks to its top-tier quality of service, and its super helpful customer care representatives. With its more than 1000 servers found in over 94 countries, the service is sure to provide a reliable connection to its customers regardless of wherever they could be located.
ExpressVPN's security is also top-notch, with 256-bit AES encryption that supports L2TP, OpenVPN, and Lightway protocols. The VPN app is also considered as easy to use and well-suited for beginners. Anyone considering subscribing to the service has the option of first trying out their 30-day money-back guarantee to find out whether or not the service is worth paying for.
BulletVPN
Next on our list, we have a provider that happens to be very well known due to its technological advancements in the realm of online security, and that happens to be BulletVPN.
Its formidable network of around 150+ servers provides for a wide selection of virtual locations to choose from. The service also provides its customers with super-fast connection speeds, and unlimited server switching within its server network.
Security-wise, BulletVPN is also well known for its military-grade encryption, kill switch, and Bullet Shield. While you might be familiar with the first two, Bullet Shield works alongside the kill switch, prohibiting users from connecting to the internet if a VPN connection is not established. 
New users benefit a lot, courtesy of BulletVPN's 30-day refund policy. They can also get a 1-day free trial if they contact customer support.
NordVPN
Second on our list is NordVPN, another well-recognized VPN provider with more than 3000 servers scattered over more than 60 countries worldwide. With unlimited server switching as well as unlimited bandwidth, you should have no problem locking down the fastest server available to reliably stream your music from Spotify.
Unique features such as its automatic kill switch make it difficult to connect to the Internet without your VPN service being switched on, and its capacity to support up to 6 simultaneous connections makes it possible to have all your devices protected when connecting to the Internet.
The service also keeps zero logs of all user activity, and also accepts anonymous methods of payment such as Bitcoin and Ethereum.
Conclusion – The Best VPN for Spotify
Using a VPN service is becoming more and more necessary to access many of the popular services that you're used to especially if you happen to be traveling regularly. Even though streaming services like Spotify are working round the clock to try and increase the number of countries in which their service is available, we both know that it'll take a while before they cover most of the world. In the meantime, what you can do is use a reliable VPN service, so that you're able to stream your music anytime, from wherever you may be.
ExpressVPN Review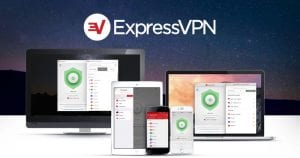 Name: ExpressVPN
Description: ExpressVPN is a VPN service that allows you to browse the web anonymously and unblock geo-restricted sites.
Price: 12.95
Currency: $
Operating System: Windows, OSX, Android, iOS
Application Category: Multimedia
Refund Policy

Speed

Support

VPN Apps