Despite being the smallest mobile operator in the UK, Three still has a good hold of the market share, and this could be because of the competitive data plans it has on offer. The service has some very innovative packages, with convenient offerings such as those that allow customers to binge on their favorite shows without eating into their data allowance. Three UK also boasts of over 95% coverage of both its 3G and 4G service within the UK, so its highly unlikely that residents will ever blame their issues with connectivity on a poor signal.
Is Three UK Any Good?
Three UK recently bought out UK Broadband in a bid to get its broadband service going. We hope to see the telecoms giant offer Internet connectivity as a standalone service soon. At the moment, users will have to stick to its mobile broadband option, where Internet connectivity is hinged on its reliable mobile network. Users can either choose to use a dongle that they can plug into a laptop, a MiFi dongle that creates your own mobile WiFi hotspot that you can use to connect several devices to the net, or their 4G enabled tablets for superfast speeds. All these options come with a monthly plan, with some including contracts that you can take up and pay to own.
Three UK offers a solid option for anyone looking for an affordable online plan. The problem is, even with their well put together packages, there's always the concern of whether or not they're delivering the kind of speeds that they initially advertised. Most ISPs usually pull things down a notch when it comes to the kind of bandwidth they offer their customers. This can be very frustrating especially for heavy-duty users.
To make sure that you're getting your fair share of bandwidth even as a Three UK subscriber, there's not really so many things that you can do. What we recommend, however, is signing up with a reliable VPN service.
Why Use a VPN with Three UK
A VPN, or a Virtual Private Network, allows you to connect to a series of well-distributed servers, capable of encrypting your connection. With your connection encrypted, this makes it entirely difficult for your ISP to figure out whatever you might be up to online. They are then no longer able to place any limits on your connection since they can't really track whatever you're up to. Having your connection protected also means being able to avoid any form of interference from ill-intentioned users such as a hacker, or a spammer.
With the right VPN service by your side, you'll also be able to access a wide variety of geo-restricted content. This is because using a VPN also helps you to hide your location. Once your connection to a remote server is established, details such as your IP address get changed. These details include your location, and sometimes your identity. By connecting to a server that's based in the country whose content you'd like to access, you're able to work around the geo-restrictions that would have otherwise resulted in your denial of access.
Best VPNs for Three UK
Picking the right VPN service is something that you really ought to put some thought into, as it will heavily determine the kind of service that you're likely to get. With the many choices that are available on the Internet, finding a credible one to subscribe to may sometimes be a challenge. To help you out on this, we've put together a short list of three top-tier services that we're sure will give you the best value for your money. Take a look at our list of the best VPNs for Three UK.
1. ExpressVPN
Our most recommended option is ExpressVPN, and this is with very good reason. ExpressVPN is a top-shelf provider that has received multiple awards for its service, and this is because it always has its customers well taken care of. The service is based in the British Virgin Islands, placing it away from any jurisdictions that may force them to surrender user browsing information. The provider boasts of a strong network of up to 2000 servers, well distributed across over 60 countries.
Security wise, ExpressVPN offers 256 bit AES encryption, allowing its customers to keep their data well protected all through. The same level of encryption also applies to all the 3 simultaneous connections that it allows for. ExpressVPN enhances its ability to keep users anonymous online by providing a selection of stealth servers that they could connect to, as well as supporting a Tor over VPN connection. The service also offers split tunneling as a service, where users get to choose what to encrypt and what not to. ExpressVPN also has a very reliable customer care team that can be reached either through live messaging, social media or even email, so there's no need to hesitate on the site of any problems. To find out what else ExpressVPN has in store, take a look at our ExpressVPN Review.
2. BulletVPN
BulletVPN is another reliable provider that needs little introduction. Having been around for almost 5 years has allowed this provider to greatly enhance its service.
BulletVPN offers around 150+ servers in 55 countries to choose from. Based in Estonia, BulletVPN is perfect for privacy, as it also maintains a strict zero logging policy, where none of its users' data gets stored or exchanged.
The provider is also one of the few providers that allow for up to 6 simultaneous connections, making it a very affordable option to consider. The service also guarantees zero limits on its bandwidth capabilities, as well as zero limits on server switching.
Using BulletVPN can also be very convenient especially for users who tend to do a lot of torrenting. Users who torrent through BulletVPN get to enjoy anonymous P2P file transfers, as well as zero limits on the number of files that can be transferred.
All these features make BulletVPN a strong contender for anyone who is looking to work around any ISP regulations. To find out more on what BulletVPN has to offer, have a look at our BulletVPN Reviews.
3. NordVPN
NordVPN sums up our list of the best VPNs for Three UK as the one with the most features, as well as the widest coverage. Based in Panama, NordVPN controls up to 4000 servers, that are all based in more than 60 countries around the world. The service is also among the most versatile when it comes to its list of features. On top of its 256 bit AES encryption, NordVPN also offers double VPN, where users get to have their traffic routed through two servers instead of one.
Another advantage of using NordVPN is that users get to choose which servers to deal with if they so wish. There are servers for HD streaming, torrenting, bulk downloads and even online gaming, and this helps boost performance. NordVPN also has a good number of support software that helps smoothen things out for users. One of these is its CyberSec software which keeps away any unwanted ads or malware. NordVPN users also get to benefit from its SmartPlay feature, where users premium streaming sites from around the world regardless of their location. To find out more about NordVPN, check out our NordVPN Review.
Conclusion on The Best VPN for Three UK
Everybody deserves to use the Internet without unnecessary restrictions and to also get the most out of their respective packages or data plans. A VPN helps ensure this by providing a layer of much-needed security. To ensure that you get the best return on your investment, the three providers that we've listed in our review would be a great place to start. We'd also be glad to hear about your experience, so if you wouldn't mind sharing, feel free to leave your thoughts in the comment section below.
ExpressVPN Review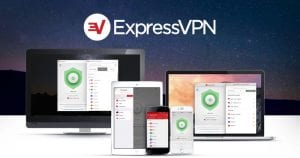 Name: ExpressVPN
Description: ExpressVPN is a VPN service that allows you to browse the web anonymously and unblock geo-restricted sites.
Price: 12.95
Currency: $
Operating System: Windows, OSX, Android, iOS
Application Category: Multimedia
Refund Policy

Speed

Support

VPN Apps