More and more people today are turning towards tablets as a better and more sustainable option that allows them to take care of their work while on the move. The newer versions even allow you to attach a keyboard, and with Microsoft's latest Surface Pro, you're able to run the full Windows version that you'd normally operate on your PC or laptop. Despite all these advances, the risk that your private information might get stolen still remains a primary concern. The one sure way to secure your Android, iOS, or Microsoft tablet from hackers is by subscribing to a credible VPN service.
Why Your Tablet Needs a VPN
Just like most computing devices in the market today, your tablet can be accessed remotely by people with ill intentions. For those that tend to move around a lot, chances are they rely on public Wi-Fi. Doing so exposes them to a wide range of cybercriminals.
A VPN allows you to do two major things; conceal your identity online, and encrypt your traffic such that nobody is able to find out the sites you visit online. Your VPN provider assigns you a whole new IP address, and this allows you to access geo-restricted content from websites and channels such as Netflix and HBO. Your ISP is also exempted from monitoring your traffic, so this allows you to access content that may be restricted within your country.
Thanks to user-friendly apps that are available on Google Play Store as well as Apple Store, installing VPN has become extremely easy.
How A Tablet VPN Can Help You
A tablet VPN ensures that all the sensitive information you store on it is kept safe from hackers whenever you access the Internet, and also provides an added layer of security especially when you're transacting any business online.
You'll also be able to download, torrent, or share media files anonymously since you'll be operating under a virtual IP address. This allows you to bypass any restrictions set on downloading apps or accessing blocked websites.
Let's have a look at a number of providers you might want to consider as your tablet VPN.  
The Best Tablet VPNs
1. ExpressVPN – Our Best Recommendation
Having been in the market for so long, ExpressVPN has established its credibility as one of the best VPN providers around thanks to their exemplary customer service and reliable VPN connection. They've gone the extra mile to ensure that their Android and iOS customers are both well catered for by introducing apps that perform very well on both platforms.
The ExpressVPN app is quite easy to use, with an interface that's very pleasing to interact with. Their 256 bit SSL connection also works well to prevent anyone from eavesdropping on your activity. In terms of customer service, ExpressVPN has a support team that's available 24/7, allowing you to get any issues you might be having with the service sorted out as soon as they arise. There's always someone on the other end of the live chat service, and this allows you to maintain contact as you implement the steps required to resolve your problem.
For those of you that are not entirely convinced, ExpressVPN offers a 30-day subscription where if you've paid for the service but you're not really impressed, you can get a full refund and head on to try out another provider. However, if you do find that their service does take care of your needs, then you're encouraged to refer ExpressVPN to a friend. If they sign up, both of you get to use the service for one month, free of charge.
If you have multiple devices that need to stay protected while on the Internet, ExpressVPN takes care of that by allowing you to have 5 devices connected under the very same account. This works out well for people who want to use ExpressVPN on their tablet, and their phone or laptop as well. Log on to their site here.
2. BulletVPN
BulletVPN is one provider that's trying a lot to constantly improve its services and level up to the position of ExpressVPN and the like. So far, they're doing a good job.
Having installed the BulletVPN app on our tablet, we were presented with a user-friendly interface. The app gives you the ability to connect to VPN servers from around the world. While the VPN network isn't as vast as the likes of IPVanish, all major countries are covered.
Their 30-day money-back guarantee allows you to test out the service to see whether it's one that you'd be comfortable paying for. Go through their website yourself from here.
Top VPNs for Tablets: Conclusion
Now that you know the kind of provider to turn to, there's no reason to go about your business online without the right kind of protection. As a rule of thumb, try not to subscribe to any of these free VPN services we see getting advertised all over the Internet. They come with so many adverts and speeds slow enough not to allow you to get anything done. Some of them even sell out your traffic data to third parties to stay afloat. Trust a credible provider like ExpressVPN to keep you out of harm's way.
ExpressVPN Review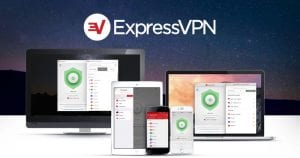 Name: ExpressVPN
Description: ExpressVPN is a VPN service that allows you to browse the web anonymously and unblock geo-restricted sites.
Price: 12.95
Currency: $
Operating System: Windows, OSX, Android, iOS
Application Category: Multimedia
Refund Policy

Speed

Support

VPN Apps