National Football League is, without a doubt, one of the most popular tournaments in the United States. With NFL Game Pass, fans can stream replays of the games in the country. Yes, only replays due to blackout restrictions.
In other words, you basically shell out a huge subscription fee for an NFL GP only to watch your favorite team after the game is over. Where's the fun in that?
It's simple. Game Pass blackouts suck and we're going to fix this. Here's how you can bypass blackouts so you can get to stream every single game live regardless of the region you reside in.
Bypass NFL GP Blackouts – The Easy Way
Time needed: 7 minutes
Simply follow the steps we've listed below to bypass NFL blackout restrictions and stream every game live on your device.
Subscribe to a VPN service.

Make sure the VPN has servers in countries all over the world. We recommend using ExpressVPN.

Download the VPN application.

Install the VPN client on your Android, iOS, PC, or Mac.

Sign in with your VPN account.

Submit your username and password.

Connect to a VPN server outside the US.

Other countries might also present the same issue. For guaranteed results, connect to a server in Germany or the Netherlands.

Launch NFL GamePass' website or app.

Sign in with your account.

Enjoy unlimited live NFL streaming.

Watch every single NFL game live wherever you may be.
NFL GP and Blackouts – The Full Walkthrough
We went through an entire process to get to the steps above. If you want to know more about NFL Game Pass and the blackout mechanism, make sure to give this guide a read:
The Requirements
To bypass NFL GP blackout restrictions, you need everything on the list below:
A VPN subscription.
An international NFL Game Pass subscription.
An NFL GP-compatible device.
The Blackout Predicament
It's quite surprising actually to have a sports platform that doesn't even allow you to stream your matches live. Well, in GP's defense, it all lies in the broadcasting rights within the country.
In the US, there are several cable providers that air live NFL games. As a result, any streaming service will be blacked out until the game ends. This definitely includes NFL's own Game Pass.
In case you're wondering, NFL's official broadcasters in the US are none other than CBS, FOX, NBC, and ESPN. Simply put, NFL game pass is rendered useless due to these broadcasters' presence.
Even the website states that, due to blackout restrictions, you can't stream live. When US residents visit the US Game Pass website, they're greeted with the following:
"Replay Every Game All Season. Available as soon as the live broadcast ends."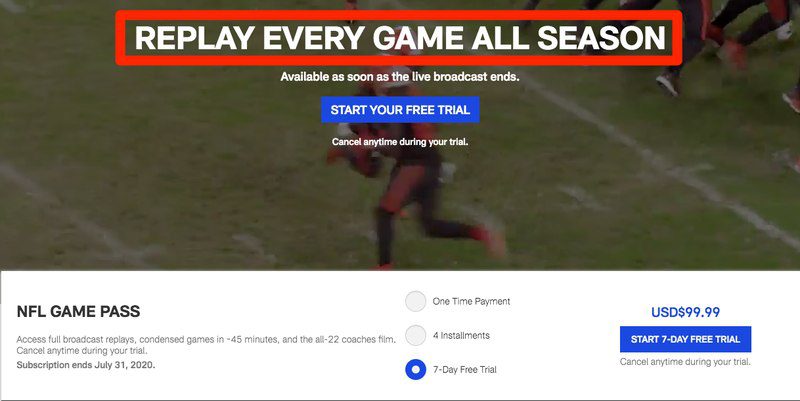 While this is the main reason for blackouts, there's also one more to take into consideration. Note that only the likes of the NFL and NHL implement this – MLB is not included.
NFL is a sport that encourages live attendance. If enough tickets were sold within 72 hours, they can watch the match on television at home. However, if that's not the case, the promotion blacks the game out in hopes of making sure that fans would visit the stadium instead.
This is rarely the case, so let's focus on the first factor for now as it's the main reason why NFL Game Pass is blacked out. You might ask: What can we do in this situation? Well, if the steps above did not answer this question, the next part will.
A Solution – Enter International Game Pass
As mentioned in the steps, you need to connect to a VPN server in countries such as Germany and the Netherlands. Why? Because once you do, you'll be able to subscribe to the International Game Pass where no blackout restrictions apply.
Can you connect to a UK server? No, this is not recommended as, in the UK, Sky Sports owns the rights to more than 100 live games.
You'll fall into the same predicament there since most of the games will be blacked out on the GP platform despite you owning an International Game Pass account.
Yes, Europeans get a very big advantage when it comes to streaming NFL. In fact, the championship is very popular there. According to studies, fans watched more than 30 million hours of live games in the EU using Game Pass.

So, basically, once you connect to a server in Germany for example, you'll notice the difference immediately. Check out the image below as it states that you can stream every game live: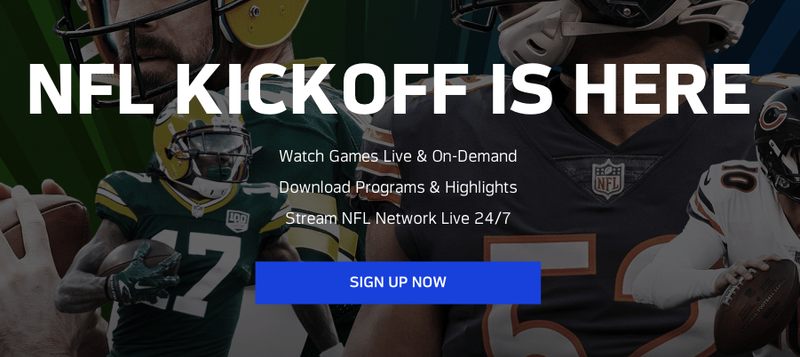 There you have it. The best solution for blackouts is to go international. And with the steps above, you can do exactly that and more.
What is a VPN?
A virtual private network, aka VPN, can reroute all your internet traffic through a foreign server. This way, you'll appear to be living in a country where the full NFL game pass is available.
You'll also bypass blackouts on other streaming platforms such as NBA League Pass and MLB.tv. It doesn't end here. A VPN allows you to do much more.
VPN grants you the ability to go online anonymously, fending off any websites that try to track you.
With VPN, you get to encrypt all your outgoing internet data. Thus, you get protection from online spies and hackers.
VPN lets you change and hide your IP address.
VPN works well even if your ISP implements DNS hijacking and Transparent proxies.
Note that if the device you are trying to watch the NFL games on does not have a VPN client, you'll need to install a VPN on a compatible router.
Proper VPN providers, such as ExpressVPN, will supply you with VPN apps for iPhone, iPad, and Android devices.
While ExpressVPN is the best VPN service to bypass NFL blackouts at the moment, they aren't the only one. Below you can find a detailed review of each VPN provider.
How to Watch all NFL Games online using Smart DNS Proxies
Smart DNS proxies alternatively grant you access to NFL Game Pass wherever you might live. Proxies only redirect some chunks of your traffic and not all of it. Smart DNS' list of benefits includes more.
Smart DNS works on almost all devices including iPhone, iPad, Android, Playstation, Xbox, Smart TV, and Blu-ray players.
Your internet speed will remain the same when using Smart DNS.
Smart DNS proxies allow you to unlock geoblocked content from various regions at the same time. Therefore, you can watch NFL Game Pass and American Netflix at the same time for example.
With Smart DNS, your local IP address is kept unchanged which means you can still access all the content that's exclusively available in your region.
DNS hijacking or Transparent proxies render Smart DNS useless. Make sure your ISP does not use such policies before installing Smart DNS.
In case you are looking for a dependable Smart DNS provider, check out Unlocator. Unlocator offers a free one-week trial, videos and guides to facilitate the setup procedure, and around 120 unlocked streaming websites.
NFL Game Pass – FAQ Section
Here's everything you need to know about NFL and its online streaming platform:
What Devices Can I Watch NFL Game Pass on?
The streaming platform is available on the following devices:
PC
Mac
Android Smartphones and Tablets
iPhone
iPad
Xbox
PlayStation

Apple TV

Roku
Amazon Fire TV
FireStick
Smart TV
Chromecast
Xbox One
Can I Watch NFL Game Pass for Free?
While there is a free plan, it doesn't give you the privilege to stream games live.
What Teams are included in the NHL?
The full list of the National Football League teams includes:
Chicago Bears
Arizona Cardinals
Green Bay Packers
New York Giants
Detroit Lions
Washington Redskins
Pittsburgh Steelers
Philadelphia Eagles
St. Louis Rams
San Fransisco 49ers
Cleveland Browns
Indianapolis Colts
Dallas Cowboys
Oakland Raiders
New England Patriots
Tennessee Titans
Denver Broncos
Minnesota Vikings
Miami Dolphins
Atlanta Falcons
New Orleans Saints
Cincinnati Bengals
Seattle Seahawks
Tampa Bay Buccaneers
Jacksonville Jaguars
Carolina Panthers
Baltimore Ravens
Houston Texans
Unfortunately, that's not an option. Unlike NHL, NFL Game Pass does not have an official Kodi add-on.
Can I Use a UK Server to Access Game Pass?
NFL Game Pass in the UK is also subject to blackouts due to Sky Sports holding the rights to broadcast the games.
The Bottom Line – NFL blackouts fixed
The choice between Smart DNS or VPN to get access to NFL Game Pass comes down to your own preferences.
Both solution form feasible ways to bypass blackout restrictions. In case you need additional clarifications, please don't hesitate to get in touch with us through the comment section below.