We all want to see what the future has in store for us, and FaceApp has given us that privilege. The app saw the light in 2017 and resurfaced in 2019 with huge popularity. Millions around the world are using the app's old-age filter to add extra years to their visage. However, sometimes that small glimpse into the upcoming years gives us more than we bargained for. Just because the app makes users look older, it clearly doesn't make them any wiser when it comes to their online safety. This sudden popularity should raise some privacy concerns, and it did. Have you asked yourself: What can this AI do with an immense archive of people's faces? Let's talk about it below.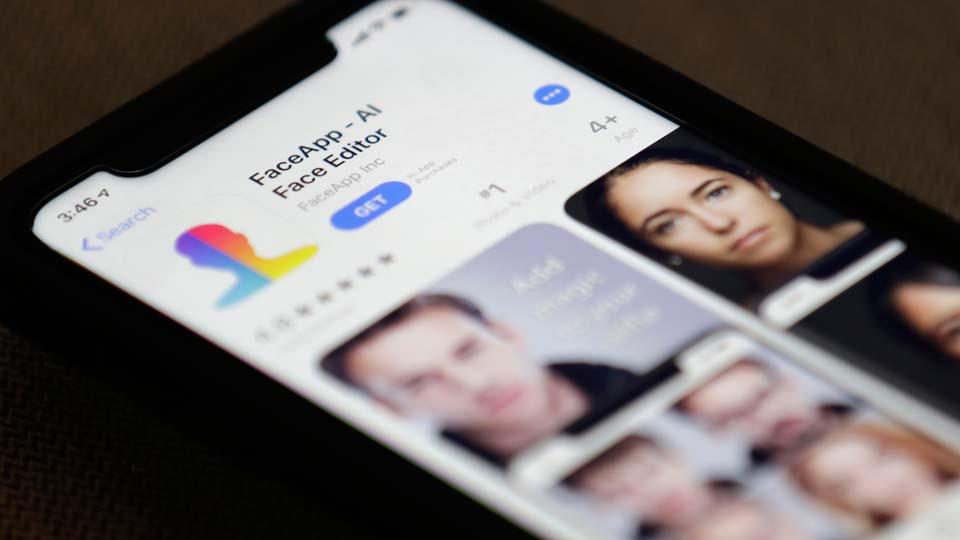 What's FaceApp?
FaceApp officially stormed the mobile world in January 2017. A Russian company called Wireless Lab is behind this worldwide phenomenon which uses neural networks – a type of artificial intelligence – to edit the photos. All you have to do is upload an image of yourself or someone else and with a click of a button, you can look much older.
Well, the age filter is the most popular nowadays, but the app has different filters for you to tap into. We're talking about pictures of your wearing sunglasses, having different hair color, and even shifting your gender. Here's an example of what this app can do.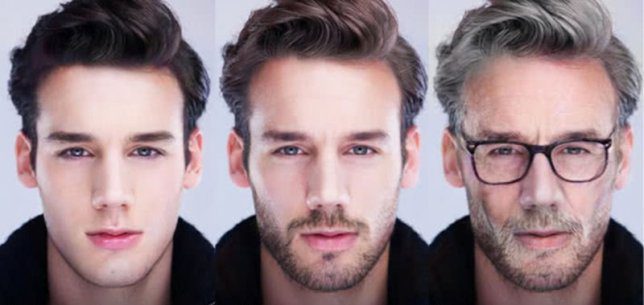 It's a really fun app if you come to think about it, and it's free. The app has been rated more than 1 million times on Google Play and has a 4.5 rating. However, you'll be bombarded with ads if you use the free version. You can always purchase the premium version of the application and get rid of the ads. Not only that, but you'll also unlock better features with a Pro account. You get to access full-size filters, filter updates, as well as mix and match styles.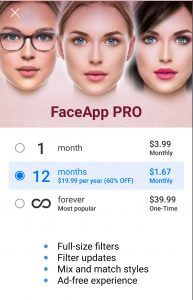 FaceApp – Privacy Concern
The FaceApp Challenge requires you to post a picture of yourself using the aging filter. You then post the photo of your wizened old self on the internet and everyone laughs. After that, you get yourself a few likes and move on. But did you really move on? Are you sure that uploading your image is just for fun? That's not what this Russian app is all about.
There's a motto I like to share with you today:
"If an app offers its services for free, then you're a Product".
Alright, I know, it's just a motto. But what if politicians around the world told users to delete the app immediately? That has to raise a question mark over your head, no? Even the Washington Post had something to say about that.
When you use the app, it is not just mapping your face. It is also sending it to the cloud, where it could be stored for an indefinite period of time. You should be careful before you allow this application to take over your camera roll. It might be secretly downloading your entire photo album.
Free services have a reputation for sending user data to sister companies in exchange for revenue. What makes FaceApp any different?
CEO of the Russian company, Yaroslav Goncharov stated:
"The photos uploaded to the app are stored on the company's servers to save bandwidth if several filters are applied and that they get deleted not long after."
Is it true, though? How can users know whether their data is being harvested and stored on Russian servers or not? The app is free, and it's Russian. What do you think?
The Verdict
No one knows what happens to our photos after we hit the upload button. Do they actually delete them after a period of time? Why the concern? We upload photos all the time to some companies' servers.
However, the difference here is that unlike Facebook or Google, FaceApp is Russian and you know Americans' perception of that country. No matter what the case is, it's always good to stay on the safe side and submit zero information to unknown companies. Your private life is your own, protect it.
So, Is it True?
French cyber-security researcher Elliot Alderson investigated the claims and found out that the app doesn't store any other photos except the ones you upload. Even Will Strafach, an iOS security researcher, defended the case as he did some tests of his own. Here's his tweet.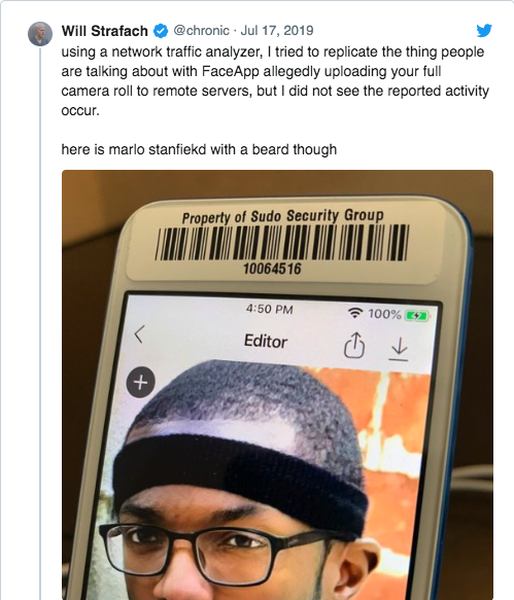 Most probably, the app really doesn't collect your data. Only the photos you upload to be filtered. As they stated, they delete the photos within 24 hours and they do not sell the information to third parties.
What FaceApp Had to Say
Here's the company's full Statement:
We are receiving a lot of inquiries regarding our privacy policy and therefore, would like to provide a few points that explain the basics:
We might store an uploaded photo in the cloud. The main reason for that is performance and traffic: we want to make sure that the user doesn't upload the photo repeatedly for every edit operation. Most images are deleted from our servers within 48 hours from the upload date.
We accept requests from users for removing all their data from our servers. Our support team is currently overloaded, but these requests have our priority. For the fastest processing, we recommend sending the requests from the FaceApp mobile app using "Settings->Support->Report a bug" with the word "privacy" in the subject line. We are working on the better UI for that.
FaceApp performs most of the photo processing in the cloud. We only upload a photo selected by a user for editing. We never transfer any other images from the phone to the cloud.
All FaceApp features are available without logging in, and you can log in only from the settings screen. As a result, 99% of users don't log in; therefore, we don't have access to any data that could identify a person.
We don't sell or share any user data with any third parties.
Even though the core R&D team is located in Russia, the user data is not transferred to Russia.
Additionally, we'd like to comment on one of the most common concerns: all pictures from the gallery are uploaded to our servers after a user grants access to the photos. We don't do that. We upload only a photo selected for editing. You can quickly check this with any of network sniffing tools available on the internet.
Protect Your Privacy
So, is the Russian face-aging app a danger to your privacy? We shouldn't sit still and wait for the question to be answered on its own. Whatever the case is, whether it's dangerous, intrusive, or just for fun, it's highly recommended to take proper precautions.
If what the company said is true, I encourage you to contact FaceApp's support and ask them to delete your data. You can do that inside the application itself. Head over to 'Settings->Support->Report a bug' with the word 'Privacy' in the subject line.
You don't want your picture floating around Russian servers, do you now? Oh, one other thing, if the damage has already been done and you've already uploaded a photo, delete the application later on to avoid any other dilemma.
Think Twice Before Using FaceApp – Final Thoughts
The company claims it deletes most images from its serves within 48 hours, and that it only uploads photos into the cloud that users have selected to edit. However, it's not a good enough reason to lower our guard. As I mentioned before, your privacy is everything, and you don't want it to be compromised just so you could have some fun and get a few likes. Protect your privacy and stay safe. What do you think about FaceApp? Is it really worth it? Are you still using it after you've completed the FaceApp Challenge? Share your thoughts below.