Google Steps Up – Free VPN for Pixel Users
|
Online security has become the number one priority for internet users. Even companies that focus on their customer's security have realized that they need to step up. For example, Avast took it up a notch by creating its own VPN service. And now, Google has joined the mix.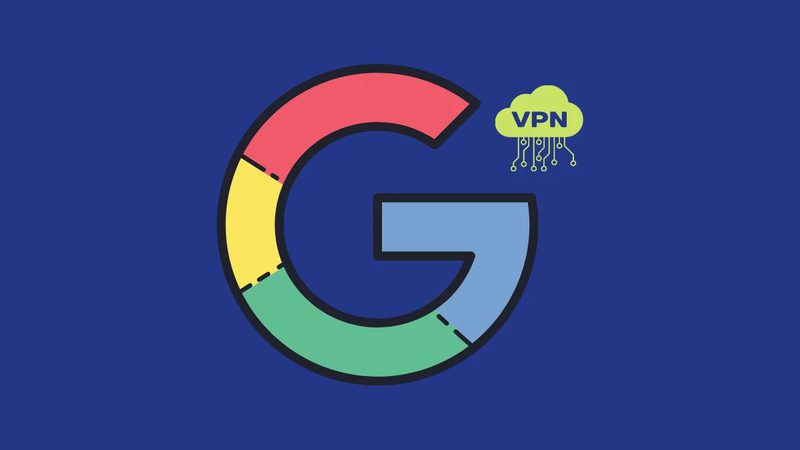 Back in October 2022, Google announced that it'd be rolling out the new VPN feature for free to Pixel 7 and Pixel 7 Pro users. This is an excellent step, especially for those who regularly browse the internet and don't want anybody to see their network traffic or identify them.
But the question is: How reliable is this VPN? We all know Google's history of handling private information. Will this VPN keep users completely safe from outsiders, even Google itself? We've discussed everything in the following article.
VPN by Google One – Extra Security, No Extra Cost
Yes, Google has finally decided to enter the VPN scene and lay out its own service. As always, with something this new, we have to assess what it has to offer and who it can offer it to.
The service has been rolled out in select countries so far and can only be accessed by those who are subscribed to Google One's 2 TB of Google storage and up.
Well, except the ones with Pixel 7 and Pixel 7 Pro – these users get it for free. Here's where VPN by Google One is available:
Austria
Australia
Belgium
Canada
Denmark
Finland
France
Germany
Iceland
Ireland
Italy
Japan
Mexico
Netherlands
Norway
South Korea
Spain
Sweden
Switzerland
Taiwan
United Kingdom
United States
Those with a Pixel device can claim the free VPN feature through the Google One app. They'd have to install it if they don't already have it.
As for the ones that don't use Pixel 7, the VPN service would still be available, but for a price. All they have to do is get Google One and subscribe to the Premium 2 TB Storage plan.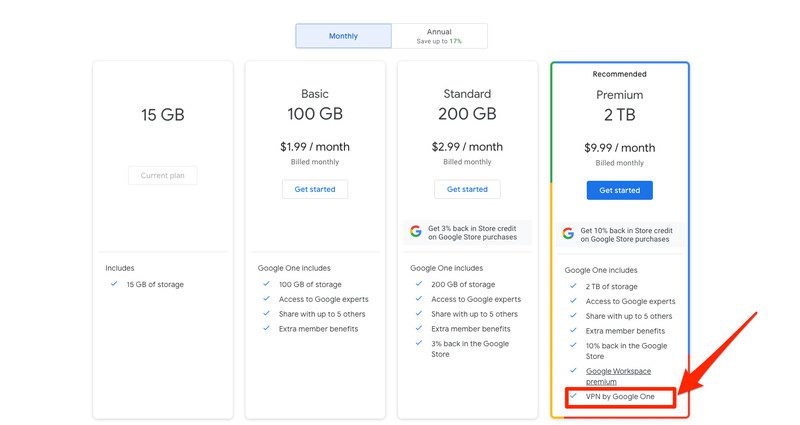 Once all is set and done, users can activate the VPN feature and secure their network connection. The process is very easy. Just open the Google one application and navigate to the Benefits tab.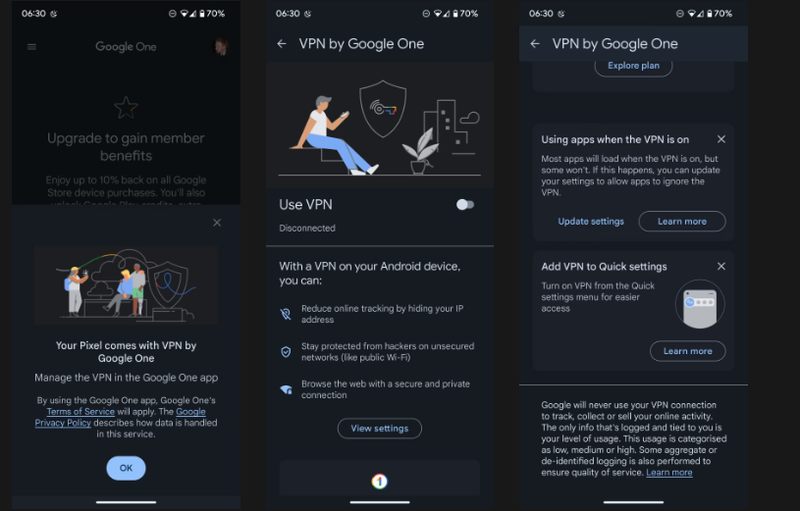 The process is quite simple. However, unlike any other VPN service, you cannot choose your VPN server. This and being unable to change the already implemented (Google protocol) are considered drawbacks in the service.
How Secure is VPN by Google One?
With a long history of violating its own privacy policy, one has to ask how legit this VPN's protection is.
The Google-owned VPN states that no personally identifying information is collected or logged. However, it stores some data to enhance the service's performance. That includes:
VPN Tunnel uptime
VPN tunnel setup latency
Total bandwidth rate
Packet loss rate
VPN tunnel failure rates
VPN tunnel retries
Service/server CPU and memory load
VPN tunnel setup error rates
The VPN does not collect crucial information such as Network traffic, IP addresses, and connection timestamps.
"Privacy is at the core of the products and services we build. With VPN by Google One, we will
never use the VPN connection to track, log, or sell your online activity.

Some minimum logging is performed to ensure quality of service, but your network traffic or IP associated with the VPN is never logged."
We've reviewed so many VPNs to know that, regardless of what company it is, these are just claims. We don't know what happens in the background. The question is: Aside from Google itself, who does?
Easy! Independent security auditors. When it comes to VPN services, independent audits are regularly performed to further demonstrate their commitment to their no-logs policy.
Unlike other big names in the VPN industry, Google allowed the UK-based NCC Group to test and assess its service.
The audit shows that VPN by Google One lives up to its privacy claims and that Google is hosting a very "robust security posture." However, here comes the negative.
The report by NCC Group did mention some possible privacy and security shortcomings, particularly reflecting the times when Google violated its own privacy policy. You can find all the details in the privacy section of the audit report.
Pros
Easy to use and set up.

Kill Switch Available.
Split Tunneling.
Independently audited.
Cons
Free for Pixel 7 and Pixel 7 Pro only.
Only accessible by Premium subscribers (2T) on other devices.
Available in 22 countries only.
No server list to choose from.
One VPN protocol (Google Proprietary)
Doesn't unblock streaming services.
Google has a history of violating privacy.
VPN by Google One – Google Joins the VPN Industry
It's about time. Google has finally joined the mix and launched its own VPN service. The Pixel exclusive was announced back in October.
Not all devices had it by the time of announcement. Only a handful of them got early access. Google will be laying it out during the month of December, so if you haven't already got it, you'll just have to wait.
Google has a reputation for collecting user information. You do remember the incident with Sensorvault, right? Therefore, it's hard to trust what it claims when protecting it using its VPN service.
Regardless, this is a good step towards better online security, but the VPN needs "A LOT" of work to be on par with the rest of the giants (ExpressVPN, BulletVPN, SurfShark, and NordVPN) in the industry.