How to Watch Tubi TV Anywhere – Unlock outside the USA?
|
Tubi is a free online streaming service similar to Netflix. If you live in the United States or any of the countries where Tubi is available, you can access all of Tubi's movies and TV shows. Unfortunately, not everyone is that fortunate.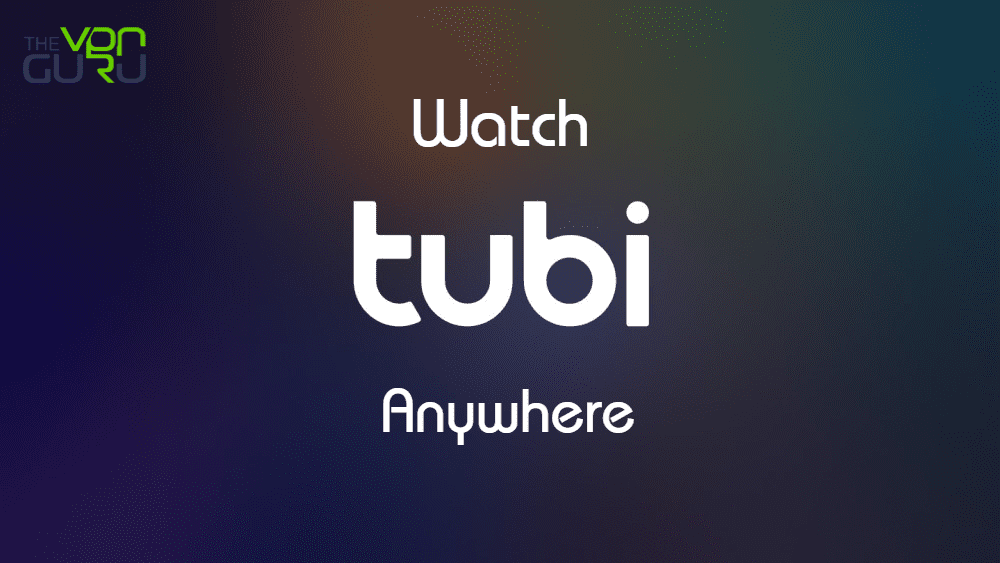 Tubi itself is available globally, but its biggest library lies in the United States. Not to mention that People living in the UK and other EU regions cannot access the service, to begin with.
That won't be a problem once you're done with this guide. So, with that said, here's how you can watch Tubi outside the US and anywhere around the world.
Tubi Anywhere – Quick Steps
Time needed: 4 minutes
Let's keep it simple. To unblock Tubi outside the US, you must follow the steps below:
Subscribe to a VPN service.

We've tested dozens of providers and ExpressVPN showed the best results.

Download and install the VPN application on your device.

Their client can be obtained from within your native app store or through their official website.

Activate the app and sign in with your account.

If ExpressVPN is your choice, you'll be prompted to submit a verification code found in your account.

Connect to an American server.

This process will grant you a US IP address.

Launch Tubi's website or application.

A step-by-step guide is available highlighting how you can get the channel on your device.

Enjoy Tubi anywhere.

Stream Tubi live or on-demand wherever you may be.
An In-Depth Guide
We have more and it's super beneficial to go through, especially when it comes to unblocking Tubi overseas. Check it out:
What You Need
To access the US version of Tubi TV in your region, everything on the list below is required:
A VPN subscription.
Decent internet speeds.
Tubi-compatible device.
Is Tubi TV Available outside the USA?
What makes Tubi very popular in the US and on a global scale is the fact that it offers top movies and shows for free. You need nothing to view the content, not even an account. However, just like most streaming services, Tubi applies geo-restrictions.
While you can watch some content on Tubi abroad, most of the popular movies and TV series are geoblocked in Canada, the UK, Australia, or anywhere else outside the USA.
"According to the official Tubi TV website, "If you are located in the United States, you should have access to all of the TV shows and movies we announce. Unfortunately, if you're in another country, these films and programs may not be available because content is limited in other locations. We apologize for any inconveniences. We're always working on gaining the legal rights to stream more content in other areas and hope we can offer more content to your geography, soon."
When it comes to geo-blocking, TV channels and websites examine your IP address to determine your location. In Tubi's case, there are two instances where geo-blocking is applied.
Tubi – One Channel, Two Types of Geo-blocking
The first one would be within its supported regions. Tubi's library differs based on your location and the richest one so far lies in the United States.
For example, exclusive US titles are not available in Canada. Let's say you're traveling from Canada to the United States with the movie "The Ant Bully" in place to be streamed upon arrival.
Well, don't get your hopes up as you won't be able to watch it. Instead, you'll receive an error message that looks like one of the following:
"We're sorry, the title you've chosen is not available this time."
"Content Unavailable. Sorry, this video is not currently available."
That's the first part. The other geo-blocking mechanism lies when you're in an area where the channel is not available at all – the UK and the EU. If so, one of these errors appears:
"Tubi is the largest free movie and TV streaming service in the US. We are not available in Europe due to changes in EU laws."

"We're Sorry. Tubi is the largest free movie and TV streaming service in the US. Unfortunately, we're not currently available in your area."

When it comes to bypassing geo-restrictions, our guides are all you need. Just follow the steps above and you'll be watching Tubi regardless of your physical location.
What a VPN Does!
As mentioned, geo-blockings work by examining your whereabouts using your IP address. To bypass that, you need to trick Tubi into thinking you are located in the USA.
The best way to do so is by using VPN. A virtual private network allows you to get an American IP address in UK, Canada, Australia, or elsewhere overseas. As a result, you will be able to access any American website or streaming channel you want, anywhere in the world.
It doesn't stop here. A VPN has a lot more to offer and we summed it up in the list below:
Unblocks major streaming services all over the world.
Tightens your online security.
Allows you to surf the web anonymously.
Bypasses ISP throttling and guarantees better speeds (If credible).
In terms of VPNs that actually work with Tubi TV, we suggest using ExpressVPN as they are tried and tested. The provider has servers in 94 countries and has the best speeds in the industry.
Aside from that, ExpressVPN provides a 30-day refund policy. In case you're not satisfied, you can always get your money back within the first 30 days of purchase.
Now, ExpressVPN sure does top the charts, but it's not the only one with the right techniques to get you Tubi. Here are the best VPN providers you can use to watch Tubi TV, or other US-only channels, outside the USA.
Get Tubi on Any Device Anywhere
Now that you have a VPN, you can proceed with your task and get Tubi on your device:
Roku
Roku devices are not compatible with VPN clients, which means you'll have to install the VPN on your router instead.
Once the US VPN connection is established, activate your Roku, change Roku's region to the US, and download the Tubi app.
Next, launch the application, sign in with your account (Not necessary), and start watching Tubi anywhere using your Roku platform.
Mobile
Tubi TV has dedicated clients on both Android and iOS mobiles. To get that, you must first install the VPN on your mobile device and connect to a US server.
Next, change your iOS or Android's app store region to the US by following the guides below:
Finally, launch the app and start streaming wherever you are.
TVs
Whether you have a Samsung Smart TV or an Android TV (Sony Bravia Nvidia Shield), you can easily get the Tubi client by following some steps.
If you're on a Smart TV, you'll have to install the VPN on your router, change the region to the US, get the app, and start watching.
If it's Android TV, you'll find the VPN client in your Google Play Store. All you have to do then is connect to a US server, change Google Play Store's country to America, get the Tubi app, and enjoy.
Gaming
Using your PlayStation or Xbox has become a trend, especially if it's for streaming online content. Major streaming services now have clients on the gaming consoles, and so does Tubi.
To get it, install the VPN on your router and change your device's region to America:
Xbox.
PlayStation.
Get the Tubi app, launch it, and stream live or on-demand content anywhere.
Fire TV
On FireStick, getting the Tubi app is very easy. What you need to do is install the VPN on your device and connect to a US server.
After that, change your Amazon Account region to the US and download the Tubi app. If that's a hassle for you, sideloading the app is possible.
Finally, launch Tubi and stream your favorite content regardless of your location.
Tubi Anywhere – FAQ
Got more questions? Make sure to go through the following section for additional information:
Is Tubi Safe and Legal to Use?
Yes, Tubi TV is completely legal. The free streaming service is ad-based and this is their main source of income.
What Countries Can I Watch Tubi In?
You can stream Tubi in the US, Canada, Mexico, Australia, and New Zealand.
Is the Same Content Available in Every Country?
Tubi assigns specific libraries to each region. As of now, the US version has the richest catalog.
Is there a Live Streaming Feature on Tubi?
Yes, there is. When you unblock Tubi, you'll be able to stream over 45 channels, including MLB, NFL Channel, USA Today, and more.
What Devices is Tubi Available on?
You can watch Tubi TV on the following streaming platforms:
Android
iOS devices (iPhones/iPads)
Roku
Apple TV 4
Samsung Smart TV
Xbox One & Xbox 360
Amazon Fire TV/Stick
Are There Any More Free Streaming Channels I Can Unblock with a VPN?
Tubi TV isn't the only streaming service you can access using VPN. Here's a list of other popular free channels you can unblock.
BBC iPlayer
SBS
CBC
Crackle
Mubi
ITV
Channel 4
my5
How to Get American Tubi TV Abroad?
That's all there is to it really. Get a VPN, install the app on your device, and connect to an American VPN server. The amount of free streaming channels, movies, and TV shows you can access using a VPN is truly worth it.
Remember, if you run into any issue or need a question answered, don't hesitate to contact us in the comment section below.