How to Watch BBC iPlayer on Roku outside UK
|
How to watch BBC iPlayer on Roku outside the UK? Got yourself a Roku, and you want to stream BBC iPlayer on it? No problem, you can get the channels that are unavailable in your region if you use a VPN or Smart DNS. Roku is a fantastic streaming set-top-box that allows you to watch Internet TV streaming services. Unlike other streaming services that allow add-ons from other countries, Roku simply doesn't. You only get one region when setting up your account. If you're torn between Netflix USA and BBC iPlayer, you either get a US or UK account, you can't have both. But, what if you want to have both American Netflix and BBC iPlayer at the same time?
Things You Need to Consider
If you already have a UK account, then BBC iPlayer should be available for you on your Roku. If you don't have a UK account, check this article to learn how to get one. However, if you're registered for a US Roku account, then you need to create a British UK account first. BBC will appear right next to your apps. Unblocking BBC iPlayer is the next big step that we're here to talk to you about. As you can see, you'll get the following message: "BBC iPlayer only works in the UK. Sorry, it's due to rights issues."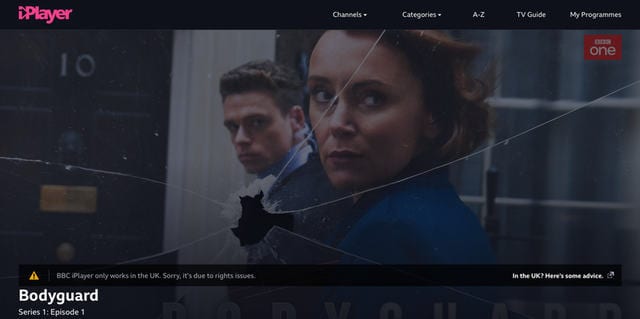 Read on to learn how to watch BBC iPlayer on Roku outside the UK using a VPN or Smart DNS proxy. 
Watch BBC iPlayer on Roku Overseas Using a VPN
A VPN is a secure and guaranteed method for you to watch BBC iPlayer on Roku outside the UK. Even with a UK account, and the iPlayer app on your hub, it's still geo-blocked outside the UK. This is where a VPN comes in the picture and is used to help you bypass regional restrictions. Connecting to a VPN will enable you to stream UK channels on Roku outside the UK. Learn how to set up UK channels abroad on Roku using a VPN in this article right here. Although a VPN is mainly used for overcoming geo-restrictions on content, connecting to one goes above and beyond just that. Here are some of VPNs' benefits:
Bypass geographic restrictions on websites or streaming channels.
Protect users' privacy from prying eyes and government surveillance.
Don't keep logs of users' activities while torrenting.
Hide your browsing activity from your local network and ISP
Enable you to download files.
Bypass internet censorship and get around firewalls.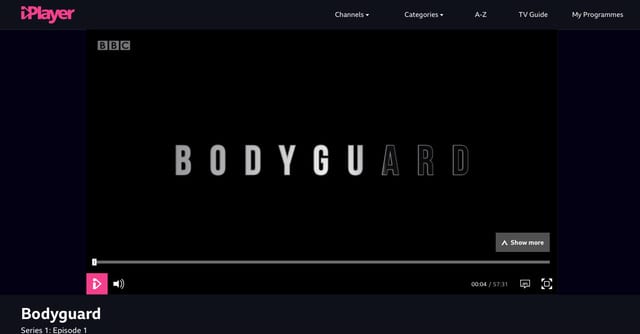 A VPN that would get you BBC iPlayer on Roku outside the UK would be ExpressVPN. This service provider offers premium services, with helpful agents, a wide selection of server locations and reliable performances. Plus, its package includes a Smart DNS, so you get two ways to unblock BBC iPlayer on Roku.
Watch BBC iPlayer on Roku Outside the UK Using a Smart DNS
Smart DNS is yet another method that allows you to watch BBC iPlayer outside the UK. With a Smart DNS, it is possible that you virtually change your location and appear to be in the UK. Once you have configured your Smart DNS, you'll be able to access all UK channels on Roku. The benefits of using a Smart DNS include:
The ability to stream online videos using full Internet speed.
Fast speeds.
Maintaining the same local IP address
Unblocking geo-blocked content from around the world.
Having all streaming devices are supported. Some Roku devices don't have advanced network settings. In this case, you cannot change the DNS configuration. Set up your router with Smart DNS instead.
Not having to change the Smart DNS setup if you wish to unblock content from a different region. Watch BBC, US Netflix, Canal+, and Hulu at the same time.
Our pick for the best Smart DNS proxy would be Unlocator. They unblock access to over 196 channels allowing you to stream your favorite programs from anywhere around the world. Undoubtedly, Unlocator will help you get BBC iPlayer on Roku outside the UK in no time. With Unlocator, you know that bans are lifted and restrictions are bypassed on any device no matter where you are.
VPNs vs Smart DNS
Just because they have similar functions doesn't mean they operate in the same manner. While a VPN encrypts all of your data through its private network, a Smart DNS doesn't. The fact that it doesn't, allows the smart DNS to deliver faster speeds. Unlike a VPN, a Smart DNS doesn't grant you a new IP address, which means you will only receive minimal online anonymity. While almost every VPN can get you every channel you can think of unblocked, the channels and services you wish to unblock depend on the type of Smart DNS you use.
Watch BBC iPlayer on Roku
As of now, you can stream the real BBC iPlayer. And by real we mean the one the British people get to enjoy. If you follow the steps we've laid out for you, you'll be able to watch the latest BBC shows and even live TV in HD on Roku from anywhere around the world. Roku remains a favored pick for the video streamer and the fact that you can get all the services you want on it makes it all the better.