Have you ever thought about what having a number from outside your country could accomplish, especially in the United States? Business aside, a US phone number can unlock a whole new world of entertainment, especially in the streaming department. You can also use an American phone number to make calls and text while abroad.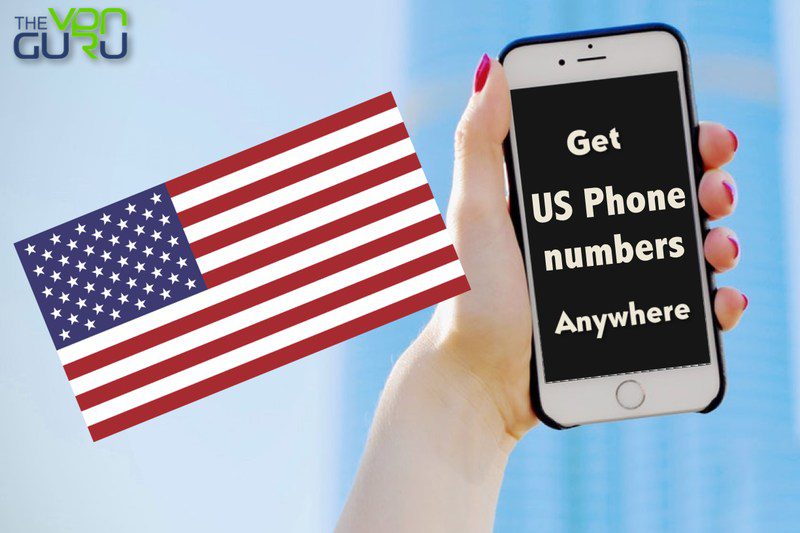 If you're an American ex-pat roaming the world, holding on to your US number abroad is a smart idea, but creating a virtual US line is even smarter.
Call anyone, subscribe to anything, text everybody – that's exactly what a US phone number can guarantee. But the question is: How can you get a US phone number? We have your answer below.
Why Do You Need a US Phone Number?
In the world we live in, the internet is taking over everything we do. Whether it's business or entertainment, we need internet. However, despite its capability of almost everything, the World Wide Web sure does its limitations – mainly when it comes to restrictions.
Streaming channels and services tend to apply geo-blocking to protect their copyright agreements. They only allows users in specific areas to access what they have to offer.
Normally, with a Virtual Private Network, these geo-blocking techniques can be easily circumvented. However, if there's that one extra verification step, even the almighty VPN falls short.
Yes, a lot of American services out there prompt the user to submit a valid US number where a verification code is received. Without one, you'll end up trying to subscribe for nothing.
There is a solution, though – A US Virtual Phone Number. Such numbers have American area codes, which is exactly what you need. They don't depend on physical addresses or SIM Cards – just sign up, get your number, and proceed.
Please note that getting your virtual US number doesn't only help you with streaming services. It has a lot of benefits as shown below:
If you own a business, US-based customers don't have to pay additional fees to contact your company.
Having a US/international number gives the impression of dealing with a big and trusted company.
A US virtual number allows you to tailor your customer service to a city-specific audience.
It gives you the privilege to sign up with US-based services that need verification via text messages.
You can call/text relatives in the US without facing international fees.
These reasons show the importance of having a virtual number – not just in the US, but in any desired country based on your interest. But the question still haunts you: How can you get a virtual US number? We'll answer that next.
How to Get a US Phone Number Abroad
First, we have to note that while a Virtual Private Network does not get you what a virtual number can, it's a crucial tool in the following process.
While we were searching for the perfect service that provides a virtual US phone number, we cam across TextNow. What makes this the ultimate tool for the task is the fact that's free and very easy to set up.
TextNow is available in the United States, which means that ex-pats and users overseas won't get the chance to sign up for the service. If they do, they'll receive an error message that looks like this:
"TextNow is unavailable in your country."
Another error that you might receive is this one regarding your email address. For some reason, the application flagged one of our emails as a "violation of policy."
"Your account has been disabled. Your account was flagged for violating our Terms of Use. If you think it has been disabled in error, you can submit an appeal for review."
No matter where you are, a Virtual Private Network can change your virtual location so that you appear in a country of your choosing.
In TextNow's case, you should use your VPN and connect to an American server. Once you do, you can follow the steps below to create your US virtual number:
On your device, download the TextNow application.
Enter your email address and password to sign up.
Avoid clicking "Use my location" and enter a Zip Code in the US.

A list of numbers will show up – choose your preferred one.
You now have a virtual US number and good to go.
For some of you, the process will go as smooth as possible. They'll receive their number instantly with no hassle. However, since TextNow is very popular, some chosen areas might be at capacity in terms of number availability. An example is provided in the following error:
"Sorry, there no numbers to display at the moment. Try picking your area code again."

Before you proceed with signing up to whatever service you desire, you have to know that having a VPN and a US virtual number won't get you past the subscription fee.
Even that requires a US payment method, which you can easily get by creating a Virtual Credit Card in the United States.
Other Services?
We recommended TextNow as it's the most effective among all of the services we encountered during our search.
Before we mention why, here are a couple of honorable mentions you should check if TextNow is not what you're looking for.
Freezvon
RingCentral
CallHippo
OpenPhone
Nextiva
Phone.com
Grasshopper
So why aren't these services as reliable as TextNow? The application provides free SMS and calling via a virtual number you can earn by simply following a couple of steps (As shown above).
The aforementioned services can also do that, but they abide by what the providers in the country allow. Not only that, but some of them also require information you cannot provide if you're not living in the United States.
For example, RingCentral can get you everything you need when it comes to virtual phone numbers, but you'd have to submit a US landline number (For billing purposes).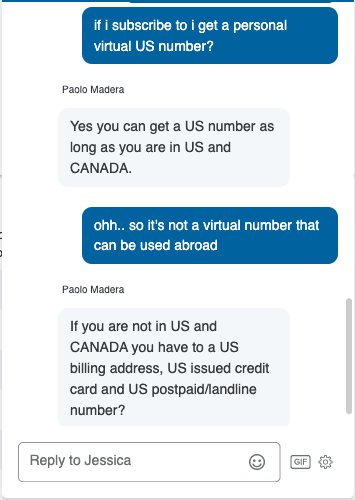 Another example would be Freezvon. Well, the chat we're providing next is proof of the problem, but this issue occurs with every single service on the list above. It all has to do with the providers' limitations.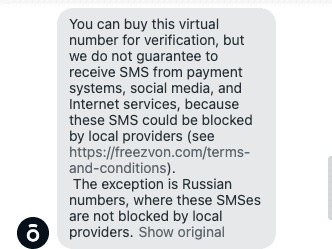 As you can see in our chat with Freezvon, there's no guarantee that a verification text would be sent to our purchased virtual number if we subscribed to any service.
Isn't this main goal? Most of you are looking for a virtual number to subscribe to streaming channels and services that require a US number for a verification text. If there's no guarantee, might as well settle for alternatives.
US Virtual Number Acquired
Living abroad does have its limitations, but the internet and a lot of services have made it easier to connect regardless of our location.
Now, with a valid US phone number, nothing stands in your way if you wish to subscribe to regional services. With that, alongside a VPN, you can practically sign up for any service that comes to mind.