If you have tried watching Hulu on your Smart TV outside USA, you have probably already seen the following error: "We're sorry, currently our video library can only be streamed within the United States". Hulu is only available in USA because of geographic restrictions. There are two way to unblock and watch Hulu on Smart TV in UK, Canada, Australia, Germany, France, Italy, or elsewhere abroad. Smart DNS proxies and VPN enable you to spoof/hide your location and watch Hulu anywhere overseas.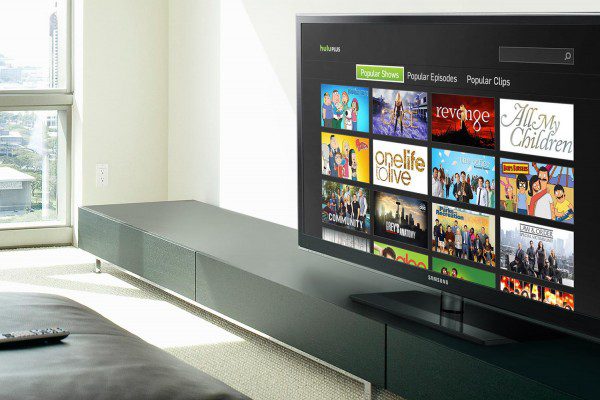 Unblock Hulu on Smart TV outside USA with Smart DNS Proxy
By configuring your DNS server setting on your Smart TV and using DNS server codes provided by Unlocator or other proxy services, parts of your Internet traffic will be routed through a US proxy to modify your location. Thus, Hulu will be tricked to think you are located in the USA.

Smart DNS can be configured on all Smart TVs. Watch Hulu on Samsung, Sony Bravia,  Vizio, or LG Smart TVs and Blu-Ray Players.
Smart DNS also unblocks other American channels on Smart TVs like Netflix, Amazon Instant Video, Showtime, HBO GO, and others.
Neither your IP address nor your Internet speed change when using Smart DNS.
While Smart DNS works with almost all ISPs, some ISPs do use DNS hijacking or transparent proxies in which case you have to use VPN to unblock Hulu on your Smart TV.
There are free DNS codes you can find online to unblock Hulu on your Smart TV outside USA. However, these free DNS codes carry a huge risk and they only work for a couple of days at best. That is why using a reputable Smart DNS service like Unlocator is highly recommended. You can sign up for a free Unlocator trial – no credit card needed. Once you have created your Unlocator account, follow the setup guide to enable Smart DNS on your Smart TV. Unlocator supports unblocking around 218 streaming channels.
How to Watch Hulu on Smart TV outside USA using VPN
While VPN does a good job when it comes to unblocking geoblocked channels like Hulu abroad, it has one main disadvantages when compared to Smart DNS. VPN cannot be directly setup on a Smart TV. That's why you have to install VPN on your router instead. If you have basic technical knowledge this should not be an issue.
Setting up VPN and connecting to a US VPN server on router-level unblocks all US channels on all your streaming devices including your Smart TV.
VPN also adds security and extra-protection to your privacy by encrypting your traffic.
To unblock channels from a different region, connect to a VPN server located in that country.
Unlike Smart DNS, VPN works effectively in the presence of DNS hijacking or transparent proxies.
Not all VPN providers unblock Hulu outside USA. ExpressVPN, however, allows me to unblock and watch Hulu on my Smart TV. Take a look at other VPN services that unblock Hulu in UK, Canada, Australia, France, Germany, Spain, or Italy.
How to Watch Hulu on Smart TV outside USA?
While Smart DNS is the easier method to unblock Hulu on your Smart TV abroad, using VPN to bypass regional restrictions also has its benefits.
Save