Tennis fans all over the world, get ready. The Indian Wells Masters will take place between the 6th and 19th of March, 2023. A host of official streaming channels will broadcast the tournament online. Unfortunately, they're all geo-blocked.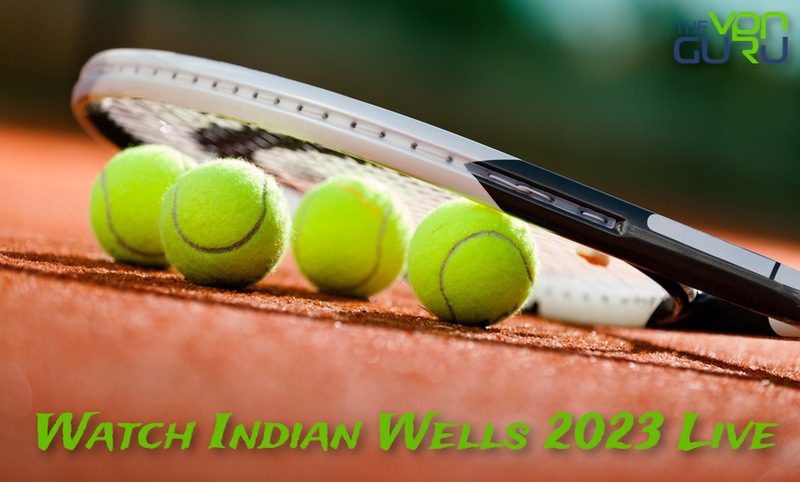 Geo-restrictions are quite annoying, especially when it comes to streaming major sporting events such as the BNP Paribas Open.
That's why we came up with this guide. Here's everything you need to unblock any of the broadcasting channels and watch Indian Wells Masters 2023 live anywhere.
BNP Paribas Open 2023 – Quick Guide
Time needed: 5 minutes
Streaming the 2023 Indian Wells Masters is as easy as it gets. All you need to do is follow the steps below:
Get a subscription with a credible VPN service.

According to our evaluation, ExpressVPN is highly recommended.

Download and install the VPN app on your device.

You can get the provider's client from your native app store or its official website.

Activate the software and sign in.

Enter the username and password you used in your account creation.

Connect to a VPN server.

Pick a server located in the country where your chosen channel is available.

Launch the channel's app or website.

You might need an account even if the channel is free. In some cases, no sign-in is required.

Enjoy the 2023 Indian Wells Masters live.

Watch the 2023 BNP Paribas Open wherever you are.
Indian Wells – The Full Guide
While the steps above are more than enough to help you watch the 2023 Indian Wells Masters, we have a lot more to discuss. That's why we created the following comprehensive guide:
The Requirements
To watch the upcoming legendary tennis tournament, this is what you need:
A VPN subscription.
A chosen streaming channel (Might need a subscription in some cases).
Any compatible streaming device.
The Broadcasting Channels
The 2020 edition of the Masters was canceled due to the pandemic. However, it was later played back in October 2021.
On March 7th, 2022, the tournament was back on its feet, delivering some of the best matches it has seen in a long time. This time around, we'll be in for a treat as Taylor Fritz will be defending his title against the top players in the world.
No matter where you are, the Indian Wells Masters made sure that you get to enjoy television coverage of the 2023 BNP Paribas Open in your local area.
The following are the major streaming services for the tournament. For the full list, check the event's official website.
While there are dozens of channels to choose from, you should know that access to them isn't as easy as it seems. We'll be talking about this in the next section.
Your Location Dictates Your Access
As mentioned in the intro, all of the streaming services apply what we call geo-blocking. This mechanism is used by websites, channels, and other online sources to limit users' access to specific locations, mainly for copyright reasons.
The channel can determine your location by examining your IP address. If you're outside its area of coverage – approaching with a foreign IP address, it'll block you instantly.
For example, TSN is only available for Canadian residents, i.e, those with a Canadian IP address. If you live abroad, such an IP address is definitely not at your disposal, resulting in the following error if you try to stream any video:
"We're sorry, this content is only available for viewing in Canada. 72."

Geo-restrictions can limit everything you get to access online. However, the steps above are exactly what you need to bypass them and stream the 2023 BNP Paribas Open live anywhere.
A VPN's Benefits
A Virtual Private Network is first and foremost a security tool, created to enhance your security and anonymity when online.
Once you establish a connection, the VPN will encrypt your data using military-grade algorithms, making it next to impossible for any third parties to intercept it.
Moreover, VPN allows you to get the required IP address to trick the channel into believing you are in a region where their live stream is actually available.
If you are a tennis fan, VPN services like ExpressVPN come in very handy. You will be able to unblock free tennis streaming channels from all over the world.
Here's a list of the best VPN providers you can use to stream the Indian Wells Masters 2023 online.
Stream with Smart DNS
Smart DNS is another method you can use to bypass regional restrictions. In this case, however, the channels you get to unblock are restricted when compared to VPN.
You will only be able to access geo-blocked channels that are supported by the Smart DNS proxy service you are using. Smart DNS does, however, have some pros.
You can configure Smart DNS on almost all your streaming devices directly without the need for additional software.
PC, Mac, PS4, PS3, Xbox, Roku, Chromecast, Smart TV, Apple TV, Amazon Fire TV, Android, iPhone, and iPad are all supported.
Your IP address does not change when using Smart DNS. Neither is your traffic encrypted.
You get to unblock multi-national streaming channels using one Smart DNS configuration. That means one Smart DNS setup unblocks Indian Wells Masters broadcasters.
Unlocator is a Smart DNS proxy service that supports unblocking BeIN Sports, SuperSport, Tennis Channel, and many more global streaming channels.
However, we have to note that all the VPN services above offer Smart DNS. Unlocator is the only one that has a 7-day free trial and a standalone Smart DNS subscription.
PNB Paribas 2023 – FAQ
Do you want to know more about the 2023 Indian Wells Masters? Then make sure you take a look at the following section:
When Will the PNB Paribas Open 2023 Commence?
The 48th edition of the tournament will take place from March 6 to March 19, 2023.
Who Are the Defending Champions?
This year, Taylor Fritz and Iga Świątek are the defending champions.
Can I Watch the 2023 Indian Wells for Free?
Yes, you can. The Chinese channel CCTV as well as the Swiss service SRG are offering live broadcasts of the 2023 tournament free of charge.
Can I Watch the Tournament on Kodi?
Unfortunately, we couldn't find any official add-ons to use in order to watch the 2023 PNB Paribas on the Kodi platform.
Where Will the PNB Paribas Open Take Place?
The tournament will be held at the Indian Wells Tennis Garden, California, United States.
Stream Indian Wells Masters 2023 – Parting Words
We didn't get over the 2022 Wells Masters yet and we already have an early treat in the form of the 2023 edition. The games are going to be exciting and we'll see if Taylor Fritz would retain his title.
Now, you have all the means to unblock any of the channels on the list above. If you need further assistance, make sure to drop us a line in the comment section below.