How to Get American Netflix on Smart TV Outside the US
|
Don't you just hate it when you're so happy with your new device and one thing just ruins the whole experience? I got my Smart TV specifically to stream Netflix on it. However, I noticed that the library I got was a bit… what's the word? Limited. Apparently, those who live in the US can benefit from Netflix's full catalog while other regions get limited access to certain titles. Well, not anymore. I did my research and I found a way to access US Netflix on Smart TV anywhere. So, are you ready for some real Netflix and Chill experience? Follow this guide below.
Netflix on Smart TVs
Smart TV generally means a TV set that's connected to the internet. Many of these Smart TVs come with apps such as Netflix pre-installed on them. As a result, you can instantly stream Netflix to your Smart TV without having to plug in an additional device.
Netflix can be directly streamed to these Smart TVs:
Google TVs 
Sharp Smart TVs
Sony

A9F | A8F | Z9F | X907F | X905F | X900F | X858F | X857F | X856F | X855F | X851F | X850F | X780F | X757F | X755F | X751F | X750F

LG

W8 | E8 | C8 | B8 | SK9500 | SK9000 | SK8070 | SK8000 | UK7700 | UK6570 | UK6500 | UK6300 | UK6270 | UK6200

Samsung

Q900 | Q90R | Q80R | Q70R | Q60R | The Frame | The Serif | RU8000

Toshiba

L5865 SERIES | U5865 SERIES
This is a small list I know, but these are the best TVs to watch Netflix on. If you have better suggestions, please share them in the comment section below.
American Netflix Outside the United States
Have you been to the US? Did you know that your Netflix library will automatically shift to the American one once you connect to the internet there? Well, it does and Vice-Versa.
If you have a valid account, you get to use it in any country where Netflix is available. However, the catalog you get is based on the IP address you're holding. When I was in the United States, I downloaded an episode for Supernatural. Offline viewing is a very important feature I enjoy very much.
However, to my surprise, when I went to the UK for business, I couldn't watch the episode that I already got. Geo-restrictions are not limited to streaming only, apparently, downloads are affected as well. Here's what I got:
"Download Error. This title is not available in your current region."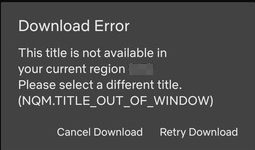 One more thing I need to mention and it's very important so please pay attention. Getting around Netflix's geo-blocks nowadays can be a bit daunting due to the fact that it's able to block VPNs. I tried a free one and all I got was this:
"You seem to be using an unblocker or proxy. Please turn off any of these services and try again."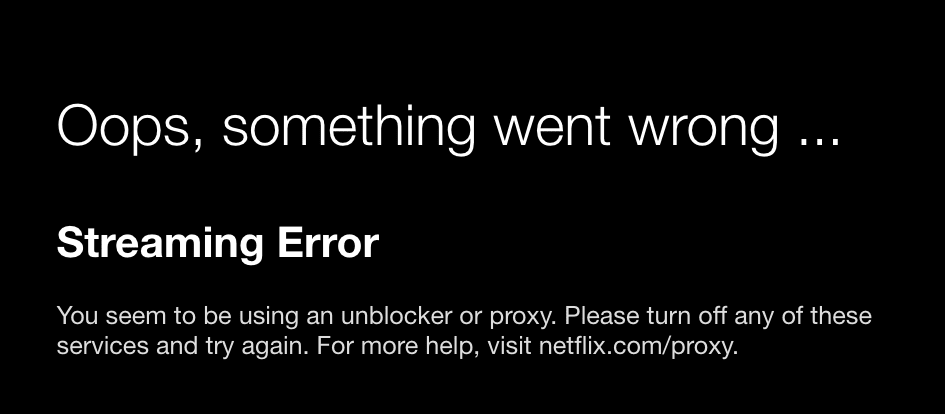 Make sure to pick a reputable VPN for the job. Don't worry, I'll be telling you what to use later on in this article.
How to Get US Netflix on Smart TV Outside the USA
It's not hard really. All you need is a reputable VPN to spoof your location and makes it appear as if you're accessing the channel from the United States. Make sure that the VPN has fast servers in the US so that you can enjoy Netflix's HD streaming feature, that is if you have it based on your subscription.
Oh, by the way, most Smart TVs are not natively compatible with VPN clients. If you want a VPN connection on your TV, you have to install a VPN on your router. That way, every device connected to the Wi-FI at home can benefit from all what the VPN has to offer.
Alright, that said, let's take a look at how to unblock US Netflix abroad:
Choose a VPN service and subscribe to their service. (A list is presented below in case you don't know what to choose).
Sony Android TVs have clients for VPNs, so you can download them directly. As for the ones with none compatible TVs, as I mentioned, install the VPN on the router.
Now, sign in with your VPN account and connect to an American server.
On your Smart TV, launch Netflix.
Stream the best titles the United States has to offer on Netflix wherever you are.
Best VPN for Netflix
A virtual private network, better known as VPN, enables you to spoof your IP address. In simpler terms, VPN allows you to change and even hide your IP address. Once you install VPN, you'll be able to choose from a list of servers from around the world.
VPN encrypts all your traffic, securing your data along the way.
VPN easily overcomes suspicious ISP strategies like DNS hijacking or Transparent proxies.
Granted you choose a U.S. server, you get access to all channels and content that are strictly available to the U.S. audience like Netflix, Amazon Instant Video, and Hulu Plus.
VPN enables you to go online anonymously and therefore prevents websites from tracking your traffic.
ExpressVPN is highly recommended for the job as it's been getting me all restricted content around the world. Its servers are well-optimized and monitored to keep up with any updates considering Netflix's VPN bans. You can try it out, they offer a 30-day money-back guarantee in case you change your mind. As for other top Netflix VPNs out there, you can check them out in the table below.
How to unblock American Netflix on your Smart TV using Smart DNS Proxies
This alternative gives you the chance to unblock geo-restricted websites and services like Hulu, Netflix, HBO, and many more from wherever you may be located. Smart DNS redirects only the necessary bits of your traffic.
The best thing about Smart DNS is that it covers more devices than a VPN does. You can literally set up DNS on your Smart TV no matter what brand it is. That comes in handy when it's not natively compatible with VPNs, such as Samsung Smart TV.
Can't wrap your head around Smart DNS yet? Here are a few pointers:
Although Smart DNS does not protect your online privacy like VPN, it surely doesn't affect your internet speed.
Smart DNS enables you to switch servers easily which means you get to watch blocked channels from various regions concurrently. For example, you can watch the US Netflix version and the UK's BBC iPlayer at the same time without having to make any changes.
Smart DNS works on nearly all devices such as PS4, iOS, Xbox, Windows, macOS, AndroidOS, and Fire Stick.
In case your ISP implements DNS hijacking or Transparent proxies, you will not be able to use Smart DNS to unlock restricted channels.
I do use Unlocator with my LG TV. At  214 unblocked streaming services and a free 7-day trial, there is nothing much that can go wrong.  Unlocator also provides easy to understand videos and guides to help you with the installation.
Not a Customer? Subscribe to Netflix
If you're actually reading this part of the article, I'm sorry to tell you my friend, that's odd. You're one of the few around the world who haven't started Netflix and Chilling yet. Anyway, who am I to judge. If you're willing to join in on the best streaming experience, here's how you subscribe to Netflix
Head over to Netflix's official website and select on the "Try 30 Days Free" button.
On the next page, choose "See the Plans".
You get to choose between Basic ($8.99), Standard$12.99), or Premium ($15.99). Pick according to what suits your needs and budget.
After that, you need to provide a valid email address and password.
Pick your Payment Method. Netflix allows you to choose from several options including Credit or Debit card (Visa, Mastercard, Amex or Discover), PayPal, or Netflix gift card.
Finally, click on "Start Membership".
Congratulations, you're now Netflix's newest subscriber.
 American Netflix on your Smart TV: The Result
Owning a Smart TV that is Netflix-enabled definitely can save you money as long as you are able to access the American version of Netflix wherever you live. If you still have any question about how to use VPN or Smart DNS to access US Netflix, please leave a comment below.