How to Watch FuboTV outside the US
|
FuboTV is mainly only available in the US at the moment. In order to unblock and watch Fubo TV in the UK, Canada, Australia, Germany, France, Italy, Brazil, use Smart DNS proxy or VPN.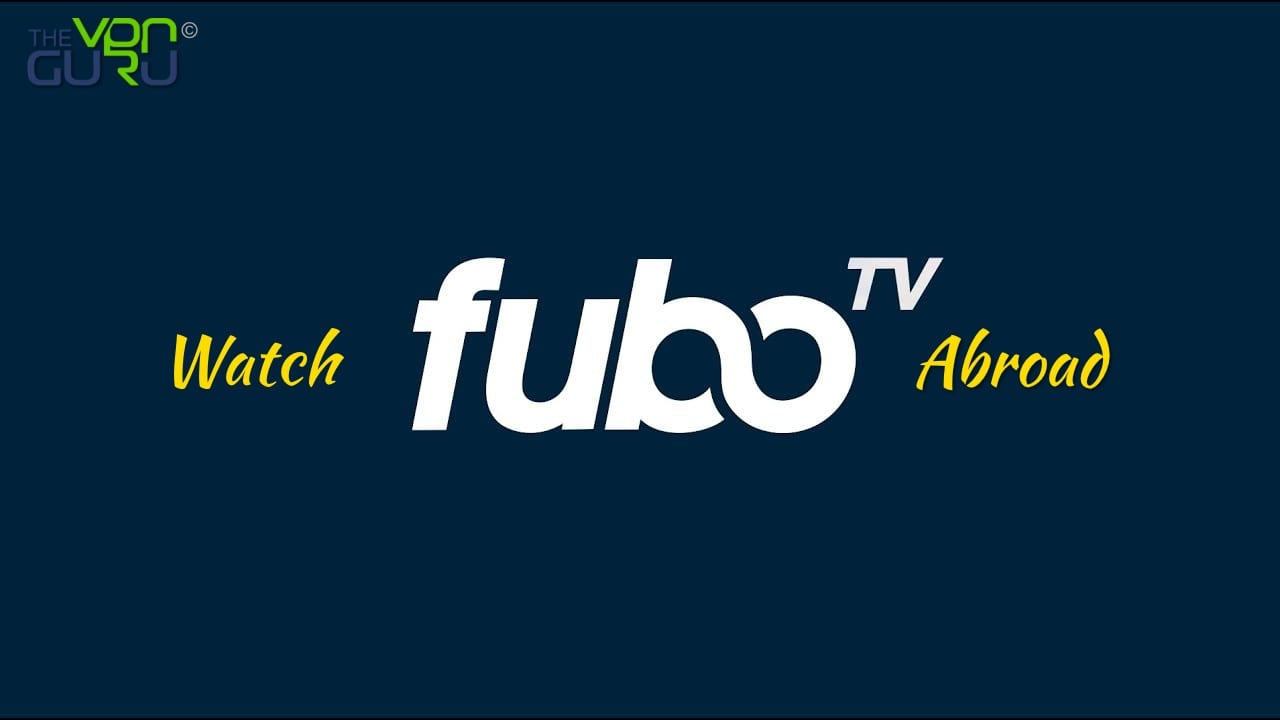 Both these methods allow you to bypass regional restrictions and access geoblocked channels such as FuboTV while abroad.
How to Get FuboTV Anywhere – Quick Steps
Time needed: 5 minutes
Similar to other American streaming services, FuboTV checks your IP address to determine whether you're located in the USA or not. In other words, getting a US IP address while abroad will allow you to stream FuboTV from anywhere. Here's what you need to do.
First, sign up with a VPN service.

The first and most important step is to get a VPN.

Next, download the VPN app.

You need to install the VPN app of your VPN provider on the same device you wish to watch FuboTV on.

Then, connect to an American VPN server.

Once you have set up the VPN app, sign in to it using your VPN account and connect to a US VPN server. This will grant you the American IP address you need.

Afterward, launch the FuboTV app.

Sign in to the FuboTV application using your FuboTV account. We'll include details on how to create a FuboTV account from abroad in case you do not already own one.

Finally, watch FuboTV from anywhere.

That's all you need to do to access Fubo TV from outside the States. Obviously, you should be able to use the same procedure to unblock any other US streaming service you like.
fuboTV Anywhere – The Full Walkthrough
Now that we managed to fix your problem, let us show you everything you need to know about getting fuboTV abroad in an in-depth analysis:
What You Need
To access fuboTV in your country, you must first have all the following:
fubo account.
VPN subscription.
fuboTV-compatible device.
FuboTV's Geoblocking Mechanism
Fubo has more than 770,000 paid subscribers, but this number only covers those in the United States. The channel applies geo-blocking, which restricts Fubo's access to the US only.
The service only allows users with a US IP address to watch its content, which is exactly what ex-pats and individuals living overseas lack. If any of them tried to watch the channel abroad, this error message will appear:
"We're sorry. fuboTV content is currently not available in your location."
Another error you might encounter reflects the country you're trying to access Fubo TV from. For example, if you're attempting to stream Fubo TV in the United Kingdom, this error shows up:
"Sorry. fuboTV is not available in United Kingdom with your current subscription."
There's a simple way anyone can use to circumvent the geo-restrictions imposed on Fubo TV and access it anywhere. Learn how to do so in the next part.
Watch FuboTV outside the US via VPN
The best method to unblock geoblocked channels like Fubo TV is VPN. VPN lets you obtain a US IP address by channeling your traffic through an American VPN server.
Therefore, all US-only channels become available, including Fubo TV.
Changing your IP address to a US one unblocks Fubo TV, Netflix, Disney+, Hulu, and many more.
VPN fully encrypts your traffic and enables you to surf the web anonymously.
There are VPN apps for iPhone, iPad, Android, PC, and Mac.
DNS Hijacking and Transparent Proxies are useless against VPN.
We have to note that not all VPNs are created equal. The specifications above only apply to credible ones. In fact, not all VPNs can unblock Fubo TV abroad.
Just like various streaming services, Fubo TV can now detect VPN traffic and block it instantly. If you're using a free VPN or an unreliable one, you might encounter this message:
"Your IP address cannot be used to access fuboTV content. If you are using a VPN or any other kind of proxy service, please disable it. If you have any questions, please contact Customer Care."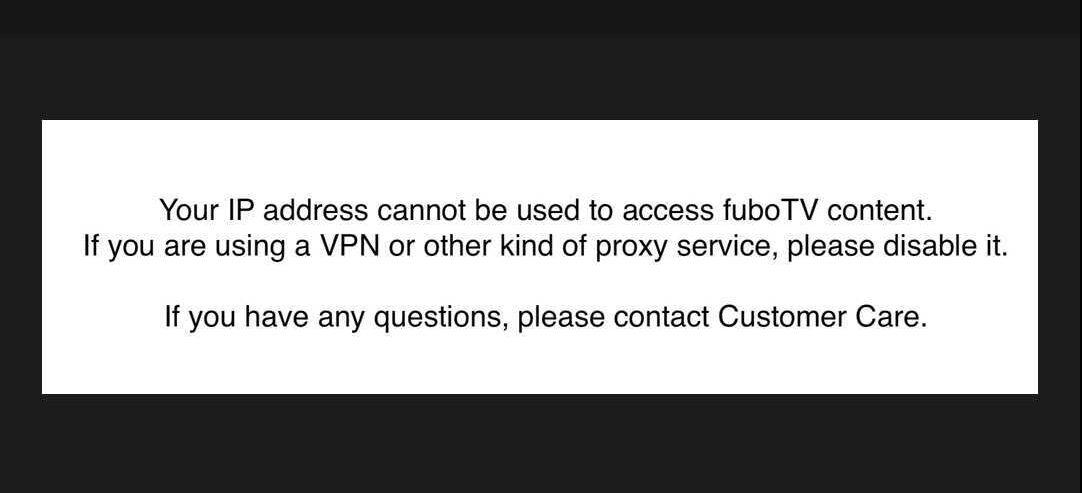 Having tried a handful of VPN providers, we've been fairly impressed by ExpressVPN. They have 24/7 support and over 160 VPN locations around the globe.
Unblock FuboTV outside US with Smart DNS Proxy
In order to access all streaming channels on Fubo TV outside the US, you have to hide your location. There are two methods to do this. The first is VPN.
The second is the Smart DNS proxy. Smart DNS redirects the parts of your connection that reveal your location. Thus, enabling you to watch Fubo TV, Netflix, and Disney Plus outside the USA.
Smart DNS can be used on all your streaming platforms. Watch Fubo TV on Amazon Fire TV, Android, PC, Mac, Roku, iPhone, iPad.
Your Internet speed does not slow down when using Smart DNS.
No need to change your Smart DNS configuration every time you want to watch a channel from a different region.
DNS Hijacking and Transparent Proxies, both used by some ISPs, can prevent Smart DNS from unblocking Fubo TV.
Not all Smart DNS proxy services include Fubo TV in their list of unblocked channels. However, all the VPNs on our list do.
Check them out, they all offer a 30-day refund policy in case you'd like to test their service out.
How to Create a fuboTV Account?
Now that you have a VPN subscription, let's show you how to sign up to FuboTV:
First, connect to an American server using your VPN.
Next, visit https://www.fubo.tv/signup
Enter your email address, password, and a US zip code.
Choose your preferred package.
Select any add-ons if you wish to add any.
Choose a payment method and check out.
You now have a fubo account.
How to Install fuboTV on Any Device Outside the US?
If you've reached this part, then you must have a VPN subscription and a fuboTV account. Now, we're going to show you how to get the channel on any device it supports:
Android
If you happen to be using an Android device, be it a mobile, tablet, or any TV that belongs to Sony, Hisense, Sharp, etc. you have to follow the steps below:
First, download the VPN client on your Android device.
Sign in and connect to a US server.
Now, switch your Google Play Store region to the United States and download the fuboTV app.
Launch fuboTV.
Start watching top channels wherever you may be.
iOS
On your iPhone or iPad, the following steps are required to get fuboTV:
Download and install the VPN app on your device.
Change your App Store region to the US and download the fuboTV app.
Activate your VPN, sign in, and connect to a US server.
Launch FuboTV and log in.
Start watching.
Desktop
The fact that PC and Mac don't need a fuboTV app makes your job a lot easier. Here's what you need to do:
Get the VPN app on your PC or Mac, sign in, and connect to a US server.
Head over to https://www.fubo.tv/
Log in with your account.
Start watching the best US channels anywhere.
Smart TV
If you're using a Smart TV (Samsung or LG), this is what you need:
Set a US VPN connection on your router or configure Smart DNS on your Smart TV.
Change your TV's region to the US and download fuboTV:
Launch fubo and start streaming.
Chromecast
In order to get FuboTV on your Chromecast outside the US, you must do the following:
Set up a VPN connection or configure Smart DNS on your router.
On your iOS or Android device, download the fuboTV app.
Launch fubo and sign in.
Play a video and click Cast to watch it on your TV using Chromecast.
Roku
Apple TV
Fire TV
On Amazon Fire TV or Fire Stick, follow the steps below to get fuboTV:
First, download the VPN app on your device.
Sign in and connect to a US server.
Change your FireStick account's region to the US and download the fuboTV app.
Also, you can sideload the fuboTV app.
Launch FuboTV and sign in.
Start watching anywhere.
Xbox
FuboTV From Abroad FAQ Section
Here's a selection of questions our readers frequently ask about FuboTV.
What Channels Are Available on FuboTV?
The number of channels you can get on FuboTV depends on your subscription plan. Fubo is also constantly adding new channels to its line-up. At the moment, you can get up to 160 channels on FuboTV:
ABC
ABC News Live
ACC Network
AccuWeather
AMC
Animal Planet
AT&T SportsNet
BBC America
beIN Sports
BET
Big Ten Network,
Bravo
CBS,
CBS Sports Network
Cheddar
CMT
CNBC
CNBC World
Comedy Central
Comet TV
Cozi TV
Discovery
Disney Channel
Disney Junior
E!
Eleven Sports
Disney XD
ESPN
Estrella TV
Food Network
Fox
Fox Business Network

Freeform

Fuse

FX
FOX Deportes
FXX
Fox News
Fox Sports
Galavision
GetTV
Golf Channel
Hallmark Channel
Hallmark Movies & Mysteries
HGTV
IFC
Investigation Discovery
Marquee Sports Network
MotorTrend Network
MSG
MSG+
MSNBC
MTV
MyNetworkTV
National Geographic
NBC
NBC Sports
NESN
NewsmaxTV
NewsNation
Nickelodeon
Olympic Channel
OWN
Oxygen
Paramount Network
POP
SEC Network
SEC Network+
Smithsonian Channel
SportsNet NY
Syfy
Telefe
Telemundo
The CW
The Weather Channel,
TLC
Tr3s
Travel Channel
TUDN
TUDNxtra
TV Land
TVG
UniMás
Universal Kids
Universo
Univision
USA Network
VH1
WE tv
WGN America.
Can I Watch FuboTV for Free?
No, Fubo requires a paid subscription to function. However, all three subscription plans (Starter, Pro, and Elite) include a free trial option.
On What Devices is the FuboTV app available?
Fubo is compatible with the following streaming platforms:
Amazon Fire TV
FireStick
Android Mobile
Android TV
Google TV
Sony
Sharp
TCL
Apple TV
Browser (Mac and PC)
Chromecast
Vizio
Hisense
iPhone
iPad
LG TV
Roku
Samsung Smart TV
Xbox One
Absolutely. That means that not all VPNs will work with Fubo. We suggest using the ones we listed above.
What Is the Best Free VPN for FuboTV?
Unfortunately, none of the free VPNs we tested were able to unblock Fubo TV outside the US. If you know of any, feel free to list them in the comment section below.
Do I Need a Cable Subscription to Sign Up with FuboTV?
No, you do not. FuboTV is a stand-alone streaming service. You cancel your subscription anytime you like.
How Much Does FuboTV Cost?
There are three main Fubo subscriptions: Starter, Pro, and Elite. They cost $64.99/month, $69.99/month, and $79.99/month respectively.
In Which Countries is FuboTV Available?
Fubo TV is mainly available in the United States. However, you can also sign up with FuboTV in Canada and Spain. Keep in mind though that the channels you get in those two countries are not the same as in the US.
fuboTV outside the US – Unblock and Watch
There's no doubt that Fubo TV offers a great selection of dedicated American TV channels. All you need is a Smart DNS or VPN to access them all from outside the US.
In case you need any help, give us a shout-out in the comment section below.