How to Set Up ExpressVPN Smart DNS Proxy on any Device
|
Have you ever witnessed a frustrating error message while trying to stream a certain channel abroad? Well, I have and let me tell you, it's quite annoying. However, I managed to find a way around it and that's by using ExpressVPN's Smart DNS service. Despite being easy to install, some of you might find it a bit daunting. So, in this guide, I'll show you exactly how you can set up ExpressVPN's proxy (MediaStreamer) on any device.
ExpressVPN's Smart DNS Proxy: MediaStreamer
Smart DNS is a service that strictly exists to bypass regional restrictions. Take my personal experience, for example, I live outside the UK. Therefore, most of the UK's top streaming channels are blocked in my location.
When I tried to stream BBC iPlayer a while ago, all that I got was a geo-error message blocking my access.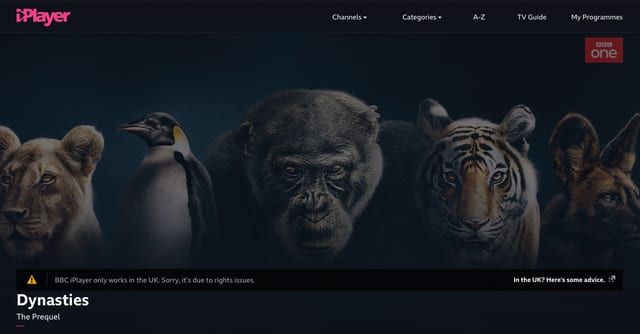 A Smart DNS service reroutes the parts of your traffic that responsible for showcasing your current location. This will help spoof your online location as you'll appear to be browsing straight from the channel's region. On the plus side, using Smart DNS doesn't tamper with your internet speed, which means that you'll be tapping into geo-restricted content at connection speed. Moreover, while operating with MediaStreamer, you'll also be able to use your local websites at the same time.
So, to sum this up, MediaStreamer allows users to access the most popular streaming channels in different geographical regions. You'll get the perfect streaming experience on every device with a simple setup process without any slowdown.
How to Set Up ExpressVPN Proxy on Your Device
In this tutorial, I'm going to give you an example based on my experience while using Mac. Setting up DNS on a Mac Book isn't that hard actually. All you need is the right guidance and you're good to go. With that said, here's how you can install ExpressVPN's Smart DNS on Mac.
Go to ExpressVPN 's website and click on Get Started.
Sign in with your account and head over to DNS Settings.
On the next page, scroll down till your reach "DNS Configuration Checker".
Press on Configure DNS on this Device.
Now this will redirect you to the DNS setting page. Copy the addresses, you'll need them later.
Go to System Preferences by clicking on the "Apple" icon on the top left of your screen.
Now, click on Network.
Choose between WiFi or Ethernet.
Select "Advanced"
Now, hit the "DNS" tab.

If you want to add another server, click on the "+" button.
Double click on the DNS IP if you want to edit.
To delete an existing server, select it and hit delete.

Enter the DNS Address provided by ExpressVPN (See Number 6)
Once done, click on the "OK" button.
Tap on "Apply" for changes to take effect.
Signing up with ExpressVPN is a great opportunity to step outside of that limited box of yours. You can check all of this provider's features in this ExpressVPN Review.
Final Steps
There are two more steps you need to follow in order to wrap up the configuration process, here they are:
Register your IP Address
Just so you know, changing your DNS settings alone won't give you what you're looking for. In order to make use of ExpressVPN's Smart DNS proxy, you have to register your IP address. All you have to do is go back to their website and go to your account. After that, click on DNS Settings, which will redirect you to where you first got the DNS addresses. Now, scroll down till you reach the IP registration section.

Click on "Register my IP address" and you're done.
Check if DNS Configuration Took Place
After registering your IP address, you need to check if the change occurred. You can do that by scrolling further below the IP Registration section, where you'll find DNS Configuration Checker. Next to Status, it has to say: "Configured on this Device."
If that's not the case, your DNS traffic is being intercepted by your ISP, a thing we call DNS Hijacking. Another reason for configuration failure is a transparent proxy. With this, all your traffic is redirected and your ISP can see everything you do. Therefore, if these two incidents happen to you while setting up ExpressVPN's Smart DNS proxy, using their VPN service is your best bet.
What Devices Can I Change DNS on?
Once you have an ExpressVPN subscription, you can set up DNS on any device. All you have to do is follow the guide I gave based on the platform you're using and you'll be a-okay. ExpressVPN's Smart DNS service can be set up on most of your major devices, this includes:
Mac
Windows PC
PlayStation 4
Xbox One
Amazon Fire Stick
Android TV
Apple TV
iOS
Android
Nintendo Switch
Why Use ExpressVPN's Smart DNS?
ExpressVPN is well known to be one of the top VPN providers out there. But for streamers like you and I, we prefer our connection to be at full speed while watching a certain video. No one likes the buffering sign while in the middle of an action-packed movie.
Although it's VPN service is over the top, but it still encrypts your traffic for an extra layer of protection. That comes with a price though, your internet speed. You'll notice a slight drop, which is quite annoying sometimes, especially if you're a couch potato.
So, MediaStream in this situation is your best option. Remember, you can't use VPN and Smart DNS at the same time. You either bypass geo-restrictions at full speed with no safety measures or do so while protecting your data with a decreased connection speed.
Being the top in the industry is a title worthy of ExpressVPN. However, it has to keep living up to it. Some channels like Netflix have found a way to block VPNs. Well, there are still few VPNs that work fine with Netflix, including ExpressVPN. Not only that, but MediaStreamer can unblock hundreds of channels around the world. Here are a few:
Hulu
Amazon Prime Video
Lifetime
HBO Go
Sky Go NZ
BBC iPlayer
NowTV
My5
Netflix US
Eurosport
HBO Nordic
Hotstar
GloboPlay
Channel 9
TF1
Canal Play
SportsNet
Disney Channel
Is it Safe Though?
Safety isn't part of the package when you're using Smart DNS. Luckily, ExpressVPN is the leading company when it comes to VPN services. It offers the latest military-grade security technologies that protect your devices from any possible cyber attack. If you connect to a certain server, you'll be hiding your IP address. This anonymizes your internet approach and keeps you cloaked from monitoring attempts, including your ISP's.
So, to sum it up, MediaStreamer is just available to bypass regional restrictions. If you prefer your privacy and security, then make use of ExpressVPN's VPN service.
How to Install ExpressVPN Smart DNS on Any Device – Conclusion
Using Smart DNS is very important if you like to stream your shows and movies without internet hiccups. No matter where you are, you have a full catalog of channels around the world waiting for you to unblock. ExpressVPN is one of the top providers that can help you do that. Additionally, it is a VPN service, so you can protect yourself as well if you're one of those security-minded users out there.