Google Play Store has a plethora of applications that cater to a diverse Android audience, ranging from entertainment to education. It even holds the title as the largest app store out there. But, which apps are the most popular?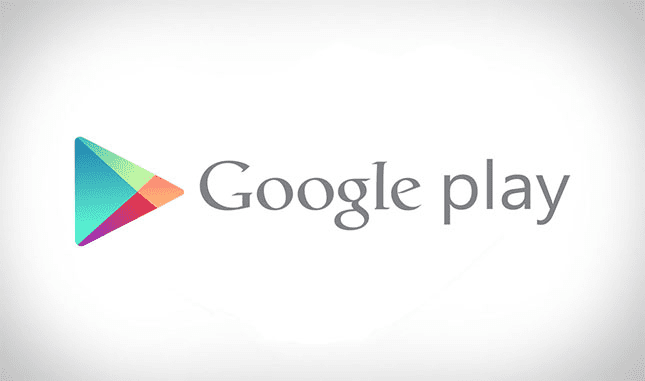 Most Downloaded Android Apps of 2018- Summary
Here's an overview of the top ten most downloaded apps in 2018:
WhatsApp
Messenger
Instagram
Facebook
TikTok
Facebook Lite
Helix Jump
SHAREit
Messenger Lite
Garena Free Fire – Winterlands
Google Play Store
As a matter of fact, the Android Play Store offers more than 2.1 million apps in its database. Although Google Android is a newer platform, it has surpassed Apple's App store in terms of the number of applications available. But, that's not necessarily a good thing. Many of these applications are fake and malware-infested.
Most Downloaded Apps
Priori Data reached the conclusion that the top ten Android apps in the world had a combined download figure of 3.6 billion with WhatsApp in the lead. The messing app was the most popular app of 2018 for it accumulated more than 747 million downloads. Messenger, Instagram, and the main Facebook app took the second, third, and fourth position respectively. The newest video app, TikTok came in fifth.
Facebook's dominance was evident in the search results as most of the apps are under Mark Zuckerberg's name. As a matter of fact, apps by Facebook gathered 2.5 billion downloads collectively in 2018. You'll find below a chart that shows the highest grossing app for the year 2018 from the Google Play Store.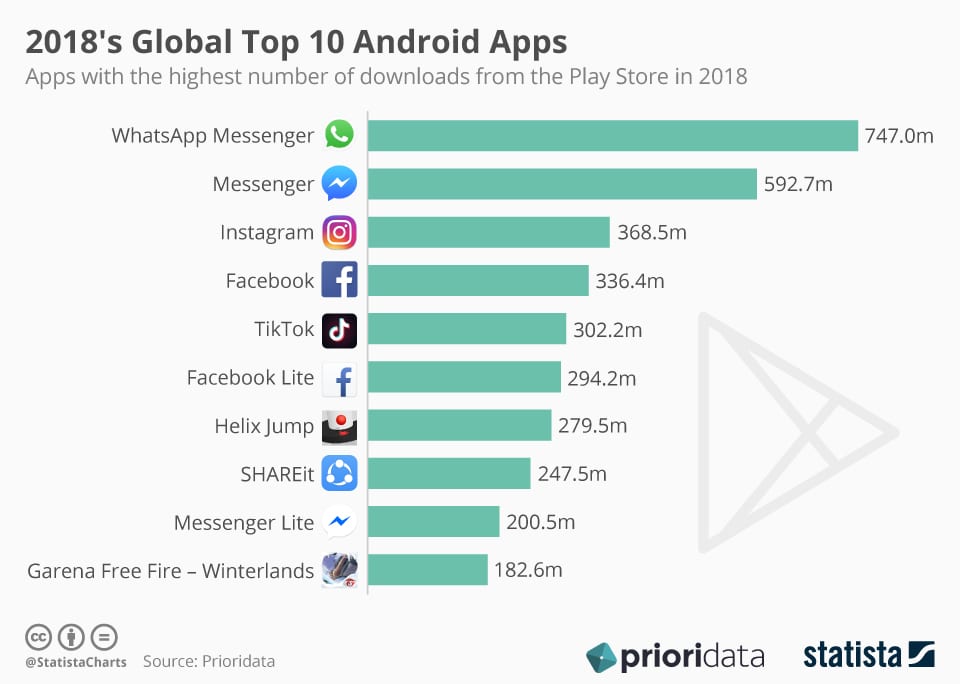 Most Downloaded Android Apps of 2018
WhatsApp
Unsurprisingly, WhatsApp is the number one most downloaded app in 2018. Almost every user has WhatsApp on his/her phone. It's the communication tool that you just can't live without these days. WhatsApp Messenger allows you to send text messages, images, video, audio, and even make calls using the Internet connection of your mobile device. Download WhatsApp and learn how to use it securely.
Messenger
Although you can still send messages via the Facebook app, many users download the Messenger app unaware of that. This explains why Messenger follows in second as the most downloaded app in 2018. Facebook indirectly forces its users to download Messenger in order to send and receive messages over Facebook. And because many users don't know that they can achieve that on the desktop version not the mobile, they end up downloading the app.
Instagram
Instagram is yet another Facebook-owned app that comes in at number three as the most downloaded app in 2018. In the era of social media dominance, this app is an essential requirement. Instagram provides a simple, fun and creative way to capture, edit & share photos, videos & messages with friends & family. Make sure you check out all the ways you can secure your social media accounts to avoid privacy and security breaches.
Facebook
Facebook helps you keep up with the latest news and recent events around the world. You can post, share, and like photos and videos on this platform. Facebook is still running strong despite Instagram's impact on the social networking world.
TikTok
TikTok is not your regular destination for short-form mobile video. It's raw, real, and without limitations. With TikTok, life is more fun when you live in the moment and go to lengths to explore.
Helix Jump
Helix Jump is a video game you can enjoy during your free time. It is an excellent choice to pass time. You control the ball to dive downwards and through obstacles. The higher the score, the better.
SHAREit
This is the best sharing app with the fastest cross-platform transfer speed & free online feeds including movies, videos, music, wallpapers, GIFs. SHAREit also added a powerful media player, which helps you manage & enjoy your own videos and music.
Messenger Lite
This a faster version of messenger that works in all network conditions. Basically, it's a fast and data-efficient messaging app to reach the people in your life.
Garena Free Fire- Winterlands
Free Fire is the ultimate survival shooter game available on mobile. Every 10-minute game puts you on a remote island where you are pit against 49 other players, all seeking survival.
Most Downloaded Android Apps- Final Words
Make the most of your Android smartphone with the best Android apps around. We are in no way trying to persuade you to download these apps. We're just displaying which apps have received great popularity during 2018. But, if you were to pick a favorite, which one would it be? Let us know in the comment section below.