Virtual Private Networks are cybersecurity tools used to enhance the users' privacy and anonymity when browsing the web. In general, using VPNs is completely legal, but is kind of a debatable subject in some regions.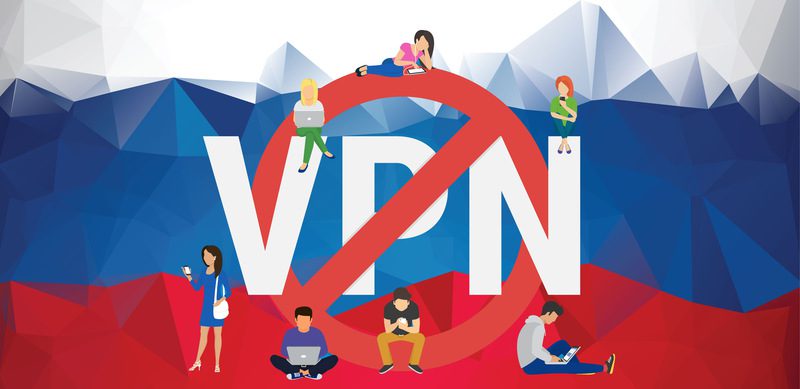 Practicing anything that's illegal without a VPN remains illegal when using one. While that's normally the case, some countries deem the software totally illegal regardless of the practices.
Whether it's China, Belarus, Iraq, North Korea, or Russia, VPNs are completely banned. Each country has its own regulations towards VPNs, and recently, Russia has upped its war against VPNs by adding 6 new providers to the banned list.
What are the banned VPNs? Is there a reason for such an announcement? Find out in this comprehensive article.
The Ultimate VPN Ban – From Russia with Love
It's simple – Russia's internet watchdog, 'Roskomnadzor', announced the ban of more VPN services in the country, making it a total of 15 so far.
Russia is considered one of the most restrictive countries when it comes to Virtual Private Networks. In fact, this predicament started back in 2017, when Russia banned VPNs in hopes of increasing the government's control over the Internet.
The regulations began when Russia forced VPN services to connect to the Roskomnazor database and block access to the websites it lists within it. Not to mention that it also prompted them to disclose/hand over all details of their operators.
Many VPNs did not cooperate with such laws, which lead to ending their operations in the country. For example, TorGuard received a notice, but later pulled out from Russia:
"In accordance with paragraph 5 of Article 15.8 of the Federal Law No. 149-FZ of 27.07.2006 "On Information, Information Technology and on Protection of Information" hereby we are informing you about the necessity to get connected to the Federal state informational system of the blocked informational sources and networks within thirty working days from the receipt."
Another reputable provider that ceased its servers in the country is none other than NordVPN. A while ago, NordVPN clashed with the Russian government when it asked to grant it access to its servers.
However, NordVPN abided by its rules of providing anonymity and chose to destroy its servers rather than give the government what it demanded.
There's more. ExpressVPN, one of the leading companies in the industry, also removed its Russian servers. In other words, the provider's users cannot access Russian content overseas.
What's the Reason?
Aside from controlling the internet, we can think of a few things. The Russian government doesn't want residents accessing specific content, and using such tools would go against its decisions.
"The use of such services leads to the preservation of access to prohibited information and resources and creates the conditions for illegal activities, including those related to the distribution of drugs, child pornography, extremism and suicide."
Now, what we don't know is how the government is applying the ban. Most VPN bans end up ceasing access to the provider's website.
If the app already exists on the device, it might work. However, in some cases, neither the app nor the website is operational in the region where the ban exists.
With that said, here are the fifteen VPN providers that are deemed illegal in the Russian region:
Hola! VPN
ExpressVPN
KeepSolid VPN Unlimited
Nord VPN
Speedify VPN
IPVanish VPN
VyprVPN
Opera VPN
ProtonVPN
Betternet
Lantern
X-VPN
Cloudflare WARP
Tachyon VPN
PrivateTunnel
As mentioned, using proxy tools and VPNs allows users to bypass restrictions while remaining anonymous. That's is level of freedom that Russia is not willing to accept, at least, not for now.
Goodbye Russia, Said 6 More VPN Services
Russia is well known for tightening its control over the Internet, and now, it has upped its game by blocking and access to six more VPN services.
Russia's VPN ban is increasing over time. If you use one of the VPNs on the list above, we suggest you search for an alternative immediately. Otherwise, your internet experience will take a whole new turn towards restriction, limitation, and even surveillance.