Why SASE (Secure Access Service Edge) Matters for Businesses?
|
The Secure access service edge (SASE) is a top-level network security framework that integrates SD-WAN and VPN features into cloud-based security functionalities such as Zero Trust Network, secure web gateways, and cloud access security brokers.
A SASE vendor provides and delivers its service from the cloud and offers it as a service.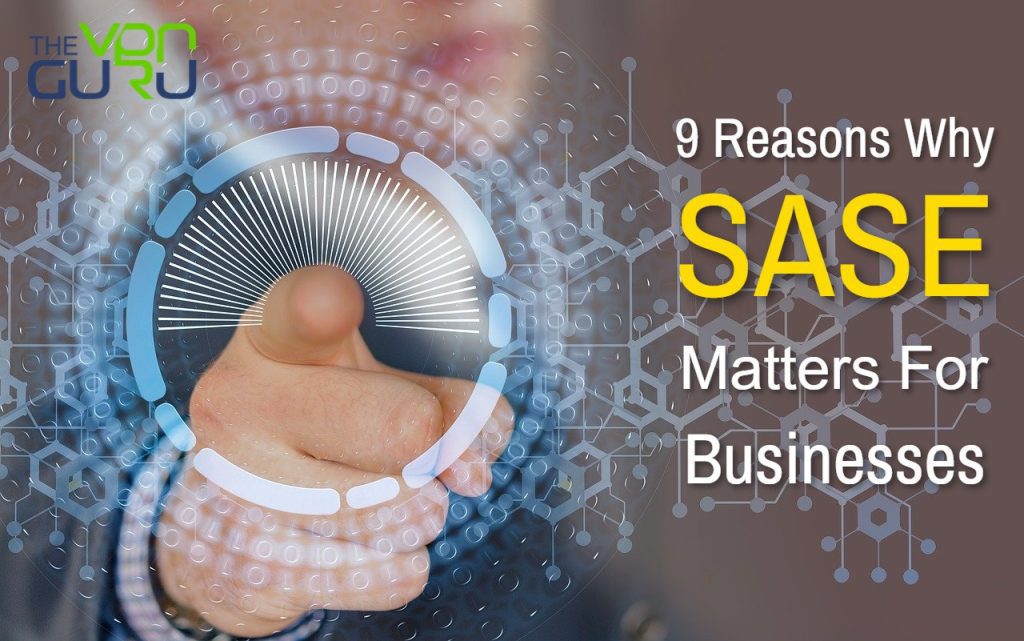 The SASE driving adoption
Enterprises today need quick, uninterrupted access to the network and vital cloud-based resources to support the fast pace of digital transformation of businesses and remote work systems. SASE is the leading technology harnessed to create this shift.
Security is shifting to the cloud, making it necessary to centralize services, lower complexness, secure the newly enabled SD-WAN architecture, support multi-cloud networking, and boost network speed and agility.
9 Reasons SASE (Secure Access Service Edge) Matters for Businesses
Delivered traditionally as a single and integrated cloud service, SASE matter as a network solution in the following ways:
1. Enhanced And Optimized Performance
SASE improves user experience by enhancing and optimizing performance. Its cloud-native architecture scales to support rapid deployment, easy traffic fluctuations, and lessen interruption in user experience.
SASE also offers network monitoring with a real-time picture of outbound and inbound process connections in a single network interface. With the expansion into telework, SASE gives more secure and reliable network connections opportunities.
2. Guarantees Secure Access To Cloud Data
A component of the SASE framework is the Cloud Access Security Broker (CASB), which addresses the issue of guaranteed data access while also regulating drifting cloud workload.
CASB works with SASE to provide users with cloud security with a wide range of network security services. They are responsible for fixing the WAN security requirements of an organization's cloud-native architecture.
3. Simple Security Framework
SASE eliminates the need for different systems and security devices by employing its firewall as a service that introduces security features such as IPS, URL filtering, anti-malware, and firewalling in its infrastructure.
The FWaas quality creates easy network security management for companies implementing SASE solutions. It also makes it possible to spot abnormalities on a network and make necessary changes. So, all edges from mobile networks to physical sites to the cloud get uniform all-round security.
4. SASE Is Economical
The cost reduction benefit of implementing the SASE model is a huge plus for organizations. They are able to eliminate the expensive model of virtual and physical appliances from multiple vendors to employ the single cloud-native solution the SASE model offers.
For instance, SASE simplifies patches, upgrades, and network maintenance and reduces costs.
With this network activity made simple, the workload for IT staff is also simplified, further reducing the cost of IT staffing while making available permanent coverage for monitoring security threats and network performance.
5. Data Usage Control and Broader Visibility
The cyber environment is volatile. Applications, users, and devices are constantly connecting and disconnecting. Zero Trust Network and SASE help organizations control this situation by showing how devices and users interact with their company networks and services.
Visibility is a very important factor in uncovering security threats and weaknesses. It is made easily achievable with ZTNA, which enables granular visibility and fine system control, and guaranteed control of users and applications accessing corporate services.
6. Complete SD-WAN Integration
SD-WAN makes it possible for an enterprise to migrate away from closed proprietary Wide Area Network solutions. This approach promotes flexibility and is also cost-effective.
SASE extends cloud service into the SD-WAN to provide top-level security
for users and their branch offices from varied locations. SASE erases the place of hardware security appliances and merges the different security and network functions into a sole cloud security program.
7. Guarantees Policy Consistency
The SASE technology delivers a different range of comprehensive UTM services to secure users and assets. By applying consistent policy enforcement, SASE boosts data protection against potential cyber-attacks.
SASE offers a consistent client-to-cloud user experience and dynamically permits connection based on the user identity, authentication, and business rules.
8. SASE Facilitates New Digital Business
SASE is completely cloud-delivered, software-based, and applicable in preexisting environments. It erases the forced flow of traffic through policy enforcement points.
SASE enables unconstrained cloud migrations and supports low-cost technology improvements and growth.
9. Risk Reduction and Threat Prevention Capabilities
SASE framework offers segmentation, application and resource cloaking, isolation with distributed control, and data planes. SASE also offers support for inline encryption/decryption.
It integrates user, device, and/or location-based risk profiling and assessment (UEBA) and is fashioned into the SASE fabric, assuring all connections built are completely inspected and protected.
Conclusion
The transparency feature is another reason why SASE matters to businesses. Fewer are permitted per device, resulting in fewer risks. Updating new policies without leveraging new software and hardware aid the rapid adoption of new features
With SASE architecture, businesses can attain a direct-to-cloud architecture without the risk of compromising performance, speed, visibility, control, cost, and security.