You heard of 
Netflix
, the biggest online movie streaming site globally, and like a lot of regions in the world such as
USA, UK, Finland, Sweden, Denmark, Brazil, Ireland, Canada, Netherlands Mexico,
and others you want to enjoy 
Netflix. 
That is great, however, if you do visit 
Netflix
from an unsupported region you will get an error right away stating that you are from an unsupported region and that you can not use 
Netflix 
at this stage. Luckily for you, there is an easy solution to that. It consists of two parts, the first part is changing your
geographical
location using a service such as
ExpressVPN
or
Unlocator
to make 
Netflix 
unblock the
Netflix
trial and make
Netflix 
believe you are signing up from a supported region, and the second part is actually signing up for a 
Netflix 
trial. That also requires some tricks, as your credit card is probably not a US credit card and
might
get rejected.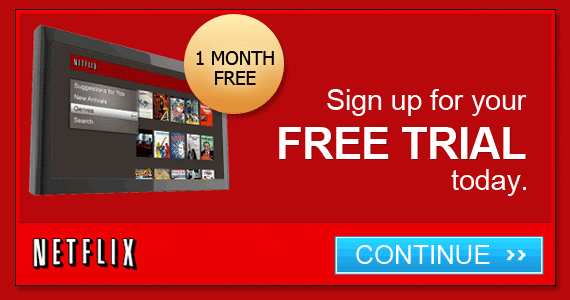 Remove Netflix Signup Geo-restriction
To remove the location error that you face when you go to Netflix you have to use what is either called VPN or Smart DNS. I have discussed this before, please see my article on the differences and benefits, and how to approach the setup.  Both solutions will work, and I do continuously use either of the VPN services such as ExpressVPN or SmartDNS service like Unlocator. More importantly, ExpressVPN, Unlocator, and Netflix, all provide money back guarantees and free trials.
Once your setup is complete, you will not face the geographical restriction by Netflix anymore. However, you still won't be able to signup, as it won't take your non-US credit card without some changes. See below :
Sign up for an American/US Netflix trial with a non-US card
There are two reasons you would want to signup for a US Netflix Trial :
You are from a country where Netflix is not supported.
You are from a country were Netflix is supported, but you want to get a US subscription because it is cheaper ;). Note here that both Unlocator and ExpressVPN provide you with options to change all Netflix Regions with 

one

 

 Netflix subscription for the service of your choice.
So basically, all you have to do now, is press the signup link on the Netflix site and fill in your payment info. Your only problem is that you do actually have to provide a US based Zip code and State. If you want to save some more dollars, use a state that does not add any sales taxes. Some examples are :
Alaska  – Zip Code 99501 –
Montana – Zip Code 59312 –
Oregon – Zip Code 97001 –
So once you do enter the zip code you are done, please see the screenshots below, and the alternatives after those if it does not work for you.
Press Sign up
Either go with Facebook or a personal signup
Enter your payment information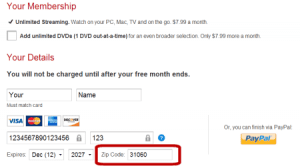 And that is all. Enjoy your Netflix shows.
Alternative A: Payoneer credit card
The above method does not work for everybody, some cards are still rejected by Netflix. Your workaround is to go to Payoneer signup and get a card. Payoneer is a globally used card based in the USA, it is used by the biggest online vendors and freelance communities. I personally own one for my freelance work. You can also purchase it as a gift card and top it up as you please. Once you have signed up and provided the needed paperwork, you will still need to activate the card, the problem here is that it takes a few weeks for the card to arrive. Payoneer is my favorite alternative as you get a physical card that you can use in stores and on vacations. If you do not wish to wait for the card to arrive. Please see alternative B below. Note: You still have to pull the ZIP code trick to get the US Netflix trial.
Alternative B: A virtual Entropay card
If you do not want to wait for your Payoneer card to arrive, you can sign up for a Virtual Entropay card. Once you sign up, skip "Add Funds", go to Manage Cards, add a card, and top up your account. That is all, now you can use your Virtual Entropay card information to sign up for a Netflix US Trial, don't forget to use the zip code trick.
Result: A US Netflix Trial
Please share your experiences, if it works tell me what method worked, if it does not work, please let me know which part you got stuck on. I am glad to help a bit more to get you your US Netflix Trial. Please also do mention whether you used VPN or Smart DNS.