How to Watch Rugby Autumn Internationals 2021 Live Online
|
Rugby is finally back! The world's best rugby teams will face off in the upcoming weeks. That means that fans have something to look forward to. Wondering how you can stream the Rugby Autumn Internationals 2021 live online? Read on to find out.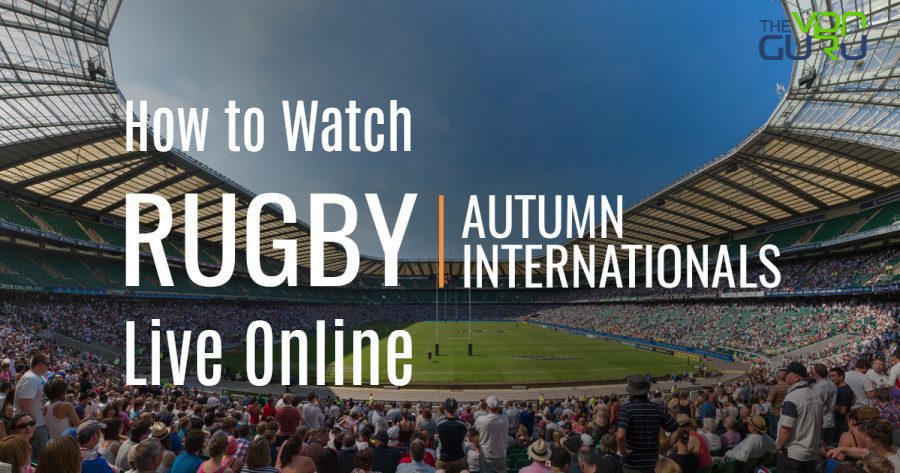 Unfortunately, as is the case with pretty much all rugby events, the list of official broadcasters is short when compared to other sporting events. That means that you might not be able to find a TV channel covering the Rugby Autumn Internationals in your region.
If that's the case, you might consider using a VPN. This will help you bypass regional restrictions and access channels that would usually be geoblocked in your country.
Quick Guide
Time needed: 5 minutes
You only need to use this tutorial if none of the channels we listed below are available in your region.
Get a VPN.

All you need to do is sign up with a VPN provider.

Download the VPN app to your device.

The VPN provider will grant you access to their VPN applications.

Launch the VPN app and choose a server.

Connect to a VPN server in the same region of the channel you wish to watch.

Head over to the streaming website or use the streaming app.

You will still need a subscription to the channel you wish to unblock.

Watch Rugby Autumn Internationals Live Online.
How Does a VPN Help?
The rise of streaming channels means that you can watch all major sports events live online nowadays. Some problems remain though. One of these problems is geo-restrictions i.e. the fact that you can only access certain channels from certain regions.
Imagine going on holidays. It's all good and fun until you decide you want to check out how your favorite sports team is fairing. If you try accessing your local channels from back home, you will be prestend with an error that states that the channel you're trying to access isn't currently available.
So, what can you do in such instance? Well, you either cancel your holiday and head back home, or you spoof your online location; making the streaming channel believe you're actually back home. How is this done you might wonder?
All you need is access to a virtual private network aka VPN. By connecting to a server via a VPN app, you can get a British, American, Australian, or Canadian IP address. Virtually, you can change your location to any region in the world.
Once that is done, simply head back into the streaming app of your choice and watch any event you like. Keep in mind that using a VPN doesn't eliminate the need for a subscription to the channel you wish to access.
Best VPNs for Rugby Streaming
Perhaps the most important step of all is finding the right VPN provider. Here at theVPN.guru, we mainly depend on ExpressVPN for all of our streaming needs. This VPN has fast servers, a 30-day money-back gurarantee, and crucially, VPN apps for most of our devices.
Feel free to check out all of our favorite VPNs in the list below.
Autumn Internationals TV Broadcasters List 2021
Here are all the streaming channels that will cover the Rugby Autumn Internationals around the world.
Autumn Internationals 2021 Schedule
We listed the complete Autumn Internationals schedule below. Simply click on a week to see all the fixtures taking place.
October 30th, 2021:
---
Scotland vs Tonga (2:30 PM)
Wales vs New Zealand (5:30 PM)
November 6th, 2021:
---
Ireland vs Japan (1 PM)
Italy vs New Zealand (1 PM)
England vs Tonga (3:15 PM)
Wales vs South Africa (5:30 PM)
France vs Argentina (8 PM)
November 7th, 2021:
---
Scotland vs Australia (2:15 PM)
November 13th, 2021:
---
Italy vs Argentina (1 PM)
Scotland vs South Africa (1 PM)
Ireland vs New Zealand (3:15 PM)
England vs Australia (5:30 PM)
France vs Argentina (8 PM)
November 14th, 2021:
---
France vs Georgia (1 PM)
Wales vs Fiji (3:15 PM)
November 20th, 2021:
---
Italy vs Uruguay (1 PM)
Scotland vs Japan (1 PM)
England vs South Africa (3:15 PM)
Wales vs Australia (5:30 PM)
France vs New Zealand (8 PM)
November 21st, 2021:
---
Ireland vs Argentina (2:15 PM)
November 27th, 2021:
---
Barbarians vs Samoa (2:30 PM)
Rugby Autumn Series FAQ Section
Still have questions about watching the Autumn Internationals live online? We have answers.
Which channels will broadcast the Autumn Internationals live online?
We compiled a complete list of all streaming channels up above.
When will the Rugby Autumn Internationals take place?
The table above contains all of the Autumn Series fixtures.
Are there any free Autumn Internationals streaming channels?
While most of the channels are premium, there are a handul of free TV channels. These mainly are: Channel 4, France TV, and RTE Player.
None of these channels are available in my region. What can I do?
If no official Autumn Internationals streaming channels are available in your country, we suggest using a VPN.
Final Thoughts
There you have it. Everything you need to know about how to watch the 2021 Rugby Autumn Series from anywhere in the world. Which nation do you think will perfom the best in the Internationals? Leave your predictions in the comment section below.