It's a race that can turn riders into legends and moments into lifelong memories; it's the Daytona 500. On February 19th, 2023, the 2.5-mile-long NASCAR Cup Series motor race will take place at the DAYTONA International Speedway in Daytona Beach, Florida. Channels all over the world are broadcasting the event, but all of them are geo-restricted to their respective regions.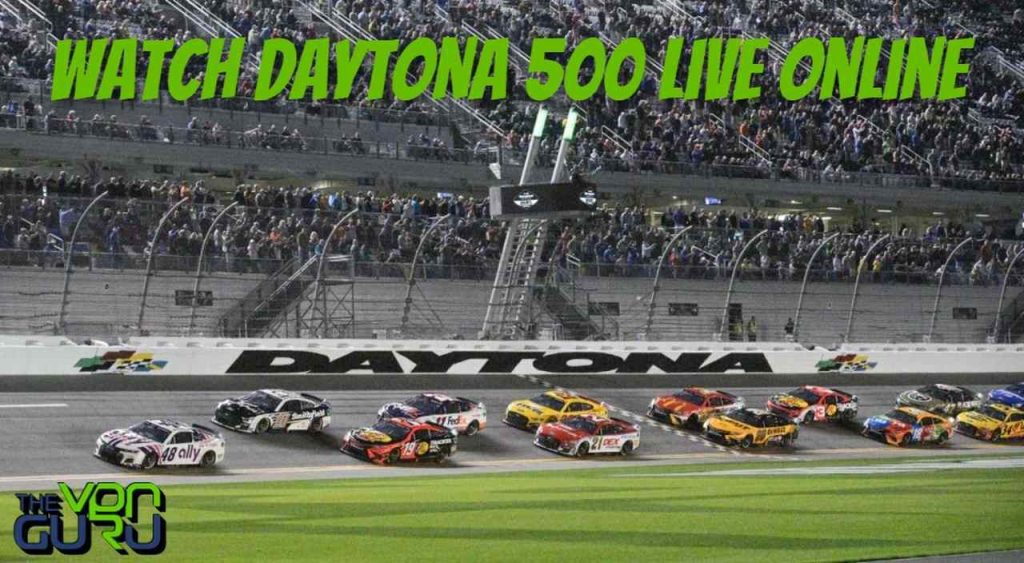 This year marks the 65th running of the event, which shows how popular the Daytona 500 is and how it is for racing fans to stream it. Don't know where and when you can watch it? Find everything you need to know in this comprehensive article.
Watch Daytona 500 Live – Quick Guide
Time needed: 5 minutes
The NASCAR Cup is a very popular event as it brings us the best motor action in the world. Daytona 500 is part of this huge tournament and it can be streamed all over the world if you know your way around. Well, you don't have to know – we'll show you. Here's how you can watch the 2023 Daytona 500 live anywhere:
Subscribe to a VPN service.

We highly recommend ExpressVPN as it has servers in all the countries on our list.

Download and install the VPN application.

Compatible devices include Android, PC, Mad, iOS, or Fire Stick.

Run the app and sign in with your VPN credentials.

Now, head over to the server list.

Connect to a VPN server.

Choose a VPN in the country where the chosen channel has broadcasting rights.

Launch the channel's website or application.

Based on the services on the list, you'll need to sign in with an account.

Enjoy watching Daytona 500 live.

Stream the 2023 edition of the Daytona 500 wherever you may be.
Daytona 500 Live: An In-Depth Walkthrough
There's still a lot more you should learn about watching the 2023 Daytona race. You can find everything in this comprehensive guide:
What You Need
To stream Daytona 500 2023 live, you'll need everything on the list below:
A VPN account.
A subscription to any of the channels in the list below. Cable subscriptions might also be required.
Any compatible streaming device.
Daytona 500 Streaming Channels
Motor racing has become very popular around the world, which brings us to exactly why NASCAR has several broadcasters in different regions.
There are a couple of channels around the world airing the 2023 Daytona 500 live on the small screen. However, despite its streaming availability, the channels only operate in certain regions.
It's what we call geo-blocking, a defense mechanism used by the channels to protect their broadcasting rights and restrict access to users located in specific territories.
These streaming services examine your IP address the moment you visit their website or use their app to determine your location. If you're not within their area of coverage, you'll be instantly blocked.
In this guide, we're going to help you bypass the regional restrictions imposed on the services' content. As for the time being, here are the 2023 Daytona 500 official broadcasters:
Your IP address is the main key that helps a channel pinpoint your physical whereabouts. That's why in the next part, we'll be showing you how to make a few alterations and spoof your online location with a push of a button.
Daytona 500 Online – Global Streaming
Daytona 500 is known all over the world, especially in the US. In fact, while previous versions harnessed more than 17 million views in the country, last year's edition wasn't as successful with only around 4+ million views on Fox.
That number can be increased if Fox Sports wasn't geo-blocked outside the US. If you try to watch Fox Sports outside the USA, the following error message will be displayed:
"The video you're attempting to view is not available in your region."
In order to bypass these regional restrictions, you have to change your online location. This can be done using a VPN. Short for a Virtual Private Network, this internet tool allows you to connect to a server in a country of your choosing.
When the connection is established, the VPN will reroute your data through that server and make you appear as if you're browsing the web in the territory where the server is based.
During the process, the VPN will add an extra layer of security (military-grade encryption) and assign you a temporary IP address valid in that country. As a result, you'll be able to stream or visit any channel/website restricted to that territory wherever you are.
For example, if you live outside the US and connect to an American server, you will obtain a US IP address. Now, you can stream the likes of Fox Sports and any other US-restricted streaming service.
A VPN's Benefits
Using VPN unblocks any restricted channel provided you connect to a server in its respective country. Today, the Daytona 500 is our main focus, so this is what you need to do:
If you are looking for a VPN provider to unblock dozens of channels abroad, sign up with ExpressVPN. You can choose from a host of VPN servers to do so as well as protect your browsing activities from any online threat.
Moreover, ExpressVPN allows you to try their service out risk-free courtesy of its 30-day money-back guarantee. If the VPN didn't live up to your expectations, you could always ask for a refund (no questions asked).
Despite being an excellent tool to bypass regional restrictions, it's not the only one available for the task. In the table below, you'll find the top VPN services in terms of privacy, security, and unblocking capabilities.
How to Watch Daytona 500 Live Online – Smart DNS Proxy
Smart DNS is also an efficient method to unblock Fox Sports outside the USA. With Smart DNS, you do not get a new IP address. Only the geo-related parts of your Internet connection are affected.
However, the channels you can unblock using Smart DNS are pre-determined by the Smart DNS provider you are using i.e., different Smart DNS services unblock different channels.
Before signing up with a Smart DNS proxy service, make sure it supports unblocking Fox Sports outside the USA or any other channel on the list.
You do not need to change your Smart DNS configuration whenever you want to unblock a channel from a different country.
Partial traffic rerouting means that your Internet speed will not drop when using Smart DNS. However, your traffic is not encrypted as it is with a VPN.
Some ISPs use DNS hijacking or transparent proxies. While VPN will work for you in the presence of such methods, Smart DNS might not.
Unlocator is one of the services mentioned in the table above. The reason why we're suggesting it is because you get to try their service for free. Unlocator offers a 7-day free trial without the need to submit anything but your email address.
However, all the VPNs suggested above include a Smart DNS service. Some of them offer a 1-day free trial, but Unlocator has the longest one so far. Check it out; it's totally risk-free.
NASCAR Daytona 500 2023 – FAQ
We're all waiting for that one day – February 20th, 2023. But the Daytona 500 is much bigger than that. If you want to know more, make sure to check the following section:
What Team Has the Most Wins?
The Petty family has dominated the race, as until now, Petty Enterprises is the team with the most Daytona 500 wins. They've won 9 races so far, with 7 of them belonging to Richard Petty.
When Was the First Daytona 500 Race?
The first race was back in 1959; Lee Petty was the ultimate conqueror of the Daytona International Speedway.
When Will Daytona 500 2023 Start?
The upcoming NASCAR Cup Series race will be held on February 19, 2023
Where Will Daytona 500 2023 Take Place?
As usual, the Daytona 500 will be held at the Daytona International Speedway in Daytona Beach, Florida.
Daytona 500 2023 Live – Final Words
Missing all the major racing events like the Daytona 500 just because you live outside the channels' area of coverage is a bit unfair.
Using the guide above, you can unblock and watch all the channels broadcasting the race abroad, including Fox Sports, TSN, and more. If you have any more questions, don't hesitate to drop us a line in the comments below.